Did Hillary Clinton Praise Italy's New Fascist Leader?
Claim
Former Democratic presidential nominee Hillary Clinton offered words of praise for Giorgia Meloni, a fascist leader poised to become Italy's next prime minister.
Like this fact check?

Reporting
Remarks from political figure and former U.S. Secretary of State Hillary Clinton published in Italy in September 2022 received attention and criticism from Americans, thanks to a tweet parsing out two remarks regarding Italy's incoming far right prime minister, Giorgia Meloni.
The tweet, which has since been deleted, featured two quotes from Clinton: "The election of the first prime minister in a country always represents a break with the past, and it is certainly a good thing," and "Every time a woman is elected to head of state or government, that is a step forward":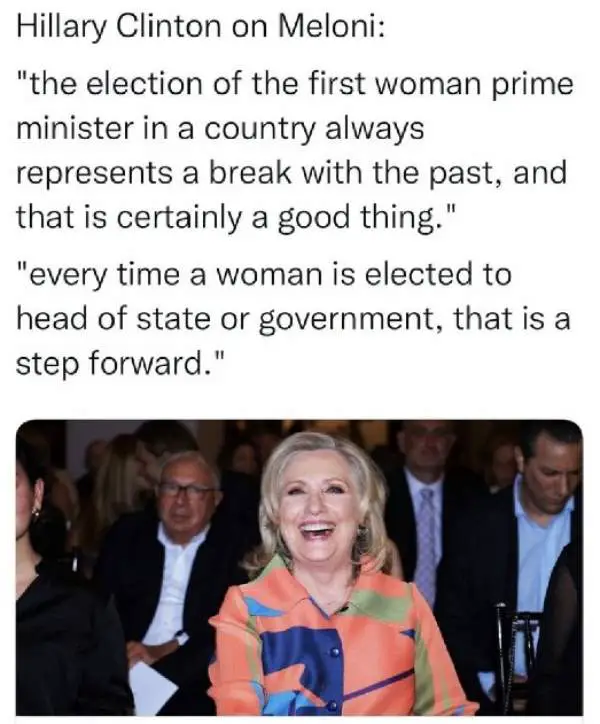 The first quote is taken from a translation of an interview with Clinton published at the beginning of September 2022 in the newspaper Il Corriere della Sera, prior to Meloni's apparent victory in the Italian national elections on September 25 2022. A translation of Clinton's remarks from that interview reads:
The election of the first prime minister in a country always represents a break with the past, and it is certainly a good thing. But then, as with any leader, woman or man, she must be judged by what she does. I never agreed with Margaret Thatcher, but I admired her determination. Clearly then the ideas are voted on.
According to that translation, Clinton also acknowledges the threat posed by the global far right:
She is sure that women on the right are much more supported by the party than on the left. "They are protected by patriarchy because they are often the first to support the fundamental pillars of male power and privilege. Today, in America, the right-wing leaders are against abortion, very much in favor of arms." As her parents signal that maybe it's late, she says, "Go ahead." Let's move on then. "Mrs. Clinton, are we risking the end of democracy? ' She, with an attached smile: "Yes." According to the former First Lady, citizens living in democracies, such as Italians and Americans, have a very important task: They must realize that there are very powerful forces that try to dominate not only politics, but also culture. The kind of politician who usually gets along with these forces is the demagogue…
Translation programs can fail to account for nuance; in this case, since Clinton's parents have both died, the reference to "parents" can also translate as "people," likely meaning a staff member, either for herself or the DVF Awards. The founder of that ceremony, fashion designer Diane von Fürstenberg, sits on the board of Clinton's non-profit group Vital Voices Global Partnership, and Clinton was the event's guest of honor for 2022.
The cadence of Clinton's remark regarding Miloni — and the controversy surrounding it — was reminiscent of the attention the former Secretary of State and Democratic presidential candidate received for praising Planned Parenthood founder Margaret Sanger in 2009. That year, Clinton explained her view in testimony before a House committee:
I admire Thomas Jefferson, his words and his leadership. And I deplore his un-repentant slave holding. I admire Margaret Sanger being a pioneer and trying to empower women to have some control over their bodies, and I deplore the statements you have referenced. That is the way we often are when we look at flawed human beings. There are things we admire, and things that we deplore.
The second remark was taken from a follow-up interview aired on Italy's SkyTG24 channel.
"I don't know much about her, but I will say this: every time a woman is elected to head of state or head of government, that is a step forward," Clinton said. "And then that woman, like a man, has to be judged on what she stands for, on what she does."
Oggi #2settembre alle 19:15 l'intervista integrale ad Hillary Clinton di Maria Latella in esclusiva televisiva su Skytg24. Ascolta l'estratto su Giorgia Meloni 🎤 ➡️ https://t.co/SZfuyk5KXi pic.twitter.com/ndWmfkbVJs

— Sky tg24 (@SkyTG24) September 2, 2022
While Clinton was measured in her comments, other analyses of Meloni and her policies found familar danger surrounding the Fratelli d'Italia ("Brothers of Italy") party and its policies; The Atlantic reported, for example, that the group's was formed to "carry forth the spirit and the legacy" of the Italian Social Movement (MSI), the descendant of Mussolini's National Fascist Party. It also targeted causes that are highly reminiscent of other far-right smear campaigns and poisoned narratives:
"LGBT lobbies" that are out to harm women and the family by destroying "gender identity"; George Soros, an "international speculator," [Meloni] has said, who finances global "mass immigration" that threatens a Great Replacement of white, native-born Italians. Meloni shows affinity for authoritarian strongmen: Like Marine Le Pen, until recently the leader of the National Rally party in France, Meloni has expressed support for Russian President Vladimir Putin—although she has muted that enthusiasm since his invasion of Ukraine.
Meloni herself invoked another popular right-wing boogeyman figure in a recent interview with the Washington Post:
There's a leftist ideology, so-called globalist, that aims to consider as an enemy everything that defines you — everything that has shaped your identity and your civilization. I think the West is paying for such weakness, as we've also seen in recent times. Instead, I think that what identifies you, i.e., the Christian values that founded our civilization, regardless of whether one believes in God or not. I'm all in favor of the crucifix hanging on the walls of our public schools, not because I want to impose the religion I believe in on anyone.
As one might expect, American right-wing operatives have celebrated Miloni's rise to power; for example, Kevin Roberts, the head of the Heritage Foundation, drew on the same familiar dog whistles in celebrating Meloni's victory on Twitter:
"This can be a trend," he wrote. "Conservatives everywhere need to define the choice as what it is—US vs THEM, everyday people vs globalist elites, who've shown they hate us."
The Heritage Foundation and its subsidiaries have been involved in major disinformation campaigns that have been carried out against institutions serving the American public, from schools to health care and beyond.