Home Depot Discounts No Longer Honor All Veterans-Investigation Pending!
Home Depot Discounts No Longer Honor All Veterans-Truth! & Fiction!
Summary of eRumor:
Claims that Home Depot veteran discounts don't apply to all veterans, or aren't offered at specific stores, have gone viral on social media sites.
The Truth:
Home Depot offers two veteran discounts — one applies to all veterans, the other does not — so this one is truth and fiction.
A Home Depot spokesperson told TruthorFiction.com that the retailer offers a "two-tiered" veteran discount policy:
We have a two-tiered veterans discount policy. The discount is available to all veterans on major patriotic holidays including Veterans Day, Memorial Day and Independence Day. We're also one of only a few retailers that provides an everyday discount to active-duty, National Guard, Coast Guard and reservists, as well as retired (typically 20-plus years of service) and service-connected disabled service members, and their spouses. We do ask anyone requesting the everyday discount to present a valid military ID, including a Veterans Administration Identification Card that designates disability by including the term "Service Connected" on the I.D.
Reports that the Home Depot veteran discount was no longer offered to all veterans went viral on Facebook after a user posted that he saw a store manager in Spokane Valley, Washington, deny the discount to a veteran:
So I am at Home Depot today and the older gentleman in front of me shows his ID for a veterans discount. The clerk tells him he does not qualify for a discount so the gentleman asked to see a manager. They ask me to go to another line because this may take a few minutes. I tell them no thanks I want to hear this.
So a young cocky full of himself moron comes to talk to the gentleman and says no you do not qualify. The gentleman tells him he has always gotten a discount there. So the moron says well we have told our people to tighten the rules and we only give what corporate requires we give and you do not qualify. The gentleman says he will then take his business elsewhere. The young moron replies that is your choice. The gentleman starts to leave and I step in.
I tell the moron if one of your idiot friends walked through the door right now you would have the option of giving him a discount and with your attitude you would do it. So step over to the register and give this guy his discount. He says he does not qualify for it…
The post was shared more than 200,000 times, and the rumor that Home Depot no longer honors all veterans quickly went viral.
Home Depot told TruthorFiction.com that, "We can't verify this customer's depiction of what happened."
But a retired veteran who doesn't have 20-plus years of service, or a service-connected disability, would not qualify for the everyday Home Depot veteran discount, so it's entirely possible.
After 9/11, Home Depot first announced a 10% veteran discount for all "active and reserve military personnel and their families" for a two-week period in October 2001. There was no purchase limit for the discount in the original offer.
Then, Home Depot continued the veteran discount during specific times of the year, like on Veterans Day. That discount was for "all active duty personnel, reservists, retired military, veterans and their families." The maximum per-purchase veteran discount was set at $200.
At some point Home Depot added the every day veteran "discount off qualifying purchases for active duty, National Guard, retiree and disabled service members and their dependants who register for the program." A screen grab of the offer from 2014 said the "Honoring Those Who Serve" discount was $500, and that a valid military ID was required: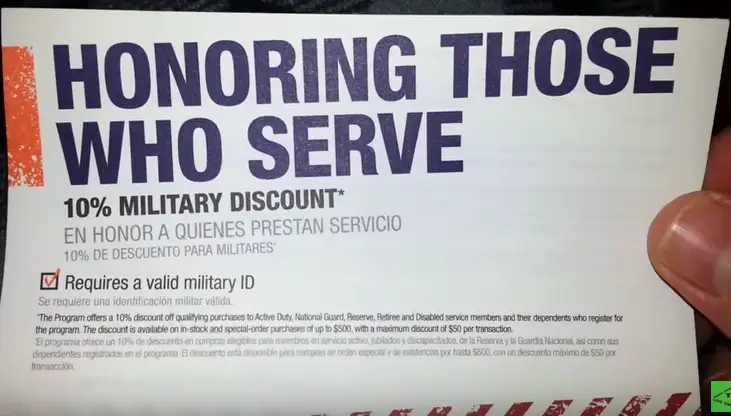 Some people have drawn comparisons between the Home Depot veteran discount and the Lowe's veteran discount, but the stores' veteran discount policies are virtually identical. According to Lowe's:
Lowe's established the 10% Military Discount to support the men and women who are currently serving our country in the Armed Services1 and to honor Retired Veterans and VA Recipients.2 This 10% discount is also extended to the immediate family3 of those who are currently serving, Retired Veterans, or VA Recipients.
To qualify for the Everyday 10% Military Discount, you must:
Be currently serving in, or retired from, a qualifying branch of the Armed Services, or be the immediate family member of someone who is and have a valid military ID Card.
Or:
Be a veteran who receives VA benefits and have a valid Veteran Identification Card (VIC).
We honor all Veterans on three specific holidays: Memorial Day, 4th of July and Veterans Day. During these three holiday weekends, we extend the discount to all veterans who served honorably and who present a valid Form DD214 or other proof of service. The Lowe's Military Discount is extended to the Veteran community on these three holidays only.
The Military Discount must be used on personal purchases only and cannot be used for Lowes.com purchases, previous sales, or the purchase of gift cards or services including product installations. It cannot be combined with the Lowe's Price Guarantee, or promotions such as "Spend and Get," "New Mover," "Project Starter," "Your Choice," or discounts such as Quote Support Program (QSP) quotes.
1  Armed Services — US Army, US Navy, US Air Force, US Marine Corps, US Coast Guard, or the National Guard and who are in     active, reserve, or retired status.
2  Retired Veterans and VA Recipients — Veterans who have retired after 20 years of service and/or those who receive VA Benefits
3  Immediate Family — Spouses and/or dependent children (up to 18 years old.)
Most of the confusion surrounding Home Depot veteran discounts appears to center on differences between the discounts offered on patriotic holidays, and those offered every day.
Again, all veterans receive the discount on patriotic holidays — but only veterans with 20-plus years of service, or a service-connected disability, qualify for the everyday discount.