Walmart Removes "Made in USA" Signs from Stores– Truth! & Misleading!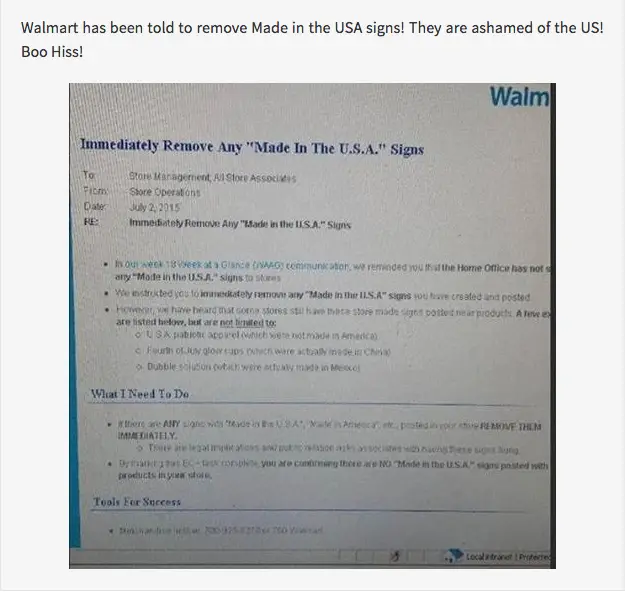 Summary of eRumor:
Walmart has removed "Made in USA" signs from its stores.
The Truth:
This rumor is true, but it's also misleading.
A Walmart memo that called for "Made in USA" signs to be pulled from stores sparked the controversy. A screen grab of the memo was posted online in early July 2015.
The memo calls for managers to "immediately remove any 'Made in the USA' signs you have created and posted." Naturally, that led to speculation about why Walmart made that decision:

 
Walmart didn't pull the signs because it's "ashamed" of America, however. The retailer pulled "Made in USA" signs because of deceptive advertising accusations.
Walmart issued the memo days after the nonprofit group Truth in Advertising (TINA) released a report that found Walmart had mislabeled  more than a 100 products as being made in the U.S.  According to the TINA:
TINA.org's investigation into the retail giant's website readily uncovered more than 100 instances of false and deceptive made in the USA representations. The investigation revealed products labeled "Made in the USA" though packaging indicated they were "Made in China." TINA.org also found USA product labels on Walmart.com that were in direct conflict with the site's own specification information on the same webpage.
In a letter sent June 22, TINA.org called on Walmart to remove from its site all false and deceptive made in the USA representations. The company cited multiple reasons for the mislabeling issues including "coding errors," outdated information from suppliers, and a convoluted process by which USA labels and product specifications are handled separately on the site. Walmart said TINA.org's letter has since prompted the decision to streamline that process. In addition, Walmart spokesman Kory Lundberg said that the company relies on suppliers to submit accurate information regarding their products' origin claims.
But while Walmart pledged that it would fix the problems, and has made limited progress in removing some of the false labels, the website is still riddled with USA labeling issues.
TINA filed a deceptive advertising complaint against Walmart with the Federal Trade Commission, and mislabeled products can lead to steep government fines, so Walmart's call to remove all "Made in USA" signs makes sense.
The retailer also warned hundreds of suppliers to make sure products are labeled correctly in the aftermath of the report, the Wall Street Journal reports.
Walmart has made public campaigns to stock its shelves with more products that are made in the U.S. in recent years, so the TINA report came as a surprise.
In 2014, the company held its first ever "Made in the USA" open call for suppliers. The company said it would spend $250 billion over the next 10 years on domestic manufacturing.