How Many Moms Are in 'One Million Moms'?
Claim
The group "One Million Moms" represents one million mothers.
In December 2019 the group One Million Moms grabbed headlines for purportedly forcing the Hallmark Channel's decision — quickly reversed — to discontinue holiday season television commercials by the brand Zola due to its inclusion of a lesbian couple:
This is the ad that Hallmark Channel pulled down.

Watch it.

Share it.

Same-sex marriage is the law of the land. There is no one way to love and be loved. pic.twitter.com/1JzNdN8I9v

— Gavin Newsom (@GavinNewsom) December 15, 2019
On December 9 2019, a post was published to the One Million Moms website, OneMillionMoms.com:
The Hallmark Channel has always been known for its family friendly movies. Even its commercials are usually safe for family viewing. But unfortunately, that is not the case anymore.

Recently, One Million Moms received concerns about Hallmark airing a commercial from Zola.com in which two lesbians are shown kissing at the end of their wedding ceremony. Similar concerns from regular viewers are posted on an online complaint board for the Hallmark Channel.
On that page, a update dated December 13 2019 claimed responsibility for a Hallmark Channel/Crown Media decision to pull the ads:
12-13-19 Update: 1MM has personally spoken with Crown Media Family Networks CEO Bill Abbott who confirmed Hallmark Channel has pulled the Zola.com commercial, featuring a same-sex couple, from their network. He reported the advertisement aired in error, but he was informed about it after hearing from concerned 1MM supporters.
Two days later, Crown Media issued a statement via Hallmark Channel's Facebook page apologizing for its original decision to cancel the Zola ads:
https://www.facebook.com/hallmarkchannel/posts/10156486905451050?__xts__%5B0%5D=68.ARDNazKmlmeBpQscqWD_VLCC7wMCGPsslN08NNTjUnv3ivfsyABgPID4KPUwDNAe5bC6VAzPalNCjk2FuyevcHDU4nt5axiM0RmcPSZb_6MUS3GsuxRUUeanaHdmvgcFGNa4ZiVxBYu-9tfDFi9ASAGmo0Gf6QCDnqlDhlgGC6bj3kiwy8W31rIk5b413-D2krM30qB_hoYk6g2V65Yn-FXE7xeeSGKUUgrCKP8oK1AlZ3LpyJQBMQkCTwNarLwP4eu2z9s2MCjMQY-EgljM-HJGnt7eofq_nU3YJ6S8M-lIv_L9W8wwqXyKnaOjN-CNvttYc9OCO0-TwVSDQA&__xts__%5B1%5D=68.ARAqKkEWN9ZNFTpW1enyqfy9HPfWY23QS62KEeqqCxkDbMtSUxOvlR2mCRTgwbVIjLg_7bLLJsxd5lnE_OaG7cpQ7nIwwwiIYBh8coIJBXk21DyGfgpYO9O5BCBURriflDHuYFH4ZwHN4O9vOg21qQyIspkOTfxqFhY9tfWP-TWG25UpYKAk-t2pihb02UYIGbHdGlsWgAhuIiGkqde9leiOBmOevo7QhvTwzdBUHcjwqBZRrcYW9uZxixhW1Ee1BdUCKyK7pUejy_tPSPizHpUCgsgLEsJKUgt2cvdORb5SdCiAL5IPrNUjv725aR7mRs35t4ssPXwleTxV4w&__tn__=-R
In a longer, linked version of the statement, Hallmark said that the brand was partnering with GLAAD to "better represent the LGBTQ community":
Hallmark is, and always has been, committed to diversity and inclusion — both in our workplace as well as the products and experiences we create. It is never Hallmark's intention to be divisive or generate controversy. We are an inclusive company and have a track record to prove it. We have LGBTQ greeting cards and feature LGBTQ couples in commercials. We have been recognized as one of the Human Rights Campaigns Best Places to Work, and as one of Forbes America's Best Employers for Diversity. We have been a progressive pioneer on television for decades – telling wide ranging stories that elevate the human spirit such as August Wilson's The Piano Lesson and Colm Tóibín's The Blackwater Lightship, both of which highlight the importance of tolerance and understanding.

Hallmark will be working with GLAAD to better represent the LGBTQ community across our portfolio of brands. The Hallmark Channel will be reaching out to Zola to reestablish our partnership and reinstate the commercials.
On December 16 2019, a second page was published to OneMillionMoms.com, and the first page was updated to reflect that the Hallmark Channel initially discontinued ads from the wedding brand Zola, but later changed course. On their second page, One Million Moms said:
After removing a controversial ad featuring two lesbians kissing at the end of their wedding ceremony, Hallmark has again reversed course — and apologized for offending the homosexual community. One Million Moms, a division of the American Family Association, is now calling for a boycott of the channel.

It is the belief of 1MM that same-sex relationships are still extremely controversial and it should be left to parents to bring up the subject with children. It is clear that Hallmark is no longer family friendly, and parents will need to exercise caution before heading to the channel.
At the end of the page, One Million Moms urged followers to "boycott Hallmark" until "Hallmark retreats" from their decision to reinstate the commercial.
The entire flap and furor rekindled a years-long question — is One Million Moms an organization with literally one "million" members who are "moms," and does that group speak for them all?
According to the group's "About Us" page, the name of the group is not to be taken literally:
We are searching for one million moms who are willing to join the fight for our children. We want our children to have the best chance possible of living in a moral society.
Other official resources to count the number of "moms" in One Million Moms was their social media accounts. On Twitter, @1milmoms (created in February 2010) boasted a grand total of 4,525 followers: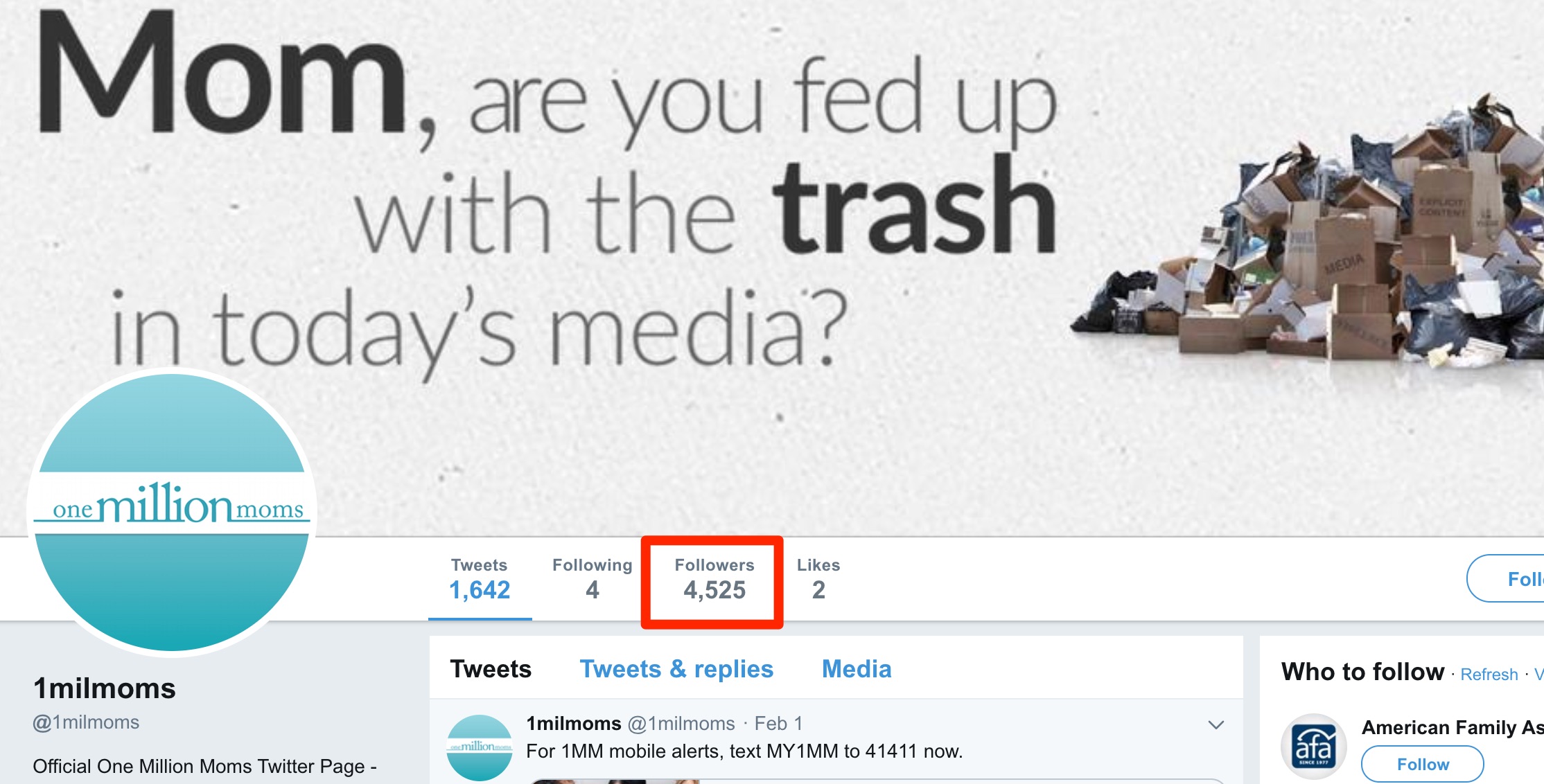 That number, 4,525, was about 0.45 percent of one million. On Facebook, the page had a far bigger following than it did on Twitter. In fact, 98,649 people liked the page as of December 17 2019; a lower 93,533 followed the page for updates. The larger number was 9.8 percent of one million: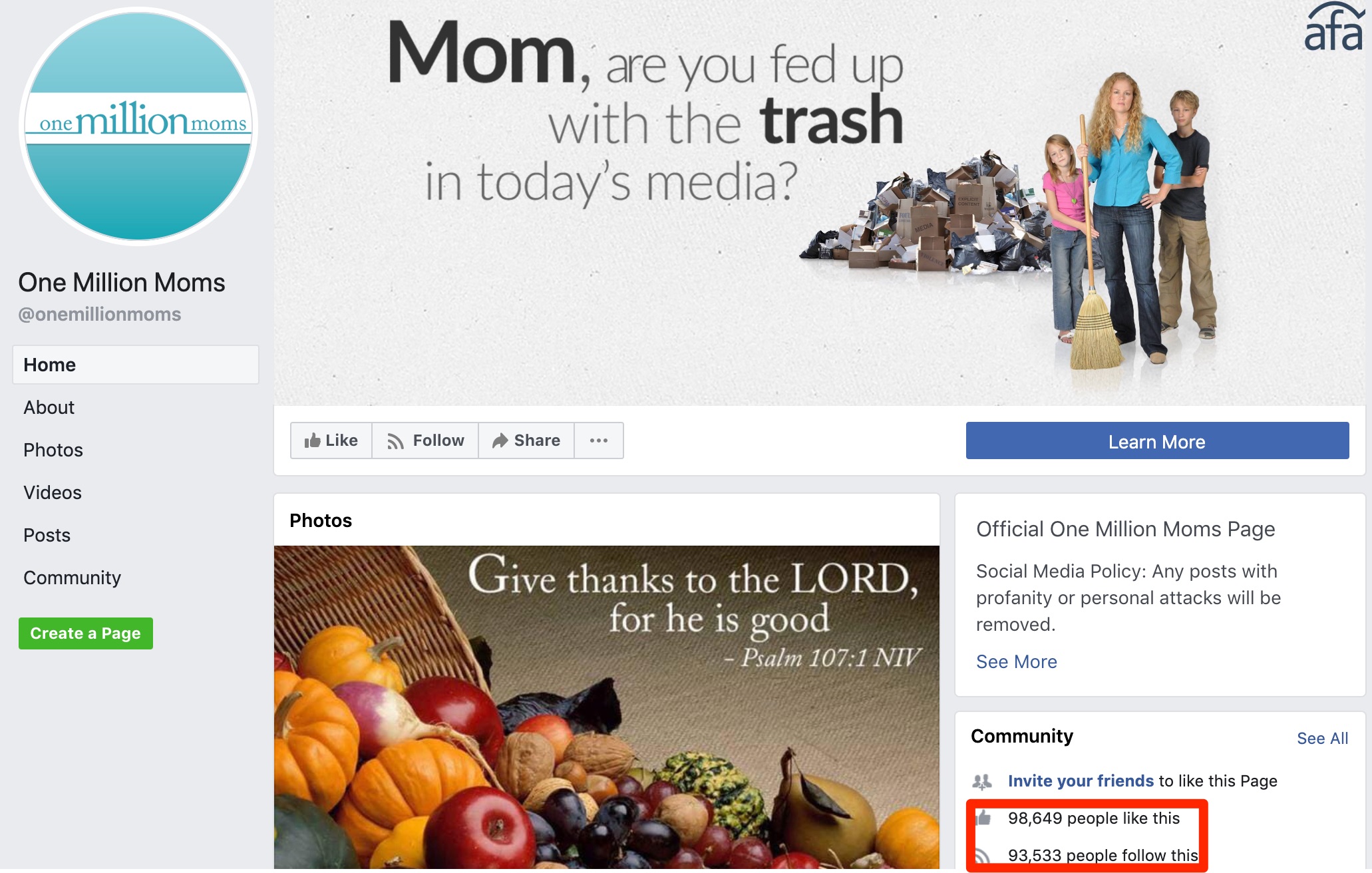 In 2012, One Million Moms attempted to pressure JC Penney after the company hired openly gay actor and comedian Ellen DeGeneres as a spokesperson. At the time, DeGeneres quipped the name was a result of "rounding," due to the group's Facebook fanbase numbering just under 45,000:
"One Million" Moms actually has only 44,113 followers on Facebook. ("They're rounding to the nearest million and I get that," Ellen said on her show [in February 2012.)

Guess how many FB fans their brother organization, One Million Dads, has? Three.
On Reddit's r/atheism, a user shared an article from BuzzFeed about the controversy involving DeGeneres. According to the post, the "One Million Moms" Facebook page vanished at that time — possibly due to the fact DeGeneres highlighted their misleadingly low follower count on her television show:
Ellen DeGeneres Responds To Anti-Gay "One Million Moms" Group, mention facebook page. facebook.com/onemillionmoms page disappears. from atheism
Also in February 2012, a competing Facebook page called "1 Million people who support Ellen for JC Penney" was created. In December 2019, the page had 275,125 "likes" and 260,505 followers to One Million Moms 98,649 likes and 93,533 followers.
A Boston Globe blog post from February 2012 indicated that when the page was current, it had "more than 325,000 followers." (Its drop in followers was likely due to the passage of time, deactivated accounts, and general social media pruning by those who supported the active campaign.) One Million Moms admitted defeat in February 2012, ending their efforts, and "director Monica Cole" told One News Now that "they're moving on and taking solace in the positive feedback they claim to have received."
A subsequent March 2017 effort to rouse support for a boycott against Disney XD was similarly unfruitful. That petition attracted just 7,000 signers.
In October 2019, LGBTQ news site Advocate.com reported on One Million Moms' failures to pressure companies. At that time, a spokesperson for LGBTQ advocacy organization GLAAD addressed the misleading nature of the pressure-focused group's name.
According to the GLAAD representative, the parent organization for One Million Moms (and its sister group, One Million Dads), the virulently anti-gay American Family Association, or AFA (which incidentally has also been a major part of several invented controversies about people being forced to say "Merry Christmas" instead of "Happy Holidays" and imaginary "watch lists for Christians") boasted fewer than 200,000 members. Additionally, GLAAD suggested that even that number was wildly inflated:
In reality, One Million Moms, an offshoot of the virulently anti-LGBTQ American Family Association, hasn't been particularly successful in intimidating film studios, TV networks, advertisers, and other companies into doing away with inclusive portrayals. Nor is it likely the group really has a million followers.

"While no one believes they actually have 1 million followers [or] 1 million who are moms, it is nearly impossible to pin down just how many people they actually reach," a GLAAD spokesperson tells The Advocate. "The parent organization, AFA, claims to have 'approximately 170,000 subscribers to its monthly flagship publication' and 'more than 1 million email subscribers.' However, these numbers have always been fudged, as AFA is notorious for counting as a supporter anyone who ever fills out one of their forms — something many opponents of the organization do as a way to troll them with oppositional/mocking information."

The 1 million figure "is almost certainly much more aspirational than reality," adds Peter Montgomery, senior fellow at People for the American Way."
Rather than relying on One Million Moms' self-claimed successes, Advocate.com examined petitions created by the group to pressure various companies. Invariably, the efforts averaged just north of 10,000 supporters, a far cry from a million:
More recently, it has objected to Whole Foods cosponsoring a drag queen story hour in Atlanta and urged the American Library Association not to allow member libraries to host such events. The Whole Foods petition has drawn only a little more than 12,000 signatures, and the ALA one slightly more than 14,000. The ALA has stressed that the decisions on hosting drag queen story hours are up to individual libraries; it merely provides resources for libraries to use when faced with challenges. Another recent petition, against Mattel's line of gender-inclusive dolls, claiming the dolls promote "sin," has received just over 13,000 signatures so far.
Searches for "One Million Moms" direct automatically to the American Family Association. As of December 2019, Wikipedia counted AFA's (not One Million Moms') membership at roughly 180,000.
That was not an outside estimate; that number number was provided by the AFA in 2011 and 2012, and it is reiterated on a Southern Poverty Law Center (SPLC) page about the group. As of December 2019, we were unable to find more recent AFA membership estimates for either the American Family Association or One Million Moms on the AFA's "Our Mission" page.
On December 15 2019, GLAAD focused on One Million Moms in a blog post about the Hallmark Channel kerfuffle. In that post, the organization mused that the group could potentially consist of only one mom:
But after a weekend where we watched a popular American brand, The Hallmark Channel, temporarily duped into believing that the organization's constant bark was really an effective bite, it is time to move past the jokes and state the obvious about this organization: it is basically One Meddling Mom with an agenda, and no company should be giving her the credence she so desperately craves.

Her name is Monica Cole. In the decade that I have been aware of One Million Moms, she is quite literally the only staff member I have ever heard anyone name. She is the one and only person who appears on their petitions, as well as the one and only person who speaks for them to the media. She is the mom. Her. Solo. One person, supposedly representing one million.
GLAAD listed four points of evidence in favor of extremely low membership for One Million Moms, among them:
The Internet ranking site Alexa (not to be confused with your in-home listening device) gives OneMillionMoms.com a ranking of #1,133,944 in global internet engagement. That is extremely low. For comparison's sake, GLAAD's own page has a ranking that is ten times higher ranking than theirs.
[…]

Searching social media, it is really hard to find prominent voices speaking out in favor of OMM's campaigns … [And] American Family Association petitions have been skewed for years. Regardless of how you fill out an AFA petition, they will count you as a supporter. So if you weigh in with pushback, thinking you are going to open their eyes and change their minds, you will simply get a "Thank you for supporting us!" and your reply will be counted as support. I still get emails addressed to "Mr. Stop Hating," the name I used for an AFA petition that I "supported" (read: trolled) a full fifteen years ago. So whenever they say they have X number of signatures, you can be sure that a sizable percentage are people who wanted to deliver a message on a forum where the petition is the only open communication channel.
Ultimately, we don't know how many moms are in One Million Moms, but even their "about" page indicates the "one million" figure is a goal, not established fact. Attempts to verify their support numbers have yielded mixed results, and their social media accounts — almost surely inflated, given the AFA's long history of having a checkered relationship with the truth — have just under 5,000 and 100,000 members respectively. In their individual efforts, petitions to "pressure" various groups seem to garner slightly less than 15,000 signatures.