Did a Long Island News Outlet Call George Floyd Graffiti 'Anti-Government'?
Claim
News 12 Long Island referred to the phrase "I can't breathe" as "anti-government graffiti."
Like this fact check?

Reporting
A television station in Long Island, New York used some of George Floyd's last words to attract social media users to a short story about "anti-government graffiti."
News 12 Long Island's Twitter post on June 7 2020 did not mention Floyd by name, but it contained a photograph of the words "I can't breathe" spray-painted on a wall: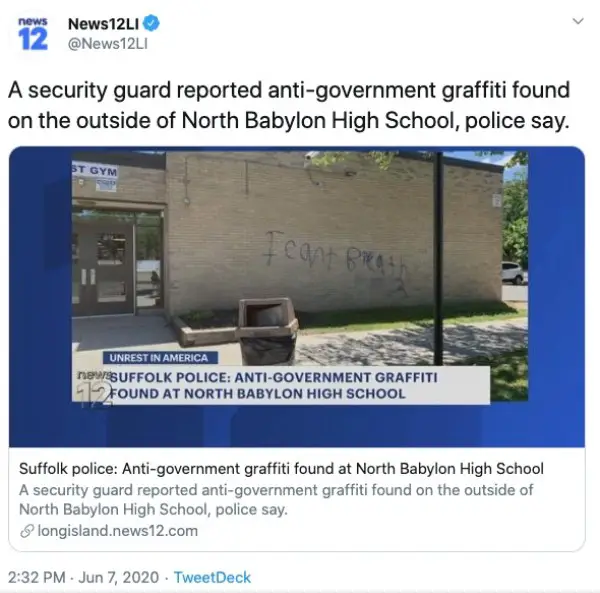 Floyd was captured on video saying "I can't breathe" before his extrajudicial killing by police officers in Minneapolis, Minnesota. Four officers — Derek Chauvin, J. Alexander Kueng, Thomas Lane, and Tou Thao — have been arrested in connection with Floyd's death on May 25 2020. Chauvin was charged with second-degree manslaughter, second-degree murder, and third-degree murder. His colleagues were charged with aiding and abetting second-degree murder.
But the station's eighteen-second-long story did not mention Floyd at all. Instead, it showed the "I can't breathe" remark alongside another phrase spray-painted on a wall at North Babylon High School: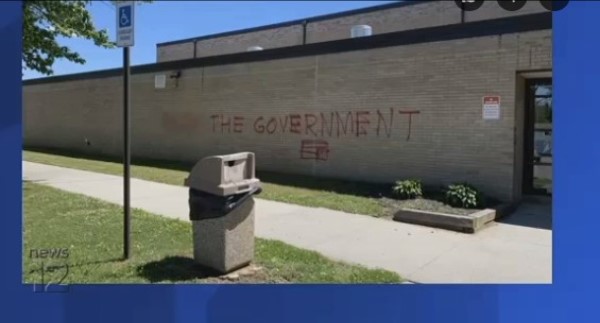 The entirety of the story's copy reads:
A security guard reported anti-government graffiti found on the outside of North Babylon High School, police say.

The school is located on Phelps Lane. Suffolk police say they were called to the school at 9:30 a.m. Sunday.

It is not confirmed how long the graffiti was on the building.
Floyd's death was the impetus behind a new series of Black Lives Matter protests in not only his own city, but around the world as people take to the streets to call for an end to racism everywhere. On June 7 2020, a veto-proof majority of the Minneapolis City Council announced its intention to disband city police and reallocate their funding toward different methods of preserving public safety.
But the phrase "I can't breathe" also has resonance in the New York area; a Staten Island man, Eric Garner, told police the same thing after being put in a banned chokehold by New York City police officer Daniel Pantaleo on July 17, 2014. His death was ruled a homicide by the local medical examiner, but a grand jury in Richmond County refused to indict Pantaleo. Pantaleo would not be fired from the department until August 2019. Garner's death also spurred several police demonstrations against police brutality across the United States.
We contacted News 12 to ask why it included "I can't breathe" in its reporting on the graffiti without adding additional context. We have yet to hear back.