Is a Photograph of Roger Stone Holding a 'Hillary for Prison' Shirt Real?
Claim
A photograph of political operative Roger Stone holding up a shirt bearing a "Hillary for Prison" slogan is real.
Like this fact check?

Reporting
After political operative Roger Stone was arrested on January 25 2019, a photograph in which he appeared to proudly display a shirt bearing the slogan "Hillary for Prison" began circulating on social media: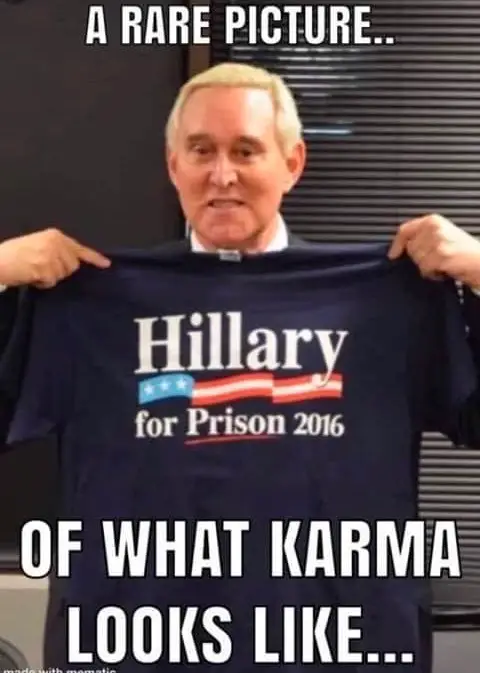 As in the example above, the image was often captioned "A rare picture of what karma looks like."
The commentary alluded to the fact that Stone often championed arresting Hillary Clinton during the 2016 election, only to himself face seven felony counts following a raid at his Florida home and ensuing arrest by furloughed Federal Bureau of Investigation (FBI) agents.
A reverse image search was useful in determining whether the photograph had been recently altered in the context of Stone's arrest. Iterations of the image were crawled as early as May 2016, when the image was shared to Reddit's r/The_Donald. Although that result didn't offer clues whether the original image had been altered, the image did appear in 2016, presumably to amuse supporters of Donald Trump. The earliest appearance of the photograph we found was published in December 2015; Trump began campaigning in June 2015, and Stone parted ways with the campaign in August 2015.
The original did not appear to have been enormously popular in 2015 or 2016, as we only found a handful of copies shared to communities which supported Trump's ultimately successful presidential bid. On July 20 2016, the Washington Post published an article titled "Republicans debate: Kill Hillary, or merely jail her," making mention of Stone's remarks on Clinton:
The Republican nominee and his advisers themselves are split on the issue. "Hillary Clinton has to go to jail, okay? She has to go to jail," [Trump] declared last month. "She's guilty as hell."

But his longtime adviser Roger Stone has long argued for more. "Hillary must be brought to justice — arrested, tried and executed for murder," he tweeted two years ago. Stone suggested anew this week (at a rally also attended by Baldasaro) that Clinton murdered her friend Vince Foster.
Similar sentiments appeared in since-deleted tweets published by Stone in 2016:
Roger Stone, a longtime ally of President-elect Donald Trump, is petitioning the incoming administration to ask a grand jury whether Democratic presidential nominee Hillary Clinton should be criminally prosecuted.

No way should @HillaryClinton avoid prosecution #LockHerUp Sign our petition to the @realDonaldTrump Administration https://t.co/5vZ9j7OUog

— Roger Stone (@RogerJStoneJr) December 19, 2016

Stone's tweet links to a petition addressed to Trump and Sen. Jeff Sessions (R-Ala.), the president-elect's choice for attorney general, asking them to present evidence against Clinton to grand jurors.
Stone was suspended from Twitter in 2017.
In October 2016, the left-leaning Media Matters for America reported on Stone's professed admiration for the "Hillary for Prison" t-shirts that were being peddled by InfoWars associate Alex Jones. Jones' site promoted the shirts in October 2015. Quoting Stone on Trump's assessment of the shirts ("he loves them"), the site added:
Longtime adviser Roger Stone has said that Donald Trump "loves" the "Hillary For Prison" T-shirts sold by conspiracy theorist radio host Alex Jones and that the Republican nominee "knows exactly where they came from." The T-shirt slogan from the 9/11 truther has now become a campaign pledge from the Republican presidential nominee … Mother Jones' Tim Murphy noted Trump's position "has been a core plank of his platform since last winter, and a fantasy of many of his supporters for far longer." He traced the origin of the talking point to Alex Jones and his Infowars website, which began selling its "Hillary for Prison" T-shirt last year.

[…]

Roger Stone has repeatedly said that Trump has seen the Alex Jones T-shirts and "loves" them.

During a May 4 [2016] appearance on Jones' show, Stone said that "Trump himself told me that he has seen so many of your supporters and listeners at his rallies. He loves the 'Hillary for Prison' T-shirts and he knows exactly where they came from. So Alex, I'm certain that he is grateful for your support." Jones replied: "I want listeners and viewers to know, you're having an effect."

…Stone praised Trump's [2016] debate call for Clinton's jailing, stating that it was "his way of telling the Clintons and their daughter that they're going to prison over their massive corruption."
In the end neither the origin of the original photograph or the meme was readily apparent, but the image on which the "karma" iteration was based appeared on the internet as early as December 2015. Ongoing coverage of the campaign-related events of 2015 and 2016 detailed numerous instances of Roger Stone calling for the arrest and conviction of Hillary Clinton, as well as his acknowledgment and expressed admiration for the "Hillary for Prison" t-shirt. Given that the photograph was more than three years old at the time the "karma" meme circulated, it was not doctored as a reaction to Stone's arrest in January 2019, and it shows no signs of having been altered.