Is Popeye's Offering 'Emotional Support Chicken' to Harried Travelers?
Claim
Popeye's Louisiana Kitchen is selling "emotional support chicken" for weary flight passengers.
Like this fact check?

Reporting
On December 18, 2018, a spate of posts and articles about fast food chain Popeye's new "emotional support chicken" appeared on social media: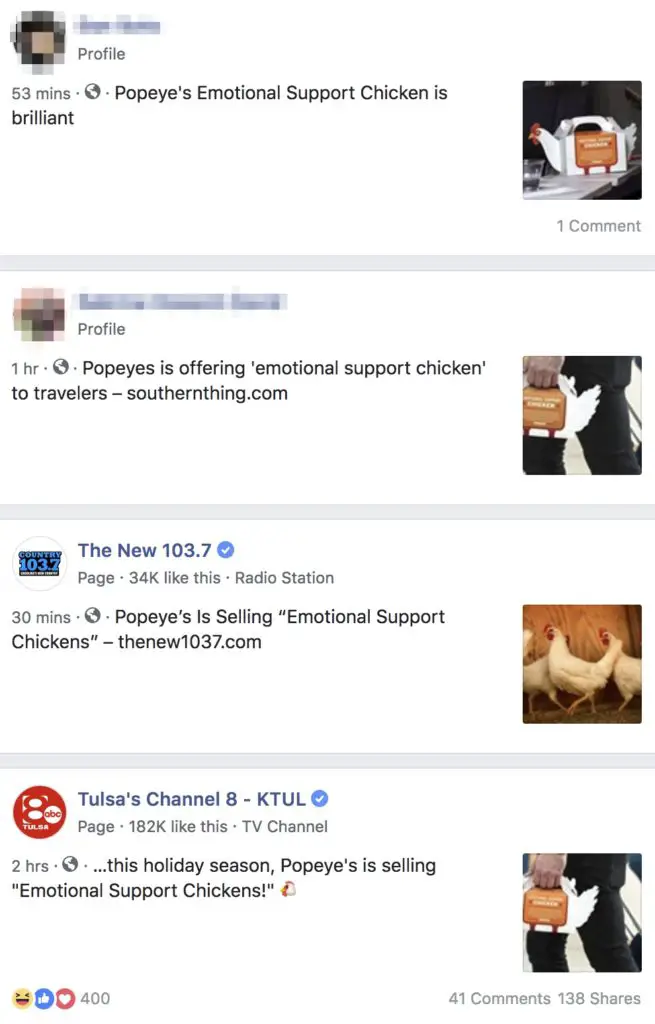 The move appeared to be a stunt that was either tasty or tasteless, depending on your perspective. Although several general news outlets posted about the Popeye's product, readers and social media users remained on high alert for leg pulls and marketing stunts based on the topics of the day — in this case, the ongoing controversy around emotional support animal companions and air travel:
Delta says it saw an 84 percent increase in reported incidents involving service and support animals in 2016 and 2017. According to the trade group Airlines for America, airlines in the US saw a 74 percent increase overall in emotional support animals from 2016 to 2017. This increase has caused other major airlines including American and United to tighten their policies.

Even if you haven't encountered a nonhuman passenger on your own flight, you've probably heard one of the viral stories about one, which seem to surface every few weeks. In January [2018], a woman was barred from bringing her emotional support peacock on a United flight, even when she offered to buy the bird its own seat.
Likely owing in part to the evergreen popularity of the debate, Popeye's advertisement of a new purported product relating to emotional support animals proved popular on social media:
Sorry, Fido. Popeyes #EmotionalSupportChicken doesn't bark on the plane. (Available in the Philadelphia airport on 12/18.) pic.twitter.com/vWyBWq4PTe

— Popeyes Chicken (@PopeyesChicken) December 18, 2018
Popeye's issued a press release on December 18, 2018 about its purported new product:
There is no doubt the holiday season is one of the busiest and most stressful travel times of the year. The airports are crowded, the delays are frustrating, and travelers are stressed about getting from point A to point B with gifts in hand. This year, POPEYES® is launching "Emotional Support Chicken" to provide a good-hearted laugh most need to get through stressful holiday air travel. Starting Tuesday, December 18 [2018], travelers passing through Philadelphia International Airport can purchase their fried chicken meal with an "Emotional Support Chicken" carrier at the Popeyes Louisiana Kitchen in Terminal C to bring with them on their flight.

Emotional support animals provide comfort and companionship, especially during a highly stressful time like air travel. However, according to recent headlines, some travelers are pushing the envelope with the types of animals they try to bring on flights and classify as "emotional support animals," including the likes of peacocks, squirrels and tarantulas. Knowing this, Popeyes decided to launch its new "Emotional Support Chicken" to bring holiday travelers some humor to what is one of the most stressful places to be during the holidays – the airport.
As is often the case with headline-grabbing fast food news, Popeye's "Emotional Support Chicken" promotion was a bit overhyped for its real-world impact. The product was only available at one location (Philadelphia International Airport), and only while supplies lasted. Overall, the announcement largely served to get Popeye's a bunch of news mentions, with little substance behind the novelty item.