Is This a 2019 Photograph of Tennessee Residents Queueing in the Cold for Medical Assistance?
Claim
A viral image shows Tennessee residents queueing in cold temperatures for free medical care in February 2019.
Like this fact check?

Reporting
On February 10 2019, NBC managing editor Dafna Linzer shared the following image and caption (subsequently transcribed) on Twitter: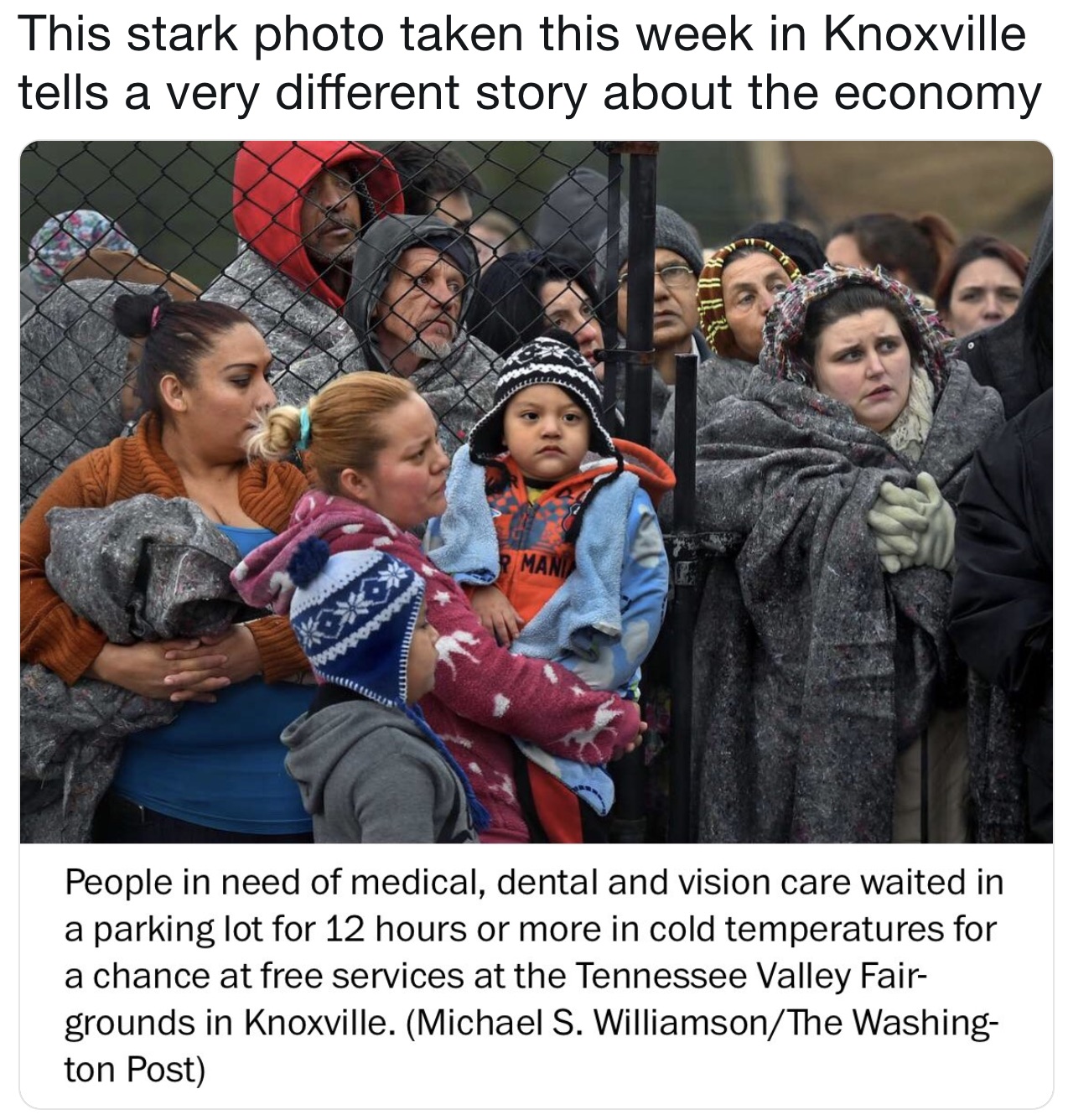 The tweet stated that the "stark photo taken this week in Knoxville tells a very different story about the economy," and it included what appeared to be a caption from a news item:
People in need of medical, dental and vision care waited in a parking lot for 12 hours or more in cold temperatures for a chance at free services at the Tennessee Valley Fairgrounds in Knoxville. (Michael S. Williamson/The Washington Post)
Linzer did not link to an article or other source for the photograph, and at least one commenter disputed that the image was captured "last week" in Knoxville. However, the user also failed to cite their claim.
A search for the caption only returned results for a meme generation site and Reddit threads, but we were unable to locate any leads on the source of the image. However, on January 2 2019, Knoxville station WVLT reported on a clinic hosted by Remote Area Medical (RAMUSA), in the week before to the tweet:
Remote Area Medical is coming back to Knoxville to provide health care for its 1,000th expedition on February 1-3 [2019].

RAM will hold the expedition at Chilhowee Park's Jacob Building, 3301 East Magnolia Avenue in Knoxville.

RAM typically opens the patient parking lot (Gate #1) no later than 12 a.m. midnight on the first night of the event (Friday, February 1). Ticket distribution usually begins at 3 a.m., and patients are then served in chronological order according to their ticket number when clinic doors open, which typically occurs at 6 a.m. This process will repeat on Saturday, February 2 and Sunday February 3.
Users inferred that the subjects were rural Tennessee residents waiting in the cold for medical care at the RAMUSA clinic. Although it was not a readily apparent source, the image was published by the Washington Post in a gallery, "Here are 14 of the week's best photos." The photograph was was fifth on the list, which did not link to any additional news coverage, and it was dated February 2 2019.