Jensen Beach Cracker Barrel Employee Death Facebook Post
Claim
An employee of Cracker Barrel in Jensen Beach, Florida died at work in November 2020, but the restaurant did not close and management did not honor time off requests for his services.
Like this fact check?

Reporting
On May 18 2021 — in the middle of an ongoing national discussion about labor rights and essential workers — a self-identified former Cracker Barrel employee shared a public Facebook post concerning the purported death of a co-worker at the chain's Jensen Beach location in November 2020.
The person who had written the post claimed that they had since left their position at Cracker Barrel, and could therefore freely discuss the on-the-job death of a friend they identified as "JC." Every portion of the post following "Period" was part of an edit on May 20 2021, and the post read:
You [wanna] know what still just doesn't sit right with me? A man who worked in the kitchen for over 10 years at Cracker Barrel in Jensen Beach Florida died [DURING] his shift. Right in the back of the restaurant. And the business didn't close their doors. Didn't even blink. Families were still seated, eating their dinner while a man was dying in the back. Wait staff and the kitchen were still forced to work while THEIR FRIEND was dying in the back. AND THEN, get this, when his memorial came around, management had the AUDACITY to put the invite to his funeral in the back with a note that said WE CAN NOT ACCEPT REQUEST OFF FOR THIS DAY.

You think these corporations care about you? You think if you you put in extra work and don't call out when your sick and be their little puppet that it will get you anywhere in life? Stop giving yourself a stress condition for these companies that will quite literally walk over your dead body to hire your replacement. Stop compromising important times with your family, or even simply your happiness for [businesses] that only care about profit. Life is to important to spend it working and paying bills. Remember at the end of the day you work for YOURSELF. If a company isn't doing anything for you, then you shouldn't be doing anything for the company. Period.

**edit to add** [May 20 2021]

Cracker Barrel has a policy where employees are not allowed to post anything negative about the company on social media. But I no longer work for Cracker Barrel so I made this sharable !💕
Because my friend JC deserved better! And so did my friends and coworkers who are suffering from PTSD from this Incident💕
The post on its own gave a little to go on in terms of authentication. The user disclosed the first name or nickname of the decedent ("JC," likely not the name which would appear in any official records or putative news stories) the restaurant chain (Cracker Barrel), the state (Florida), the location (Jensen Beach), and the month during which JC had purportedly died at work (November 2020). That post also explained why they had shared the story in May 2021 versus in November 2020 — because of a policy prohibiting them from talking about the incident while they were stil working there.
One of the first comments on the post was by the original poster, reiterating the commentary later edited into the post. In response, a separate account commented "IM HEART BROKEN," to which the original poster responded:
and we are all suppose[d] to just continue on like that shit was normal
Other comments, apparently from former co-workers and possibly current employees appeared to concur with the post and its recounting of events, with one alluding to an "accident" at the store:
"You said what I think others were afraid to or not able to this is so true god bless you I agree 100%"
"I could NOT believe that whoever was on that shift that day the "accident" happened (well I see it more like an employee who was OVER WORKED HARD CORE!!! My opinion) that whoever had to continue to work!! HELL NO!! That is just so awful! I cant believe how it's like not a law! Close the dang doors get everyone out have some respect for someone who has been faithful to you and the company for over 10yrs!!! SMH I get so mad about this too!!!

"You have an employee who is unresponsive and you want me to run this damn tray?? Ugh I would have flipped my shit!!! I didn't even know about the memorial!😔 RIP JC!
[OP] I do applaud 👏👏 you girl for walking out! You can only take so much! But held on for a long time! I thought you where a hard ass worker and always made me smile when you were there!😊

"I was their 11yrs girl feels weird not being there but I don't think I'm going back anytime soon, Jeff said I could always come back whenever I wanted, but I think it's a strong NO. You said it right 💯!!!"
Several other separate accounts continued to corroborate the original poster's version of events, with another commenting:
"I think that experience [involving JC's death] was the tipping point for me finding a new job. Along with COVID. But the way they treated that, and the calls from home office and not getting his name correct, just destroyed me trust with that company.

"They truly do not care about us as individuals or humans. We are just a way for them to make a profit.

"When was his memorial? Did I miss it?"
The original account replied:
"100% and my heart breaks for those of you who had to be there durring this experience and continue to work. It was in March. We all missed it☹️"
In a subsequent thread, the original poster said that the expense of the memorial was the reason for the delay, and responded to a question about what the chain did to assist JC's family in burying him:
"nothing at all. Well ok, actually corporate called to wish condolences for the loss of 'Jeremy' (not his name, not even close) , and then gave his family a box of food that prob cost them 10-20 dollars"
As the post gained traction, more people began appearing and asking questions. One asked why "PTSD" was mentioned in the post; the original poster responded:
"… for the ones who found his body laying on the ground and then were forced to continue working ."
They later commented asking anyone who knew of deaths on shift at any Cracker Barrel to contact them:
Hello everyone, first I'd like to say thank you to all who have shared and help to get this story out. But from what I have seen in the comments, it is way more than just this story. If you have a friend or loved one that has passed DURING their shift at Cracker Barrel. Please send me a message. I am overwhelmed at the thought of this, because after all I'm just a waitress and have never stood up for anything in my life. But too many of you are suffering because of this companies greed. And we need justice for these families. So, I'd like to collect as much information and possible. You can choose to be Anonymous or not, I will respect your privacy. And from there I will submit this story to the news and hopefully (if I can afford it) to a lawyer. Because I don't want this to EVER happen again.
Others asked for a link to a news story or other additional information about JC and the Jensen Beach Cracker Barrel. In response, the OP shared an image of a memorial created by employees: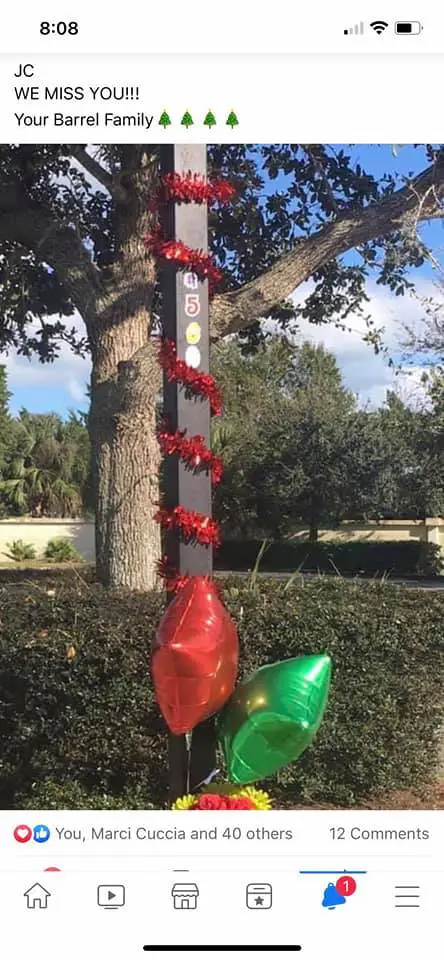 In a comment on May 25 2021, the original poster disclosed the date on which JC died, and explained that his death received no news coverage:
"there was no news articles. There was nothing. They made it like it never happened. November 17th 2020"
Eventually, a separate account shared a photograph of the announcement of JC's memorial, pinned to a bulletin board. On the announcement, "JC" was identified as "J.C. Humerickhouse," whose celebration of life was held on April 17 2021 (not March.)
One of two handwritten notes signed "Jeff" read "I will not be able to honor day off requests":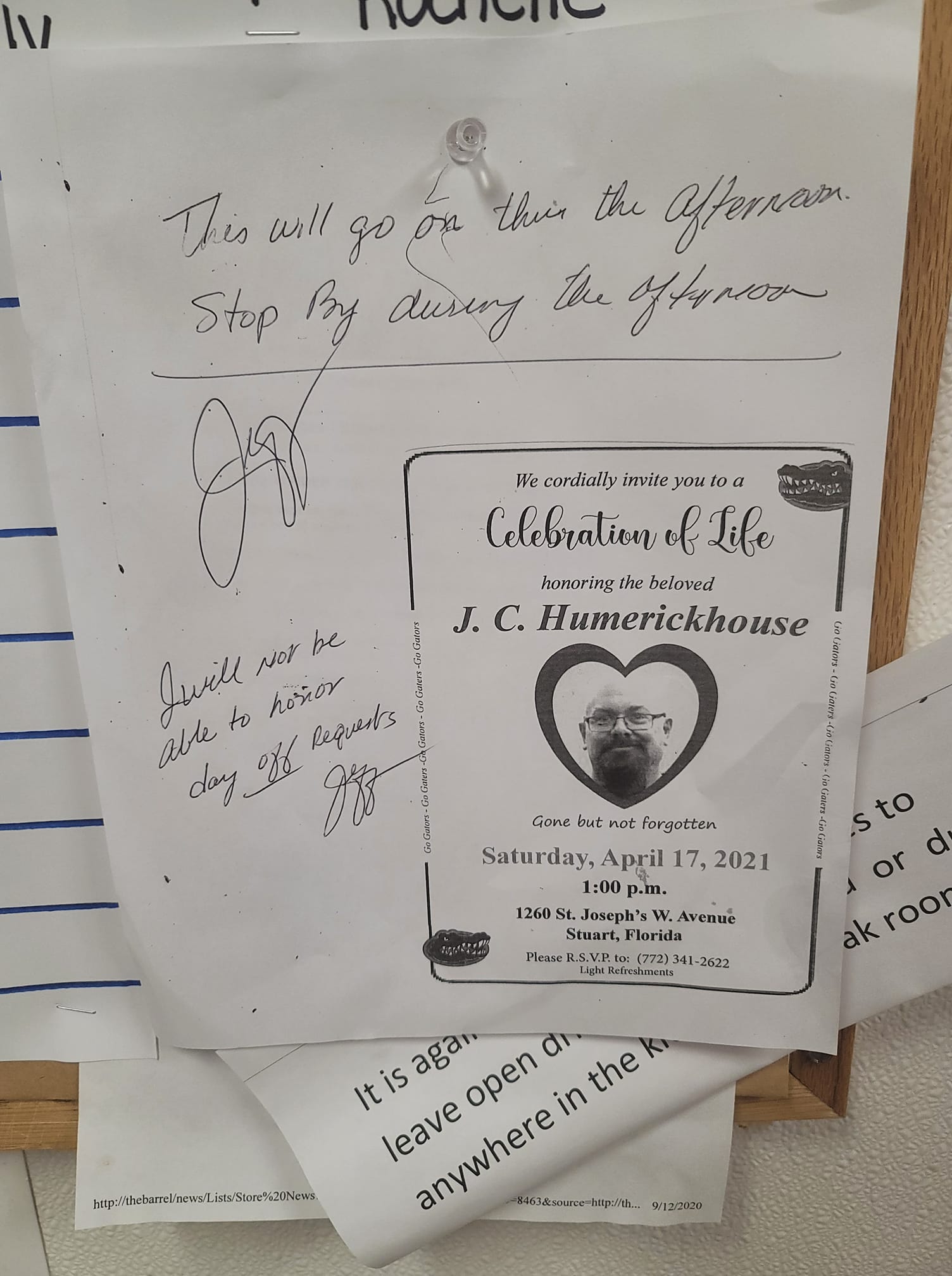 In a comment on that subthread, the employee who shared the image replied to the OP:
… he's work this ass off for YEARSSSSSS. Literally 12+ years and he died for that store and yet we couldn't have any time off for his funeral or remembrance ceremony. I couldn't bring it upon myself to continue working there. I was heartbroken. He was my coworker, my friend, and my mentor. Not seeing him there anymore was the worst part of it all. He was a good proud father and did everything for her. His death shouldn't of happened the way it did. 😞🥺😭
We were able to find two obituaries matching the information provided by the original post and others claiming to be co-workers at the Jensen Beach Cracker Barrel. A brief Legacy.com page provided the date on which a Joseph C. [JC] Humerickhouse died as November 17 2020, referencing a funeral home in Stuart, Florida (which is about six miles away from Jensen Beach.)
A separate obituary also provided details matching the claims of the Jensen Beach Cracker Barrel employees, current and former:
Joseph C "J.C" Humerickhouse

With heavy hearts, we announce the death of Joseph C Humerickhouse of Stuart, Florida, who passed away on November 17, 2020 at the age of 48. Leave a sympathy message to the family on the memorial page of Joseph C Humerickhouse to pay them a last tribute. You may also light a candle in honor of Joseph C Humerickhouse.
We also located a LinkedIn profile for a Joseph Humerickhouse of Stuart, Florida. It listed one job in total for Humerickhouse, as a cook at Cracker Barrel, starting in March 2008; the "13 years and three months" tenure and "2008 t0 present" matched co-workers' claims that he had worked there for 12 years, with "present" being six months after his death as of late May 2021.
A third obituary for Humerickhouse described him as an employee of the Jensen Beach Cracker Barrel:
Joseph C (J.C) Humerickhouse
March 8 1972 – November 17, 2020

Joseph Carter (J.C.) Humerickhouse March 8, 1972 – November 17, 2020

Joseph Carter (I.C.) Humerickhouse of Stuart passed away suddenly on November 17, 2020. J.C's life began on March 8, 1972 at St. Francis Xavier Hospital, Charleston, South Carolina.

During his younger years, J.C. lived with his family in Johns Island, South Carolina and Ault and Eaton, Colorado. However, most of his life was spent in Florida after his family moved here when he was twelve.

Mr. Humerickhouse graduated from Martin County High School, Stuart, in 1990. He also attended Florida State University and graduated with a bachelor's degree in accounting.

J.C. was shift leader, friend and helper and loved by all the employees of Cracker Barrel, Jensen Beach where he was employed for over 12 years.

Cooking for his family was something J.C. enjoyed and his favorite pastime was spending time with them and his daughter, C.J., the light of his life …
A viral Facebook post (and comments) claimed that an employee of the Jensen Beach Cracker Barrel died at work on November 17 2021. Although the man was identified only by his nickname of "JC" in initial posts, later posts indicated his full name was Joseph C. Humerickhouse. Existing records including his LinkedIn profile and obituaries validated the date of his death (November 17 2020), his young age (48), his place of employment (Cracker Barrel), his hometown (the nearby Stuart, Florida), and all details were consistent with the claims of his current and former co-workers.
Although none of the content verified the cause or location of Humerick's death, the ancillary information indicated that he did indeed exist, lived nearby, worked at the Jensen Beach Cracker Barrel, was cared about by his family and his co-workers, and that he died on November 17 2020.