Did Joe Biden Call Trump 'George' During a Live Video?
Claim
Democratic Party presidential candidate Joe Biden confused United States President Donald Trump with Republican predecessor George W. Bush during an interview in October 2020.
Like this fact check?

Reporting
A tweet from an official for United States President Donald Trump's re-election campaign highlighted a widespread disinformation campaign that hinged on attempting to manufacture a "gaffe" to pin on Democratic Party presidential nominee Joe Biden.
The latest attempt to work up a controversy around Biden is drawn from a misrepresented clip of his appearance alongside his wife, Dr. Jill Biden, during their participation in an October 25 2020 online event hosted by comedian George Lopez and Ana Navarro, a Republican political commentator who has been a consistent critic of the Trump administration and its policies.
The basis of the "gaffe" is an exchange between Lopez and Biden.
"If someone is undecided and maybe thinking about not voting, why should they vote and why should they vote for you?" the comedian asked.
"The reason they should vote is, there's a lot on the ballot this year," Biden replied, adding:
This is the most consequential — not because I'm running, but because of who I'm running against, this is the most consequential election in a long, long, long time. And the character of the country in my view is literally on the ballot, what kind of country are we going to be. Four more years of George uh… George, going to find ourselves in a position if Trump gets elected, we are going to be in a different world.
As an Associated Press analysis found, while Biden stumbled over his words in speaking to Lopez, disinformation purveyors decided to run with the pretense that the former Vice President had confused Trump for former president George W. Bush. And according to the media watchdog site Media Matters, it was relatively successful:
The Trump campaign's latest attack on Biden got picked up by Fox News, the New York Post, Newsweek, Breitbart, The Daily Wire, The Daily Caller, and John Solomon's Just the News. The Daily Mail also tweeted a claim that Jill Biden was whispering "Trump" under her breath, based on nothing more than that she slightly opened her mouth. (Ironically, the Daily Mail's embedded video that would supposedly prove this allegation did not have any audio track on it.)
NBC News added to the spread of the "gaffe" in a story that aired on the Today show in which White House correspondent Kristen Welker — who moderated the final debate between Biden and Trump — said that Biden was "making headlines overnight after appearing to confuse his opponent's name." A clip of NBC's botched report was spread further by the Trump campaign's Francis Brennan.
"Even The TODAY Show had to cover Joe Biden thinking George W. Bush was president," Brennan wrote. "That's how you know this is BAD."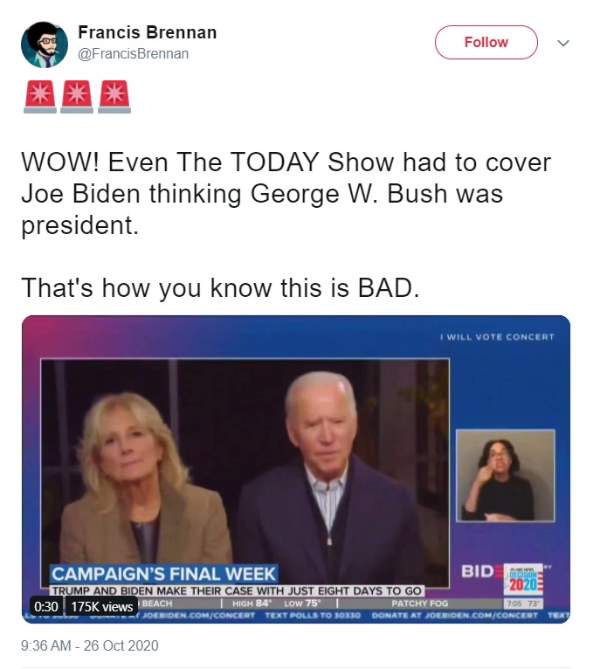 Welker's story has been updated with an editor's note reading:
The video of Joe Biden talking about the 2020 election and "four more years of George…" came from an interview that Biden did Sunday with George Lopez. The fact that Biden was talking with George Lopez was relevant and helpful context that should have been included in the original report.
We contacted Twitter asking if Brennan's tweet would be covered under the platform's terms of service on spreading political disinformation. Navarro has already criticized the report's mention of the footage from her interview with Biden.
"I know it may come as a shock to some Trump supporters, but some Latinos are named 'George.' Not everyone is Jose and Maria," she told The Daily Beast, adding, "It's not surprising that the Trump campaign would lie about the clip and take it out of context. But frankly, I had higher expectations for NBC News."
A Twitter spokesperson told us that Brennan's tweet "will not be labeled under our synthetic and manipulated media policy."
The company also claimed that it added more context in a section explaining trending topics to users.
Update October 27, 2020, 8:56 a.m. PST: Updated with comments from Twitter.