Are Stella Brazier or Greta Thunberg Actually 'Child Actresses'?
Claim
Australian teenager Stella Brazier and Swedish teenager Greta Thunberg, both of whom are part of climate-related demonstrations, are actually the same paid actress.
Like this fact check?

Reporting
As part of their push to demonize young protesters demanding that their leaders recognize global warming, some far-right and climate change denier blogs have published the unsubstantiated claim that one Australian protester was actually performing, resurrecting a frequent claim about victims and survivors of mass shootings and other terror attacks.
The allegations against 14-year-old Stella Brazier followed an emotional interview she gave during a May 2019 demonstration in Cronulla.
"It just upsets me so much because I just don't know if they [politicians] are going to do anything," a tearful Brazier said. "What's going to happen to humankind, what's going to happen to the whole world?"
A blog founded by former Republican Party mascot Joe "the plumber" Wurzelbacher cited another far-right blog claiming that Brazier is an actress, which itself cited a page showing a photograph of a girl named Estella Renee. While we have as yet been unable to substantiate whether Estella and Stella are the same person, there is no proof that if she is, that she was hired or paid to act in the protest: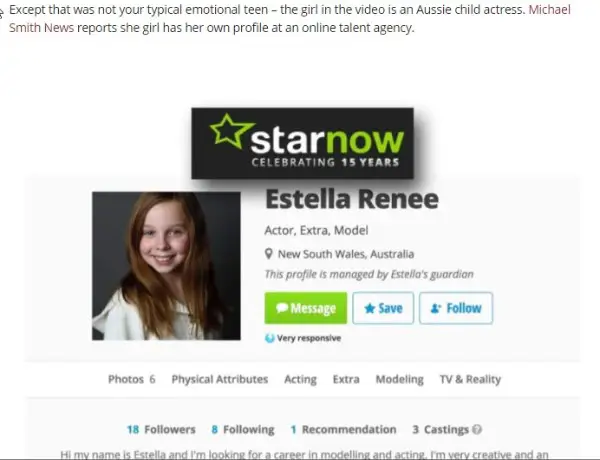 Wurzelbacher's long love affair with public attention also started with a purportedly chance encounter; despite never having been registered to work as a plumber himself, Wurzelbacher was dubbed "Joe the Plumber" in October 2008 after telling then-Democratic Party candidate Barack Obama that he was planning to buy a plumbing company making "$250,000 to $280,000 a year," and became a cause célèbre for those claiming at the time that their issues with Obama were purely financial.
Even though Wurzelbacher later admitted that he was not making $250,000 at the time of his encounter with Obama, he claimed that Obama's plan to increase taxes for business making more than that represented a "slippery slope." Republican Party nominee and Arizona Sen. John McCain falsely claimed during the campaign that Obama's tax plan would mean a tax increase for Wurzelbacher. Wurzelbacher would go on to make campaign appearances alongside McCain before the November 2008 election, which Obama won.
Wurzelbacher himself parlayed the appearance into some limited celebrity, including a later run for office in 2012, mounting a losing campaign to represent Ohio's ninth congressional district. Two years later, he published an op-ed saying that while he expressed condolences toward the families of the people killed in a mass shooting in Isla Vista, California, that "[their] dead kids don't trump my Constitutional rights."
But there was another wrinkle to this rumor. Far-right sources also apparently got their messages mixed up, with some wildly offering that Greta Thunberg — another teenaged climate activist with little resemblance to the photograph above — was the same actress, Estella Renee: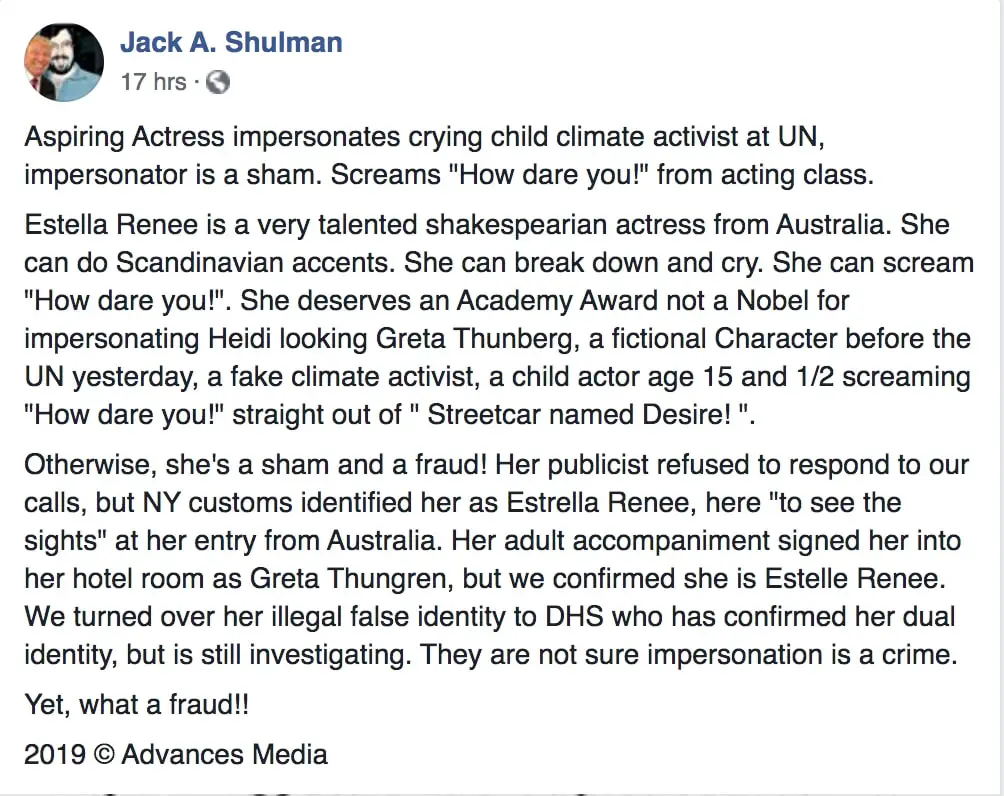 But aside from a profile image belonging to an entirely different person and increasingly hysterical rumormongering, these bloggers and would-be commentaters have not offered any reporting substantiating the claim or explanation for how or why working as an actress could affect anyone's views on the climate crisis, nor do they have any explanation for the millions of people who participated in the historic September 20 2019 global protests to pressure world leaders to take action against it.
The casting agency named in the claims did not comment, citing the Australian Privacy Act of 1988.