John McCain vs. Donald Trump in 1973 Meme
Claim
John McCain was released after five years of captivity in Vietnam in 1973, the same year Donald Trump was sued by the Justice Department for racial bias in real estate.
Like this fact check?

Reporting
In March 2019, United States President Donald Trump made several comments about Sen. John McCain, who died of brain cancer the previous August. Trump's 2019 comments continued a feud that he had had with McCain before his death:
President Donald Trump's feud with the late Sen. John McCain dates back many years, to long before the real estate magnate launched a campaign for president.

Trump, who occasionally re-airs his grievances with the late Arizona Republican, launched a new line of attack during an address in Ohio Wednesday, suggesting the McCain family never thanked him for "the kind of funeral that he wanted." Trump's role in the services were limited to allowing McCain's body to fly on planes used as Air Force Two.
On March 18th, Facebook page "The Other 98%" shared the following meme (archived here), contrasting the purported activities of both men in 1973: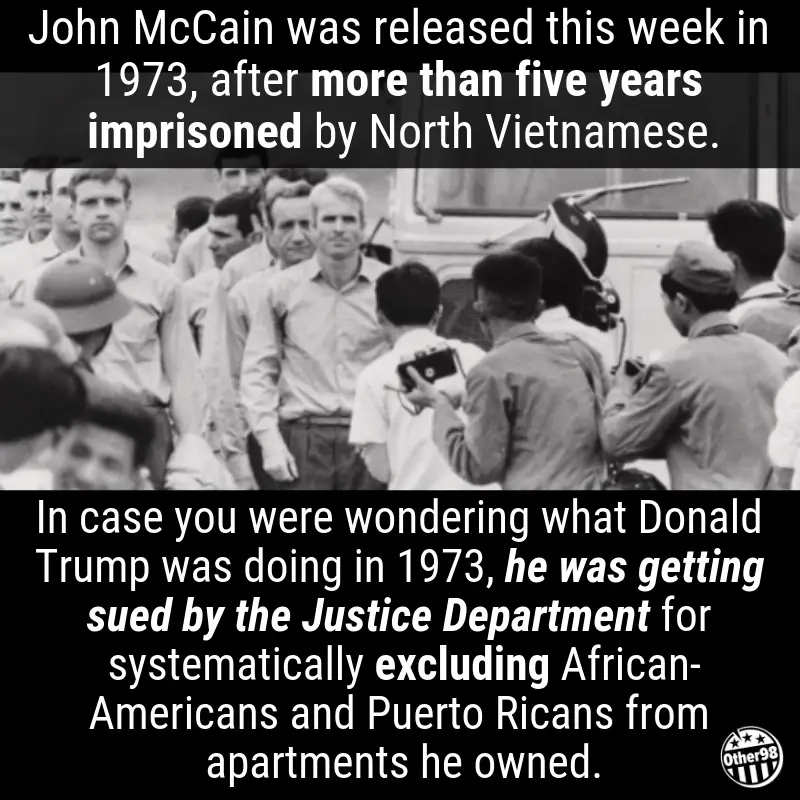 The text, which was both on top of and beneath a black and white photograph of a young McCain, said:
John McCain was released this week in 1973, after more than five years imprisoned by the North Vietnamese.

In case you were wondering what Donald Trump was doing in 1973, he was getting sued by the Justice Department for systematically excluding African-Americans and Puerto Ricans from apartments he owned.
The meme's first claim was that in March 1973, McCain was released after he had been held as a prisoner of war in Vietnam for five years. A March 14 2019 CBS story ("How CBS News covered John McCain's 1973 release from the Hanoi Hilton") covered the anniversary of McCain's release and the length of his imprisonment:
[March 14 2019] marked the 46th anniversary of John McCain's release after being held captive as a prisoner of war at the Hanoi Hilton during the Vietnam War. McCain, who died [in 2018] at the age of 81 after a lifetime of service in the military and as a senator, was greeted by a cheering crowd at Clark Airbase in the Philippines on March 14, 1973.

[…]

Then-Navy Lt. Commander John McCain was held captive in North Vietnam for five and a half years, from 1967 to 1973. The injuries he sustained would affect his mobility for the rest of his life.
Its second part was not as specific, claiming that in the same year McCain was released, Trump was sued by the Justice Department for discriminatory practices in real estate. In January 2016, the Washington Post reported:
In October 1973, the Justice Department filed a civil rights case that accused the Trump firm, whose complexes contained 14,000 apartments, of violating the Fair Housing Act of 1968.

The case, one of the biggest federal housing discrimination suits to be brought during that time, put a spotlight on the family empire led by its 27-year-old president, Donald Trump, and his father, Fred Trump, the chairman, who had begun building houses and apartments in the 1930s. The younger Trump demonstrated the brash, combative style that would make him famous, holding forth at a news conference in a Manhattan hotel to decry the government's arguments as "such outrageous lies." He would also say that the company wanted to avoid renting apartments to welfare recipients of any color but never discriminated based on race.
The article included images of the October 1973 suit in which Trump and his father were named as defendants: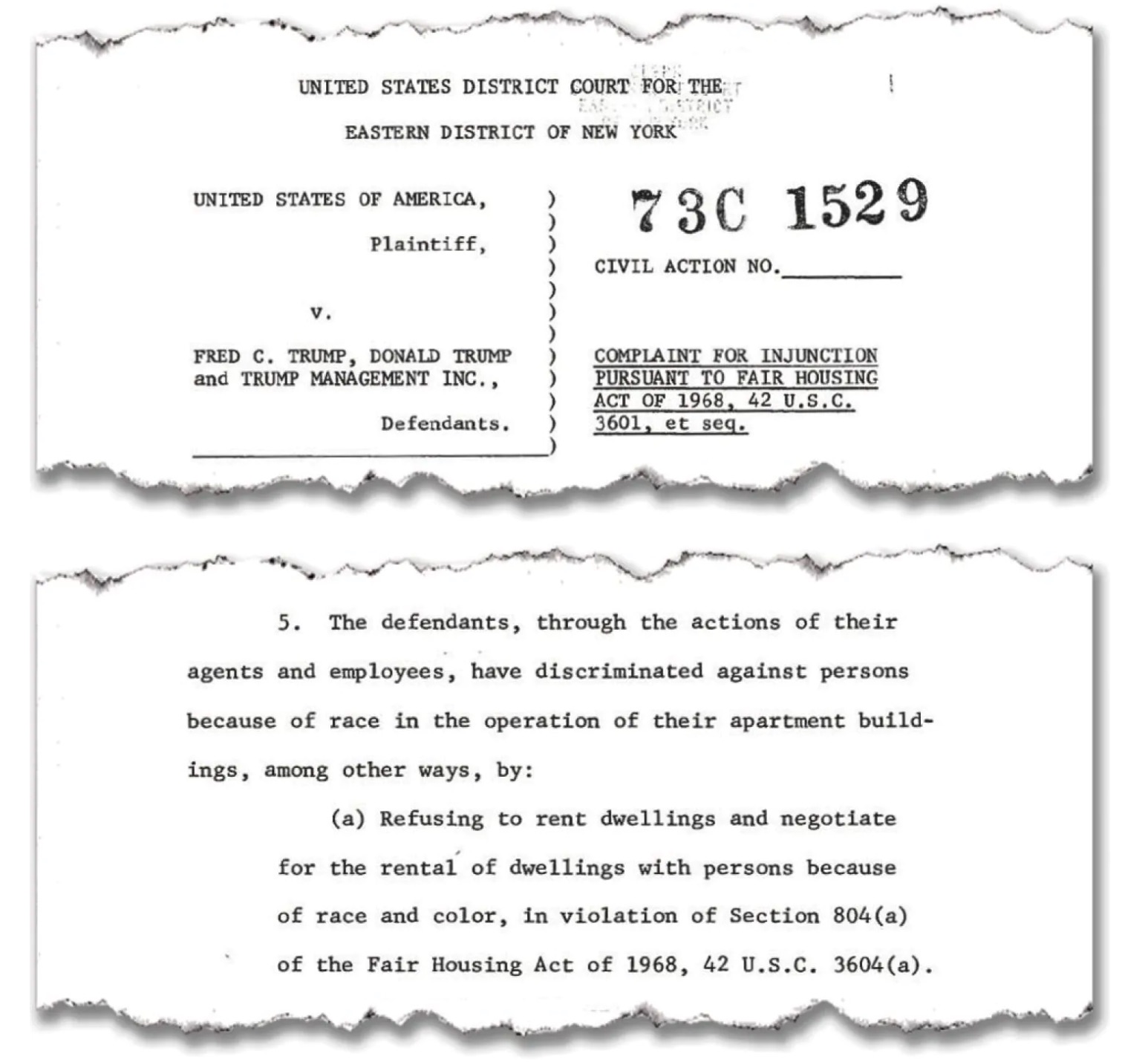 In September 2016, PolitiFact rated the claim true, and NPR revisited the issue after Democratic Party candidate Hillary Clinton raised the issue during a presidential debate:
The Justice Department sued Donald Trump, his father, Fred, and Trump Management in order to obtain a settlement in which Trump and his father would promise not to discriminate. The case eventually was settled two years later after Trump tried to countersue the Justice Department for $100 million for making false statements. Those allegations were dismissed by the court.

"Donald started his career, back in 1973, being sued by the Justice Department for racial discrimination — because he would not rent apartments in one of his developments to African-Americans, and he made sure that the people who worked for him understood that was the policy," Clinton said [during a September 2016 debate].

"Yes, when I was very young, I went into my father's company — had a real estate company in Brooklyn and Queens," Trump said. "And we, along with many, many other companies throughout the country — it was a federal lawsuit — were sued. We settled the suit with zero, with no admission of guilt."

[…]

>

"[The settlement] required the Trumps to place ads in newspapers saying that they welcomed black applicants," [Trump biography author and Washington Post reporter Michael] Kranish says. "It said that the Trumps would familiarize themselves with the Fair Housing Act, which prohibited discrimination. So it also specifically said they don't admit wrongdoing, but they did have to take several measures that the Trumps had fought for two years not to take."
The University of Michigan's Civil Rights Litigation Clearinghouse maintained a case summary of the suit:
This case was brought against Fred and Donald Trump, and their real estate company, in 1973 in the U.S. District Court for the Eastern District of New York. We are working to obtain the relevant documents … In October 1973, the Justice Department filed this civil rights case in federal court in Brooklyn against Fred Trump, Donald Trump, and their real estate company. The complaint alleged that the firm had committed systemic violations of the Fair Housing Act of 1968 in their many complexes–39 buildings, between them containing over 14,000 apartments. The allegations included evidence from black and white "testers" who had sought to rent apartments; the white testers were told of vacancies; the black testers were not, or were steered to apartment complexes with a higher proportion of racial minorities. The complaint also alleged that Trump employees had placed codes next to housing applicant names to indicate if they were black.

[…]

The Justice Department called the decree "one of the most far-reaching ever negotiated." Newspaper headlines echoed that assessment. The New York Amsterdam News, for example, titled its article "Minorities win housing suit," and told readers that "qualified Blacks and Puerto Ricans now have the opportunity to rent apartments owned by Trump Management."
An archived New York Times article published on October 16 1973 ("Major Landlord Accused Of Antiblack Bias in City") included comments from Trump at the time of the suit:
Seeking an injunction to halt alleged discriminatory practises, the Government contended that Trump Management had refused to rent or negotiate rentals "because of race and color." It also charged that the company had required different rental terms and conditions because of race and that it had misrepresented to blacks that apartments were not available.

At the corporation's main office, 600 Avenue Z in Brooklyn, Donald Trump, president, denied the charges.

"They are absolutely ridiculous," he said. "We never have discriminated, and we never would. There have been a number of local actions against us, and we've won them all. We were charged with discrimination, and we proved in court that we did not discriminate."
A point of contention for then-candidate Trump in 2016 was his counterclaim that the action was broad and taken against a number of developers. In response to Clinton's comments, Trump said:
"Yes, when I was very young, I went into my father's company — had a real estate company in Brooklyn and Queens … And we, along with many, many other companies throughout the country — it was a federal lawsuit — were sued. We settled the suit with zero, with no admission of guilt."
But in the 1973 New York Times article — published more than four decades before Trump's ultimately successful presidential run — the newspaper differentiated between the 1973 action against the Trumps and their organization and an earlier, unrelated action against a different New York City developer in 1971:
In Washington, J. Stanley Pottinger, assistant attorney general in charge of the Justice Department's civil‐rights division, termed the suit the second major rental discrimination action begun by the department in the last two years.

The first involved Samuel J. Lofrak, one of the country's largest builders. The Justice Department had charged racial discrimination in the renting of 21,000 Lefrak‐controlled apartments in 150 buildings in Brooklyn and Queens.

That case was resolved on Jan. 28, 1971, in an agreement between the Justice Department and the Lefrak Organization. Lefrak promised to prohibit discrimination in apartment rentals, and subsequently fifty black families were assisted in moving into predominantly white buildings.
In the meme reproduced above, "The Other 98%" claimed that March 2019 marked an anniversary of Sen. John McCain's release from a Vietnamese prison after five years of captivity. A CBS article reported that McCain had actually been imprisoned for five and a half years, but the claim was essentially accurate.
Additionally, the meme claimed that in 1973, Donald Trump was sued by the Justice Department for alleged violation of housing discrimination laws. That claim came to issue when Hillary Clinton raised it during a September 2016 debate, and was rated "True" by fact-checkers examining it at that time. In response, Trump claimed that the action taken against him was broad and included multiple developers. But an October 1973 article reported that the action was in fact specific to Trump and his father, reporting a 1971 suit filed separately against a separate developer in New York City.