Is a Kansas City News Outlet Ducking Questions About its 'Fentanyl Overdose' Story?
A Kansas City news organization is not addressing major questions around a story about a suspected "fentanyl overdose" that relies on disinformation and debunked law enforcement narratives.
The story, which aired on KCTV-TV on June 16 2022, focused on Officer Dallas Thompson of the Kansas City, Kansas police department; according to the station, Thompson required resucitation in January 2022 after possibly coming in contact with fentanyl during a burglary investigation:
They quickly switched gears to help in a burglary investigation. Eventually, a suspect was detained. Thompson did a quick pat-down while wearing gloves. He found pills crumpled in an envelope.

His captain called out that he recognized the pills- they could be laced with fentanyl. Thompson carefully removed his gloves. The envelope and pills were sealed in a special evidence bag.

It's just one thing that haunts the team. No one broke protocol or made a mistake. They were careful. An officer still landed in the ER.
The story used footage from body camera footage from Thompson and other officers. At one point, he is seen prone on the ground: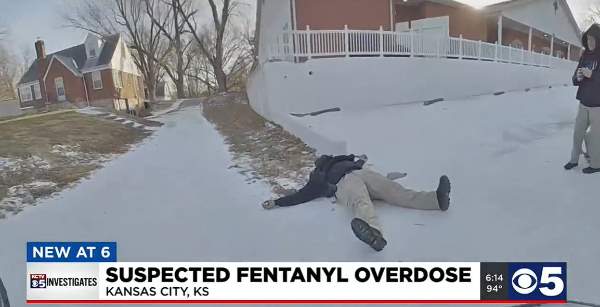 The story continued:
Officer Thompson lets his team tell what happened that day. He doesn't remember much except struggling to breathe. He couldn't communicate.

He remembers people yelling and encouraging him to hold on. His vision was blurry. He remembers thinking of his daughters and how he didn't want them to grow up without a father. He explains his youngest daughter still doesn't understand what happened to her dad.
But as we have noted before, toxicology experts have long refuted the claim that simply touching fentanyl can trigger an overdose. As the American College of Medical Toxicology and the American Academy of Clinical Toxicology said in a joint statement in 2018:
Fentanyl and its analogs are potent opioid receptor agonists, but the risk of clinically significant exposure to emergency responders is extremely low. To date, we have not seen reports of emergency responders developing signs or symptoms consistent with opioid toxicity from incidental contact with opioids. Incidental dermal absorption is unlikely to cause opioid toxicity. For routine handling of drug, nitrile gloves provide sufficient dermal protection.
Medical toxicologist Ryan Marino, who has been cited in multiple stories debunking this exact narrative, also criticized KCTV's reporting online.
"This is literally the most melodramatic thing I've ever read," Marino wrote on Twitter. "How many millions of dollars can we give the police before they put some of it towards therapy?"
The station subsequently added an editor's note to the story, suggesting that they only consulted other law enforcement sources:
KCTV5 has received responses questioning this medical event and potential exposure.

The officer's medical records show he was treated for fentanyl exposure. There's no mention of a panic attack.

The KCKPD tells us they trust the doctors who treated the officer and they are proud of the medical response.

As part of our reporting, we reached out the DEA who told us, "the potential exposure of our agents and task force officers to illicit fentanyl puts their safety and health on the line. Our agents carry Narcan with them and use PPE when handling suspected fentanyl. Suspected fentanyl is bagged as evidence with minimal handling and shipped to a DEA lab for evaluation."
Alex Pareene, a contributing editor to the New Republic, reported in his own newsletter that after failing to respond to his own questions via email, the station's news director cut him off when he tried to follow up in a phone interview.
"As I attempted to reframe [a] question, to ask whether literally any medical expert—a doctor, pharmacologist, or toxicologist—had been consulted in either the original reporting or the editor's note, I was politely hung up on," Pareene said.
In its reporting, KCTV said that Thompson was treated at "KU" — short for Kansas University Medical Center; that hospital told us they could not confirm or deny that claim.
We contacted KCTV and Kansas City police seeking additional information, but we have yet to hear back.