Leonna Hale Photoshop Controversy
On May 30 2022, social media users discussed the shooting of Leonna Hale, a purportedly unarmed pregnant woman in Kansas City — frequently in the context of police actions during and after the May 24 2022 Uvalde, Texas school shooting:
Kansas City cops shot 26-year-old Leonna Hale, a pregnant Black woman with her hands up, 5 times, then handcuffed her while she was bleeding out. When you compare this to Uvalde there can be no conclusion but that their job actually has nothing to do with keeping people safe.

— Read Wobblies and Zapatistas (@JoshuaPotash) May 30, 2022
Two Kansas City police officers shot an unarmed 26-year-old pregnant Black woman Friday night.

She exited a vehicle with her hands in the air and they shot her 5 times.

But they can't run into a school where kids are being massacred? 🤔#LeonnaHale

— Ryan Shead (@RyanShead) May 30, 2022
On May 27 2022, KCTV published "Suspect hospitalized following officer-involved shooting in KCMO," an early article about the incident. Hale was mentioned in that reporting, but not described as brandishing a weapon:
… authorities are investigating an officer-involved shooting that happened in Kansas City, Missouri, on Friday evening [May 27 2022] and led to a suspect being hospitalized … KCKPD had dispatched over-the-air about an alleged armed carjacking that happened, providing a thorough description and license plate.

KCMO officers then spotted the vehicle with two suspects inside at the parking lot of the Family Dollar near 7th and Prospect.

Two police vehicles with two officers approached the suspect vehicle.

[…]

The female passenger in the suspect vehicle, identified as 26-year-old Leonna Hale, then got out and fled into the parking lot.

MSHP says that they did locate a suspect's handgun in the parking lot near the suspect vehicle and 2) that two KCPD officers discharged firearms.

Hale sustained serious injuries and was taken to the hospital. At last check, she was in stable condition.
On the same day as Hale's encounter with police, major news outlets started to report changes to and inconsistencies in the police response to the Texas mass shooting:
Later in the day [on May 27 2022], [Texas Gov. Greg] Abbott said he was "misled" about the police response to the shooting. He had praised officers' handling of the crisis in a Wednesday [May 25 2022] press conference, saying, "The reason it was not worse is because law enforcement officials did what they do."

Friday afternoon [May 27 2022], Abbott said those remarks were a "recitation" of what he had been told in a law enforcement briefing.

"I am livid about what happened," Abbott said, adding that the Texas Rangers and the FBI are investigating the shooting response and will "get to the bottom of every fact with absolute certainty."

[Steven McCraw, director of the Texas Department of Public Safety] also revealed Friday [May 27 2022] that the gunman entered the school through a back door that minutes before had been propped open by a teacher. He said a police officer employed by the school district responded to an initial 911 call about an armed man near the school — but drove past the gunman, who was "hunkered down" behind a vehicle, and mistook a teacher for the shooter.
In the excerpt above, an official referenced a propped open back door through which the gunman purportedly entered. Within days, details emerged indicating that claim was false — the door was closed before the shooting.
Social media discourse about Leonna Hale ticked upwards on May 30 2022, three days after the incident was first reported. On May 28 2022, Missouri State Highway Patrol tweeted about the incident, and notably didn't describe Hale as having been armed when she was shot by police:
…fled on foot & was apprehended.

The female suspect (Leonna M Hale, 1/6/96, KS) exited the vehicle & fled into the parking lot.

Two officers fired shots. A suspect handgun was recovered from the scene. Hale was seriously injured & her condition is stable.

No other injuries.

— MSHP Troop A (@MSHPTrooperA) May 28, 2022
On May 31 2022, news organizations began reporting that Hale was unarmed, often citing an eyewitness who provided only her first name. In that early context, Hale not being armed was referenced in relation to the use of force by Kansas City police:
Shédanja, an eyewitness who videotaped the incident, said the woman told Kansas City cops she was pregnant and couldn't lie down on the ground as commanded … The man exited the vehicle and ran, jumping a fence. He was pursued by three officers. The woman got out of the car and was ordered to the ground. The eyewitness says that the woman told police that she was pregnant and couldn't follow that command.

The woman reportedly also told officers that there was a gun in the car, and she began backing toward a fence. Authorities continued to approach her with their weapons drawn. She then ran three steps from them, and they shot her five times.

"She did not pull out a weapon on them," Shédanja told The [Kansas City] Star [on May 28 2022] in a phone interview. "She did not even have a stick in her hand."

"One, two, three, four, five. I remember it because it didn't stop," she said. "They shot five times. I remember seeing her hit the ground, and I froze."
Initially, news reports centered on the fact that Hale was shot, and she had not been charged with anything at that time. A separate May 31 2022 article by NBC News introduced the claim that Hale was shot while brandishing a weapon, per verbal statements by Highway Patrol Sgt. Andy Bell:
Two other officers ran after the man [in the vehicle]. He was arrested and taken to the hospital later in unknown condition for an unrelated medical issue, Highway Patrol Sgt. Andy Bell said Tuesday [May 31 2022].

It is not clear what led up to the shooting. Bell alleged that Hale got out of the vehicle with a firearm in her hand and that the gun was found at the scene after she was shot and placed in handcuffs.

Hale, 26, is stable in a hospital, the Highway Patrol said. Efforts to reach Hale's family were unsuccessful. It was unclear whether she had retained legal representation.

Bell said the incident was captured on police body camera videos. Two officers were placed on paid administrative leave, a standard procedure, a Kansas City police spokesperson said.
On June 2 2022, the Kansas City Star published "Woman shot by Kansas City police on Friday was holding gun, prosecutors say," and reported:
The shooting sparked immediate outrage and garnered national attention after one witness told The Star the woman appeared to be unarmed and told police she was pregnant before she was shot.

In a statement Wednesday [June 1 2022], [Jackson County Prosecutor Jean Peters Baker] said a review conducted by her office of police body cameras showed that Hale "continually displayed a weapon during her encounter with police officers" before she was shot. "Our job, as prosecutors, is to remain neutral and review all evidence," Baker said. "Our review of body cam videos provided the actual accounting of events that night."

The prosecutor's office also released an image of Hale in a running stance with what appears to be a firearm in her right hand.
The Associated Press aggregated that reporting on the same day.
Bell's claim that Hale was armed was fortified by a June 1 2022 press release from the Jackson County Prosecutor's office, titled "A KCK woman, 26, charged for exhibiting a weapon in encounter Friday with police," (archived here). It announced the office filed charges against Hale on June 1 2022, close to a week after the May 27 2022 shooting:
A 26-year-old Kansas City woman has been charged with exhibiting a weapon in her encounter Friday evening [May 27 2022] with Kansas City police officers, Jackson County Prosecutor Jean Peters Baker announced [on June 1 2022].

Leonna M. Hale, dob: 1/6/1996, faces Unlawful Possession of a Firearm, Unlawful Use of a Weapon and the misdemeanor of Resisting A Lawful Detention.*

According to court records filed [on June 1 2022], Kansas City police responded on the evening of May 27, 2022, to 6th and Prospect Avenue in Kansas City regarding a vehicle involved in a robbery in Kansas City, Kan. The officers located the vehicle at Family Dollar, 634 Prospect Avenue. Officers conducted a car check. A male driver exited and ran from the scene. Two officers gave chase. A second occupant, the defendant, exited the passenger side and went to the rear of the vehicle. Officers attempted to give her commands. They determined she was armed and stated that she pointed a firearm at them and they discharged their firearms at her. Video surveillance from body cameras showed Hale being told to drop the firearm and pointing it at the officers before the officers fired three shots. One officer told investigators she feared that Hale was going to shoot her and she discharged her firearm one time. A second officer also told investigators that he believed the defendant had a firearm pointed at him. Hale was taken to an area hospital for treatment.

Jackson County Prosecutor Jean Peters Baker issued the following statement today [June 1 2022]:

Some false narratives about what happened last Friday night at 6th and Prospect Avenue, unfortunately, were relied upon by some media and other sources. Our job, as prosecutors, is to remain neutral and review all evidence. Our review of body cam videos provided the actual accounting of events that night.

Our review of the investigation revealed the defendant, although she denied having a weapon at the time of the encounter with law enforcement officers, continually displayed a weapon during her encounter with police officers and also appeared to be attempting to flee. The two officers stated that she was armed with what they believed to be a handgun. Body camera footage confirms the officers' statements that Hale was holding a handgun. Still photos, taken from body cam footage, of this encounter also demonstrate a weapon was present and in the hands of the defendant.
Predictably, disinformation purveyors like Andy Ngo pounced on the claim, circulating a purported bodycam still shared by the Jackson County Prosecutor's Office in their June 1 2022 press release. Ngo tweeted the image and tagged news outlets and accounts that had mentioned Hale:
The latest #BLM hoax narrative about a police shooting in Kansas City: https://t.co/eeVLBr1E1p pic.twitter.com/bQ7Dwmxu0z

— Andy Ngô 🏳️‍🌈 (@MrAndyNgo) June 2, 2022
Ngo's iteration highlighted a gun purportedly present in Hale's hand, drawing users' attention to that aspect of the image. However, others observed anomalies in the image — Hale's ankle appeared to have been badly edited, and her arm seemed to be interwoven with the fence: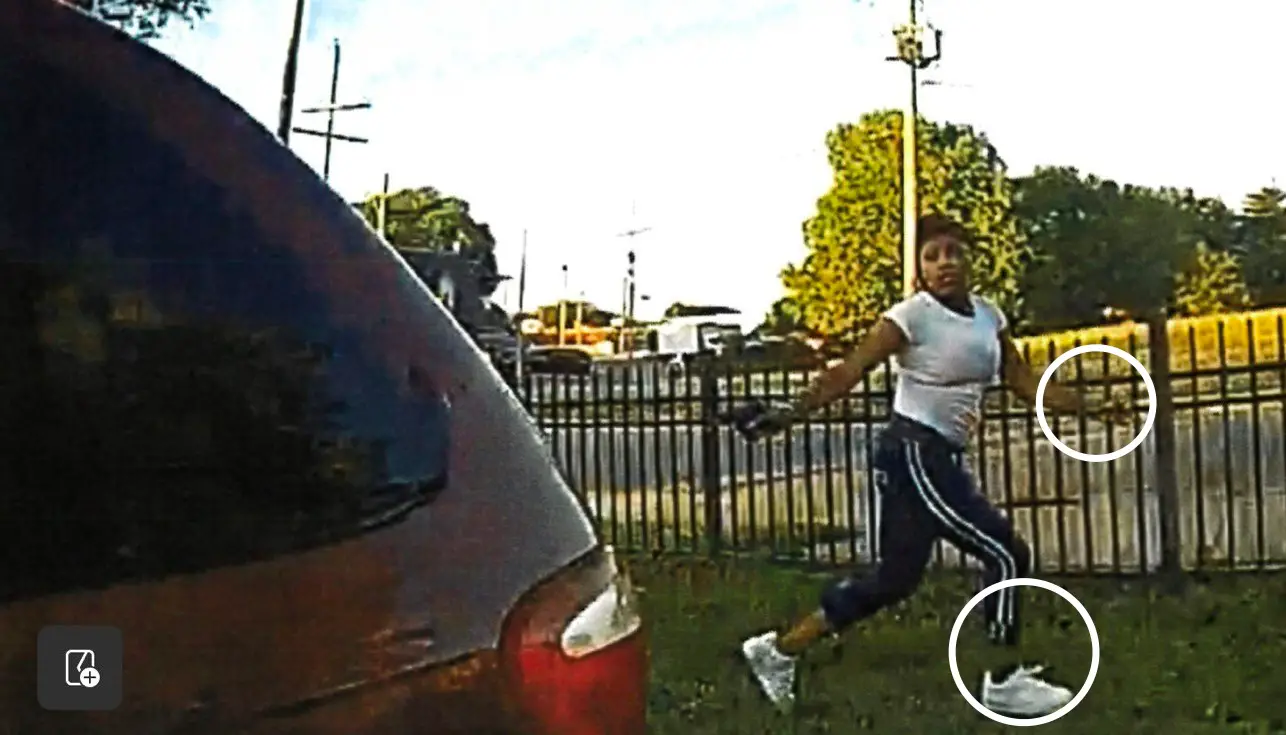 On social media, users observed questionable elements of the image:
If you're going to photoshop something, make sure to fill in both ankles 😉 https://t.co/YS2QLAf15o pic.twitter.com/SqILuOUdbX

— T. Greg Doucette (@greg_doucette) June 2, 2022
A June 1 2022 KSHB article ("Supporters of Leonna Hale upset over KCPD's response to incident") was published on the same day officials disseminated the photograph. Advocates for Hale expressed skepticism about both the image and its timing:
"No matter what we are told happened, Miss Hale was a human being," Justice Gatson, founder and director of the Reale Just Network, said. "And it could have been any one of our mothers, sisters, cousins (or) aunties. For whatever reason, we will want them to be bought in safely and not be shot five times. We would not want that."

Gatson organized Wednesday [June 1 2022] evening's gathering and questions the single image of Hale holding a gun released by the Jackson County Prosecutor's office, who says it came from one of the officers' body-worn cameras.

"It's the first time we've seen that photograph and I can't speak to the legitimacy of it," Gatson said. "We've had problems with KCPD and so I don't trust that department."
On June 2 2022, a May 31 2022 Occupy Democrats tweet about the shooting loaded on Twitter for some users with a box labeled "Readers added context they thought people might want to know":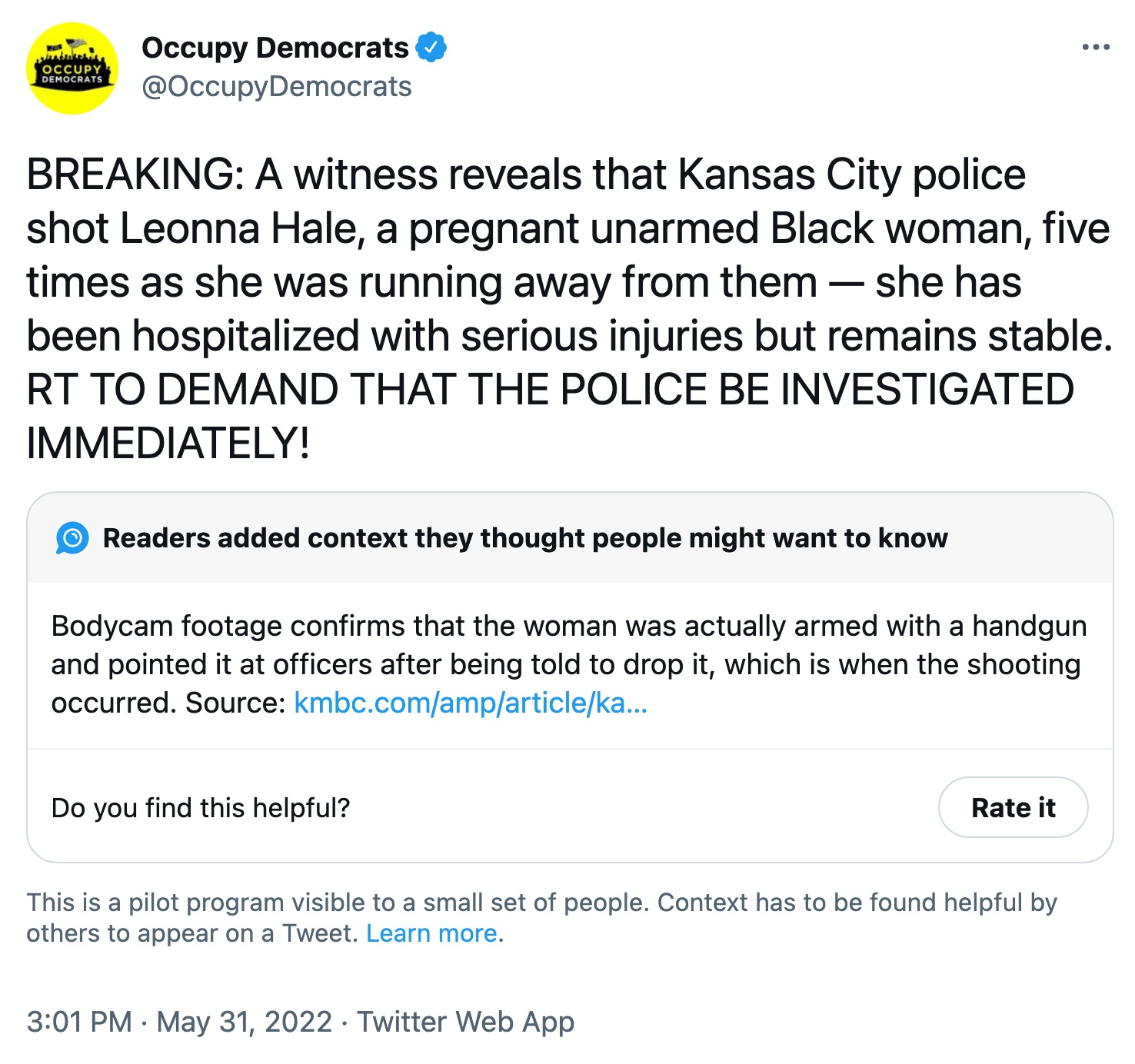 Additional text suggested that Hale was definitively armed:
Bodycam footage confirms that the woman was actually armed with a handgun and pointed it at officers after being told to drop it, which is when the shooting occurred. Source: kmbc.com/amp/article/ka…
Claims that Hale had brandished a weapon hinged on the still image published by the prosecutor, following Bell's statements. As for the footage itself, a May 31 2022 Kansas City Star article ("KCPD video of police officers shooting woman likely won't be released soon. Here's why") reported that police and the prosecutor's office had refused to release the actual footage, saying that it would taint the investigation:
One witness said the woman had her hands up and was trying to run. Then, on Tuesday, the Missouri State Highway Patrol said the woman had a gun in her hand.

Questions about what exactly happened could be answered by video from the officers' body cameras and vehicle dashboard cameras … The Star asked both Kansas City Police Department and the Missouri Highway Patrol, which investigates KCPD shootings, whether any video from officers' body cameras would release for transparency purposes.

Both declined. For its part, the police department pointed to the highway patrol as the agency responsible agency in this case.
Bell, who verbally stated that Hale held a gun in a separate May 31 2022 article, was quoted in that piece as saying:
"We will not release video or other details while this is an ongoing investigation," said Sgt. Andy Bell, a spokesman for the Missouri Highway Patrol's Troop A in the Kansas City area.
A day later, on June 1 2022, the prosecutor attached the still image to a press release announcing that Hale was being charged. The press release referenced bodycam footage, but did not say whether the actual footage would be released.
An archived May 27 2022 Kansas City Star article also quoted Bell as being "unsure" whether Hale — subsequently accused of clearly brandishing a weapon — was armed:
The male suspect was unharmed and taken into custody, Bell said, but was also hospitalized for an "unrelated medical issue."

It was unclear whether the woman was armed with a weapon at the time. Bell said a handgun was found near the area where she was shot, though he declined to comment further.

"We're not going to comment on the exact sequences of an encounter with an alleged armed suspect," Bell said, adding: "Everything is going to be analyzed and scrutinized by our investigators as it is always."
A June 1 2022 piece from the KansasCityDefender.com addressed the purported bodycam still, adding:
While the testimony of The Star's key witness appears to contradict the still frame released by the Jackson County Prosecutor's Office, the witness testimony was all too familiar to most Black Kansas Citians. The public and media's reflex to connect Leonna's case to previous unarmed Black people murdered by KCPD was not unwarranted.

Her narrative was reminiscent of the tragic story of Ryan Stokes, a 24 year old unarmed Black man who was gunned down by KCPD Officer William Thompson in Kansas City's Power and Light District. Thompson claimed Ryan "was holding a gun in his right hand, and it was bigger than my Glock 23," he told investigators. [Thompson's] claim was written into the official police report as fact and reported by local news outlets. Video surveillance later showed Ryan with both of his hands empty and never possessing a weapon, but Officer Thompson was still never charged with any crime.
On June 1 2022, the Jackson County Prosecutor issued a press release announcing Leonna Hale was being charged on three counts, two relating to possession and use of a firearm; a purported bodycam still was attached to the press release. Between the May 27 2022 incident in which Hale was shot by police and the June 1 2022 press release, information from police about the shooting fluctuated. On May 31 2022, authorities in Kansas City told the Kansas City Star that they would not release bodycam footage of the incident, and a day later, the prosecutor released one still. As social media users pointed out, the still image of Leonna Hale appeared to have been edited, most glaringly around her foot. However, without access to the full and unedited bodycam video, there is no way to verify or debunk any claims about the image.