Lincoln Project Reveals It Staged Tiki Torch Stunt at Right-Wing Republican Rally
Cconservative group The Lincoln Project revealed itself on October 29 2021 as the organizers of a stunt criticizing a far-right gubernatorial candidate in Charlottesville, Virginia.
The group, which claims to represent Republican Party members who oppose former U.S. President Donald Trump and his extremist supporters, claimed responsibility for the appearance of a group of people showing "support" for Glenn Youngkin while wearing white shirts and khakis while carrying tiki torches — directly referencing the attire worn by the crowd of white supremacists that descended upon the city in August 2017 for a rally that led to the death of 32-year-old Heather Heyer, who was run over and killed by James A. Fields Jr.
Photographs of the group spread online as speculation mounted regarding the group's origin, including one captured by WWIR-TV: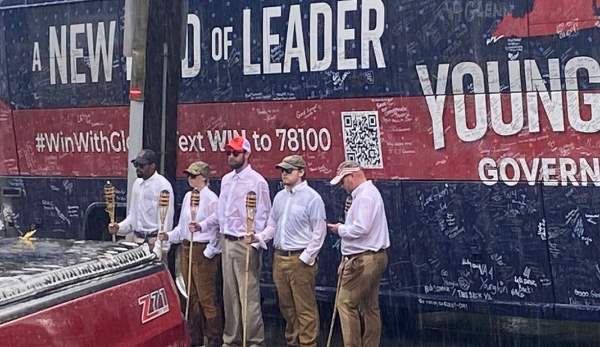 "Today's demonstration was our way of reminding Virginians what happened in Charlottesville four years ago, the Republican Party's embrace of those values, and Glenn Youngkin's failure to condemn it," the group said in a statement.
"The Youngkin campaign is enraged by our reminder of Charlottesville for one simple reason: Glenn Youngkin wants Virginians to forget that he is Donald Trump's candidate."
The group put on the stunt amid the opening of the trial against 20 organizers of the white-supremacist event, including disgraced white nationalist Richard Spencer. According to the Washington Post:
Jurors saw two contrasting images of Spencer, who led the torchlight march the night before the rally, in the courtroom on Thursday. One was the white supremacist shown on video chanting "Sieg Heil" and screaming about his dominance over Black and Jewish people. The other was the man in the room, wearing a tie, quoting Scottish poet Robert Burns and making self-deprecating jokes about how the jurors can "bash" him on Twitter when this is all over.

In court on Thursday, he told jurors this case is "not about scattered, often stupid ramblings and insults of the alt-right." He asked them to "give a bad guy a fair shake."
The Lincoln Project attracted attention to itself online going into the 2020 presidential election by posting and airing ads slamming Trump and his cronies and allies. But as the Daily Beast reported in December 2020, a report by the Democratic super PAC Priorities USA found that the ads did not sway "swing" voters to rejecting Trump in favor of Democrat Joe Biden (who won the election anyway, despite right-wing lies to the contrary):
According to Nick Ahamed, Priorities' analytics director, the correlation of Twitter metrics—likes and retweets—and persuasion was -0.3, "meaning that the better the ad did on Twitter, the less it persuaded battleground state voters." The most viral of the Lincoln Project's ads—a spot called Bounty, which was RTed 116,000 times and liked more than 210,000 times—turned out to be the least persuasive of those Priorities tested.

https://twitter.com/ProjectLincoln/status/1277034391710113793
Youngkin is running against Democrat Terry McAuliffe to become Virginia's governor, replacing incumbent Democrat Ralph Northam. Shortly before the Lincoln Project's stunt, the Post reported that McAuliffe led Youngkin by only one percentage point — 49 percent to 48 percent — among likely voters going into the November 2 2021 election.
Like other Republicans, Youngkin has embraced the claim that he is running against "Critical Race Theory" — a shorthand term concocted by right-wing operatives for any educational material that might cover institutional racism, among other topics. One ad for his campaign features Laura Murphy, a white woman who claims that her child was disturbed by "explicit material" in school.
But as NBC News reported, Murphy herself has a political history; that same son, now grown, went on to work as an general counsel attorney for the Republican Party:
What she doesn't mention in the ad is that she had campaigned specifically to ban Nobel laureate Toni Morrison's "Beloved" from her son's curriculum after complaining that the book apparently gave him night terrors.

In other words, one of Youngkin's final pitches to Virginia Republicans seems to be propping up some of the very ideas that conservatives allege to find so repellant about liberals today: hypersensitivity and cancel culture.
Yahoo News reported that the state's Democratic Party denied any connection to the Lincoln Project's latest bid for attention.
"What happened in Charlottesville four years ago was a tragedy and one of the darkest moments in our state's recent memories and is an even not to be taken lightly," the party said in a statement. "For anyone to accuse our staff to have a role in this event is shameful and wrong."