Lipton Tea Bags Are Filled With Worms-Fiction!
Summary of eRumor:
A video claims that Lipton tea bags are filled with worms.
The Truth:
Lipton tea bags aren't filled with worms; they're filled with lemon flavor crystals that were mistaken for worms.
Rumors about Lipton tea bags surfaced in February 2016 after a woman posted a video of her dissecting a tea bag on Facebook. During the video, a woman claimed that she had "living worms" and encouraged everyone to check their tea bags before drinking it:
We found two days back, and we were trying to figure it out if it's happening in all tea bags or not, but sadly it is in each and every tea bag of lemon flavor green tea. As you can see, there are worms inside. Living worms inside, and it's not one or two, it's a lot of them…
Lipton quickly responded to the accusations with a video of its own. The company said the so-called "worms" were actually small lemon flavor pieces that dissolve in hot water: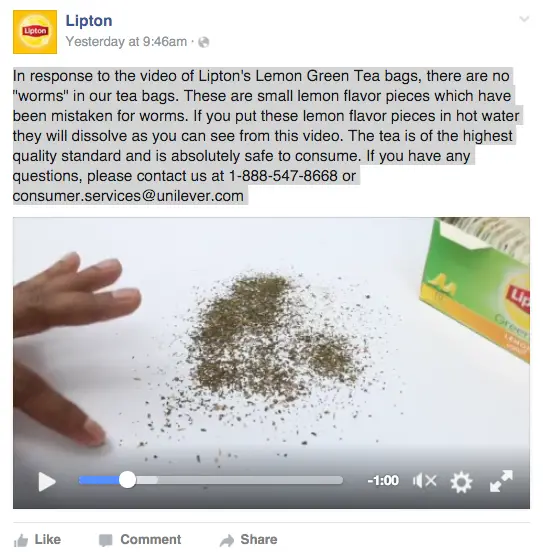 So, the claim that there are worms in Lipton lemon green tea bags are false.