On April 5 2020, social media was alight with speculation — some fond, some alarmed — at the prospect of what appeared to be a new addition to United States President Donald Trump's merchandise line.
The rumor began on Twitter, when an image popped up that appeared to be a screen capture of Trump's campaign website promoting a "Make America Great Again" breathing mask.
"Please tell me this isn't real," tweeted Travis Akers, a spokesperson for a Florida congressional candidate. (Akers also also drew attention when he posted an accurate photograph of Floridians congregating on a beach amid the COVID-19 pandemic.)
Please tell me this isn't real. pic.twitter.com/PxIr9dYLN0

— Travis Akers (@travisakers) April 5, 2020
Other Twitter users supporting the president also posted the photo, wishing that it really were available: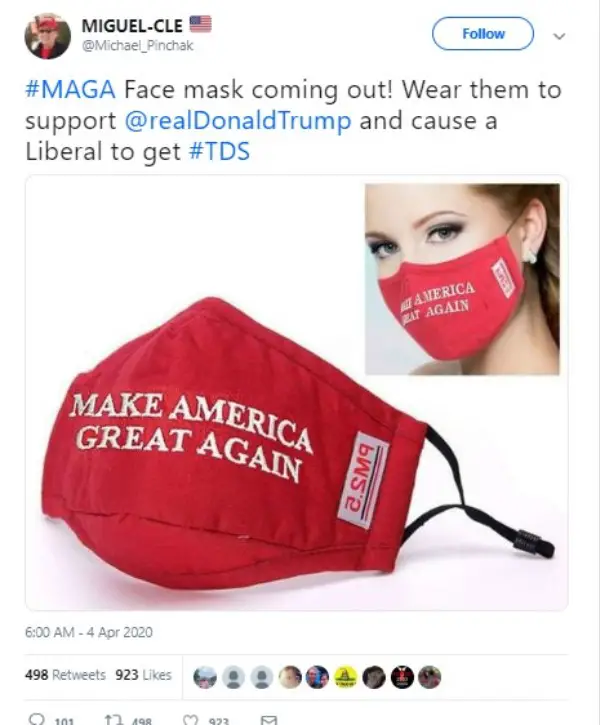 This mask does not, in fact, appear anywhere on the site. However, we did track down a "vinyl bumper fashion black edge mask" for sale on Amazon bearing another Trump slogan, "Keep America Great." It is currently listed as unavailable.
The Centers for Disease Control and Prevention has urged the public to wear cloth face coverings in social spaces like grocery stores, as well as practicing social distancing, in order to help curtail the spread of novel coronavirus strain COVID-19. Officials in Laredo, Texas went further still, voting to enact $1,000 fines against residents spotted outside without a face covering.