Conspiracy-Slinging Lawmaker Caught Encouraging Parkland Shooting 'False Flag' Lie
Journalists looking into the history of a newly sworn-in, QAnon-friendly Republican legislator have discovered that she has a history of conspiracy theories and disinformation around mass shootings.
Georgia Rep. Marjorie Taylor Greene encouraged the conspiracy theory that the mass shooting attack in Parkland, Florida in 2018 was a "false flag" and also posted video of herself harassing one of the survivors for his subsequent support of gun safety legislation.
The exchange on her Facebook page, as reported by the liberal news site Media Matters, was posted on May 15 of that year, just over three months after the 19-year-old gunman killed 17 people at the school and injured 17 others. According to the site:
The shooting also resulted in conspiracy theories, including the claim that it was a "false flag" event — an incident that is either faked or planned by someone other than the actual perpetrator — to take away people's guns. Those toxic claims were especially spread through right-wing and social media.

Greene, now a member of Congress, was one of those people who spread such claims on Facebook. In May 2018, she posted a story about disgraced Broward County sheriff's deputy Scot Peterson receiving a retirement pension.

In the comments section, someone wrote: "It's called a pay off to keep his mouth shut since it was a false flag planned shooting." Greene replied: "Exactly."
The comment was later removed, as was a comment where Greene agreed that Peterson's pension was actually a "kick back [sic] fog going along with the evil plan." Elsewhere in the comment thread, she agrees with another user speculating that the pention "sounds like a payoff":

Greene responded to news of the discoveries on Twitter by accusing Media Matters' writers of being "communists":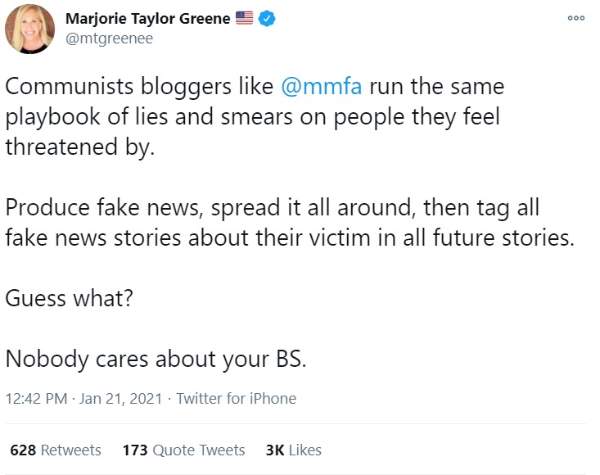 In a separate post, Greene wrote in November 2018 that she had been told that "Nancy Pelosi tells Hillary Clinton several times a month that 'we need another school shooting' in order to persuade the public to want strict gun control":

The lawmaker, who was elected to Congress in November 2020, did not produce any citations nor evidence for this allegation. But as CNN reported, Greene — who first gained attention for her support of the anti-Semitic "QAnon" conspiracy theory on the campaign trail — has only continued publicly pushing falsehoods since taking office, such as false claims of "voter fraud" both in the presidential election and the two January 2021 senate runoff elections in Georgia, and that white supremacists were not involved in the seditious attack against the U.S. Capitol that those lies inspired, along with many other debunked and discredited conspiracy theories.
She invoked yet another conspiracy theory on January 21 2021 in introducing articles of impeachment against President Joe Biden that hinge on allegations of corruption on the part of the newly-elected president involving his son Hunter. When CNN asked for comment, she stayed true to form:
I sent Rep. Marjorie Taylor Greene's office a list of my fact check findings and invited her to comment on any of them. Her communications director wrote back, "Here's our comment: 'CNN is fake news.'" https://t.co/R6slUFDpTf

— Daniel Dale (@ddale8) January 21, 2021
Greene also posted video of herself on YouTube tailing activist David Hogg around Washington, D.C. Hogg, who survived the fatal attack on Marjory Stoneman Douglas High School and has since been pushing for tighter safety legislation around firearms, is seen ignoring her as she questions why Hogg allegedly had more access to fellow lawmakers than she did, before eventually turning to the camera and claiming (invoking yet another common, debunked, and deeply anti-Semitic conspiracy theory) that Hogg was paid off by George Soros.
"He had 30 appointments where he got to run around and talk to senators," Taylor Greene complains in the video. "I got none."
Taylor Greene's encouragement of death for Democratic Party officials was brought further to light in a CNN report published on January 26 2021:
In one post, from January 2019, Greene liked a comment that said "a bullet to the head would be quicker" to remove House Speaker Nancy Pelosi. In other posts, Greene liked comments about executing FBI agents who, in her eyes, were part of the "deep state" working against Trump.

In one Facebook post from April 2018, Greene wrote conspiratorially about the Iran Deal, one of former President Barack Obama's signature foreign policy achievements. A commenter asked Greene, "Now do we get to hang them ?? Meaning H & O ???," referring to Obama and Hillary Clinton.

Greene replied, "Stage is being set. Players are being put in place. We must be patient. This must be done perfectly or liberal judges would let them off."
Taylor Greene responded by claiming that "teams of people" have managed her Facebook account.
"Many posts have been shared. Some did not represent my views," she claimed. "Especially the ones that CNN is about to spread across the internet."
Updated January 27 2021, 11:05 a.m. PST: Updated with CNN story on more of Taylor Greene's Facebook activity.