Like other women lawmakers of color, Democratic California Rep. Maxine Waters has found herself subjected to not just disinformation attacks, but ginned-up allegations painting her as ignorant.
In June 2017, for example, Waters was targeted by a troll on Twitter (the social media platform also known as "X") with an account name — "Rep VVaters," with two letter V's side-by-side — designed to confuse readers into thinking it belonged to her while "complaining" about the effects of climate change.
"This is Venice Beach, in my district," they wrote over photographs showing the effect and aftermath of a typical rising tide on a beach. "And these were taken only 6 hours apart! Still think climate change isn't real?"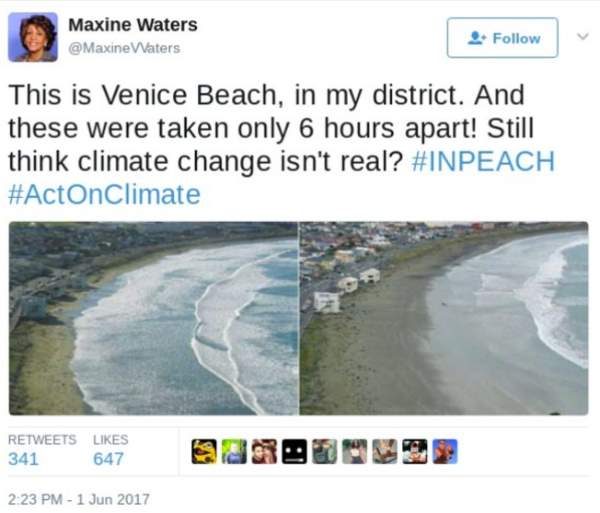 The post was dated June 1 2017, no doubt part of the effort to create confusion, since on that same day Waters' actual account (@RepMaxineWaters, which remains active) criticized then-President Donald Trump for announcing a day earlier that the United States. would withdraw from the Paris climate accord. That withdrawal became official in November 2020, the same month Trump lost the U.S. presidency to Waters' fellow Democrat Joe Biden, no matter how much he claims otherwise.
"Trump's actions today further undermine US leadership in addressing climate change," is what Waters actually wrote at the time. "Certainly, the world is wondering what happened to US[.]"
Waters, who has represented California's 43rd congressional district in the House since 1991, was a frequent critic of Trump's administration while he was in office. But other critics of Trump noticed that his responses (for example, calling her an "extraordinarily low IQ person" online) fit a particular pattern of animosity; as journalist Jamelle Bouie observed in October 2017:
Whether it's a knowing choice from the president or it stems from his utter lack of restraint, the attacks reflect his twin contempt for women and nonwhites. Trump pushes back against most criticism, but when it comes from a prominent black woman, the response is more aggressive, more interested in making a spectacle—and an example.
Similarly, the fabricated tweet was part of a pattern of online attacks at Waters and other non-white Democratic members of Congress, such as New York Rep. Alexandria Ocasio-Cortez and Texas Rep. Sheila Jackson Lee.
Update 9/20/2023, 1:50 a.m.: This article has been revamped and updated. You can review the original here. — ag