Melania Trump Graduated from College with Degree in Architecture and Design-Reported as Fiction!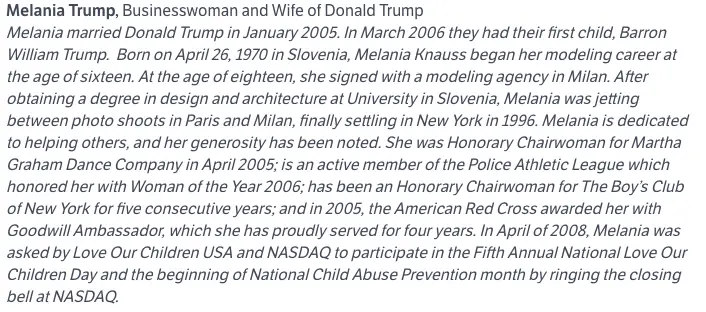 Summary of eRumor:
Despite claims made by Melania Trump and the Republican National Committee, Melania Trump didn't graduate from college in Slovenia.

The Truth:
Based on interviews with her former classmates and acquaintances, Melania Trump didn't graduate from the University of Ljublana in Slovenia with a degree in architecture and design.
Shortly after Melania Trump was accused of plagiarizing excerpts of a speech that Michelle Obama gave during the 2008 Democratic National Convention, rumors that Melania didn't graduate from college, despite claims that she did, cropped up.
A biography posted at Melania Trump's personal website states that, "After obtaining a degree in design and architecture at University in Slovenia, Melania was jetting between photo shoots in Paris and Milan, finally settling in new in 1996."
That sentence gained scrutiny after the Republican National Committee repeated it word-for-word in the program for the 2016 Republican National Convention in Melania's introductory statement:

The claim the Melania Trump had earned a degree in architecture and design was contradicted by Slovenian journalists Bojan Pozar and Igor Omerza in their book, "Melania Trump — The Inside Story: From a Slovenian Communist Vilalge to the White House." The authors write, using her Slavic name, "Melanija Knavs":
In her freshman year, the 19-year old Melanija Knavs attended lectures on the following subjects: elements of architecture, fine arts, fundamentals of technical mechanics, architectural construction, descriptive geometry, mathematics, and an ideological (read "communist") elective credit called "General Partisan Resistance and Social Self-protection". Melanija would have made it to her sophomore year, even having failed 2 exams, but she was supposed to have gotten and held a 1-month internship and kept a journal about it.
A GQ profile on Melania Trump explained that after she passed the "notoriously difficult" entrance exams for the local university's school of architecture and design, her friends recalled Trump taking her studies very seriously and "didn't want to waste time partying." However, by her second year of college in 1992, Trump felt that she had outgrown Slovenia and left for Milan:
By 1992—the year Melania won second place in a Slovenian Look of the Year modeling contest—she seemed to have outgrown not just Ljubljana but all of newly independent Slovenia. The large media market of Yugoslavia—with some 24 million people—had been chopped up. Staying in her tiny new country of 2 million would mean the end of her modeling career. To have a shot at something bigger, at a real future in modeling, she had to move. "She was sure that there was nothing for her in Slovenia," says the friend from Ljubljana. "She wanted to leave."
Melania decamped to Milan after her first year of college, effectively dropping out. Her connections to home grew faint. Sedej saw her for the occasional coffee on the rare occasions she visited Ljubljana, but has lost track of her since. She and her classmates wrote to Melania about their 20th high school reunion a few years ago. They e-mailed Melania's representatives, they wrote to her on Facebook. There was no response. "She cut the line behind her," says the friend from Ljubljana. "She started to live another life, and all this is behind her."
So, various reporters that have talked to Melania Trump, her family and school acquaintances have concluded that she "dropped out" of college to pursue a career in modeling. And, given that her schoolmates never talked about her returning to Slovenia or finishing her degree at the university, it appears that she never did. At the very least, the timeline of events listed her bio and the RNC program — that Melania pursued modeling after graduating from college — is false.