Did Michelle Obama Complain About a 'Damned Flag' During a 9/11 Memorial Ceremony?
Claim
First Lady Michelle Obama complained, "All of this for a damned flag?" during a memorial ceremony for the 9/11 attacks in September 2012.
Like this fact check?

Reporting
A memorial ceremony in 2011 commemorating the victims of the September 11 attacks a decade earlier provided another opportunity for right-wing disinformation purveyors to try to paint then-First Lady Michelle Obama as "unpatriotic."
In this case, the fake claim spread via a chain email accusing her of complaining to her husband, then-United States President Barack Obama, "All of this for a damned flag?"
As PolitiFact reported at the time, the email — which was furthered through right-wing media thanks to Glenn Beck — also included a link to a video "showing" Obama making the remark:
A later iteration of the message "bolstered" its case by claiming that the video "was presented for translation to a lip reading instructor at The River School, a Washington D.C. school for the deaf." But the school's director, Nancy Mellon, said that she had nothing to do with it. According to PolitiFact:
She described [The River School] as a Washington school that serves a wide range of children from 18 months to third grade. It is known for its strong program for hearing-impaired children, but they account for just 15 percent of the students.

More importantly, the River School doesn't teach lip-reading, Mellon said, and no one from the faculty has provided any interpretation of the video.

"It's definitely not us," she said. "We would never try to do anything like this."
Despite being debunked, the smear against Obama still circulates online, both in video form and as a meme: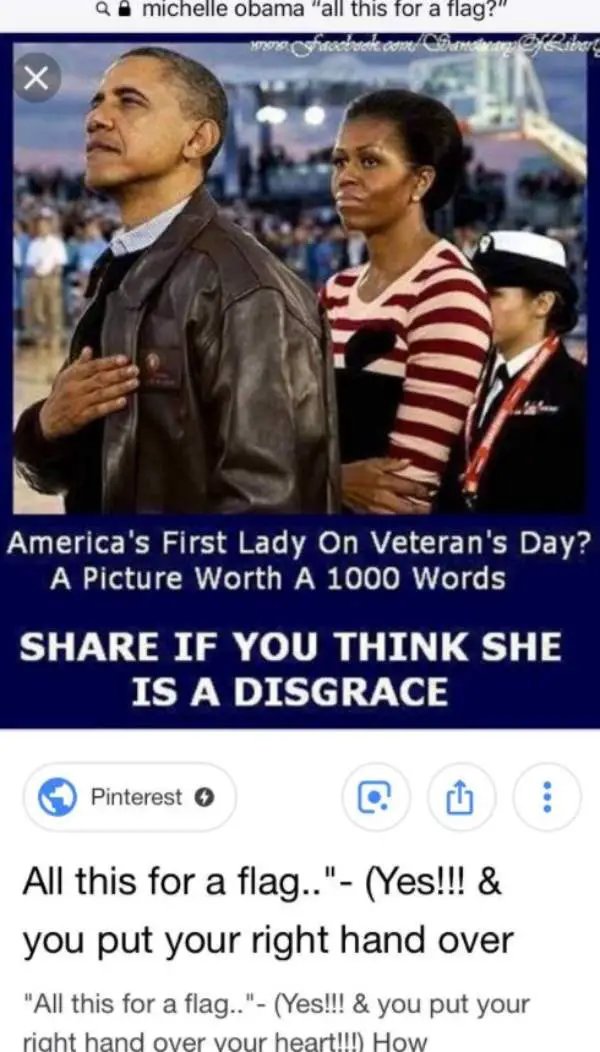 Both Michelle and Barack Obama were attacked by conspiracy theorists during the latter's presidency.
In a November 2018 memoir, Michelle Obama directly rebuked the "birther" conspiracy theorist who falsely painted her husband as not being American (and thus, ineligible for the presidency) that the man who would succeed him helped spread.
"The whole [birther] thing was crazy and mean-spirited, of course, its underlying bigotry and xenophobia hardly concealed," she wrote:
"But it was also dangerous, deliberately meant to stir up the wingnuts and kooks. What if someone with an unstable mind loaded a gun and drove to Washington? What if that person went looking for our girls? Donald Trump, with his loud and reckless innuendos, was putting my family's safety at risk. And for this I'd never forgive him."
Update 9/10/2021, 3:57pm: This article has been revamped and updated. You can review the original here. -AG