Miss Colombia Sues Steve Harvey for $5 Million-Fiction!
Summary of eRumor:
Miss Columbia has sued Steve Harvey, the host of the Miss Universe pageant, for mistakenly announcing her as the winner instead of the runner up to Miss Philippians, according to reports.
The Truth:
Miss Universe has not sued Steve Harvey over his Miss Universe gaff.
At the conclusion of the 2015 Miss Universe competition, host Steve Harvey mistakenly read from a cue card that Miss Colombia was the winner instead of the runner up to Miss Philippians, where she actually finished:
[embedyt] http://www.youtube.com/watch?v=nmqAjr0xs04[/embedyt]

Steve Harvey's Miss Universe gaff quickly went viral, and he didn't help his cause any by tweeting an apology in which he misspelled both Columbia and Philippians.
Then, a fake news website called Here It Before News falsely reported that Miss Colombia had sued Steve Harvey for $5 million because of the error. The website reported that Miss Columbia said she sued Harvey because his mistake had "put distress in my life" and because she would never be the "same person again."
That report was widely shared on social media — but it's not true. According to the website's "About Us" page, all of its stories are for "entertainment and satiricale purposes only."
In reality, Ariadna Gutierrez Arevalo put Steve Harvey's gaff behind her in an Instagram post. The runner up expressed gratitude for being named Miss Universe, if only for a minute: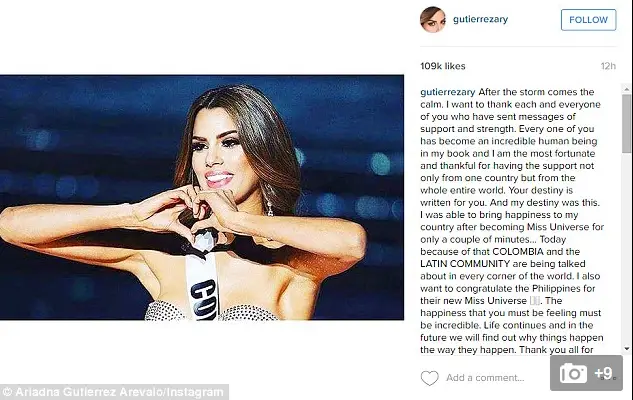 So, reports that Miss Colombia has sued, or plans to sue, Steve Harvey were started by a fake news website and shouldn't be believed.