The moving military funeral of Navy SEAL Mike Monsoor-Truth!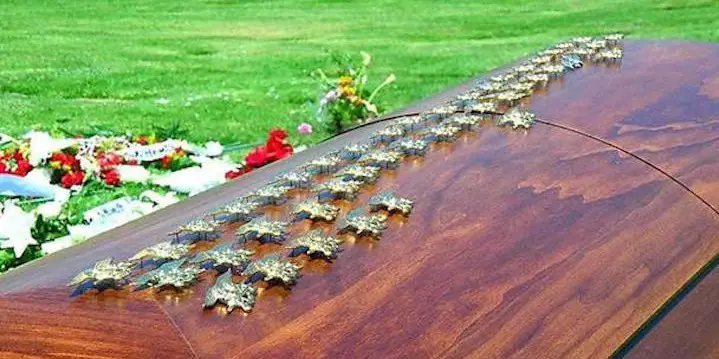 The Moving Funeral of Petty Officer Mike Monsoor-Truth!

Summary of eRumor:

The eRumor describes the funeral of Navy petty officer Mike Monsoor, who lost is own life in Iraq to save the lives of other Navy SEALs.  At his funeral in San Diego, California, SEALs lined up on both sides of the route of the pallbearers and loudly slapped gold tridents from their uniforms on the wooden casket as a tribute to their fallen comrade.
The Truth:
The story is true and, despite the comment about not being reported by the media, was given coverage by several news outlets across the U.S. including Fox news.  Some of details in the email are inaccurate.
Petty Officer Second Class Mike Monsoor was a US Navy SEAL assigned to Task Unit Bravo in Ar Ramadi in Iraq.  He was killed in the line of duty while serving in Iraq on September 29, 2006.
He died after throwing himself on a grenade to prevent it from killing others whom he had been assigned to protect on a rooftop.
A fellow Navy Seal who knew and trained with Monsoor told TruthorFiction.com that he had already earned a Silver Star for Bravery and a Bronze Star for separate acts of valor.
His funeral took place in October 12, 2006 at Fort Rosecrans National Cemetery in San Diego.
Other Navy SEALs lined the procession and slapped the trident devices from their uniforms to affix them onto the casket.  The trident is a U.S. Navy special warfare badge worn by SEALs.  It represents the three aspects of SEAL special operations, sea, air, and land.
On April 8, 2008, Monsoor was awarded the Medal of Honor posthumously officiated by President George W. Bush in a ceremony at the White House .   The text of his citation reads:
For service as set forth in the following
CITATION:
FOR CONSPICUOUS GALLANTRY AND INTREPIDITY AT THE RISK OF HIS LIFE ABOVE AND BEYOND THE CALL OF DUTY AS AUTOMATIC WEAPONS GUNNER FOR NAVAL SPECIAL WARFARE TASK GROUP ARABIAN PENINSULA, IN SUPPORT OF OPERATION IRAQI FREEDOM ON 29 SEPTEMBER 2006. AS A MEMBER OF A COMBINED SEAL AND IRAQI ARMY SNIPER OVERWATCH ELEMENT, TASKED WITH PROVIDING EARLY WARNING AND STAND-OFF PROTECTION FROM A ROOFTOP IN AN INSURGENT HELD SECTOR OF AR RAMADI, IRAQ, PETTY OFFICER MONSOOR DISTINGUISHED HIMSELF BY HIS EXCEPTIONAL BRAVERY IN THE FACE OF GRAVE DANGER. IN THE EARLY MORNING, INSURGENTS PREPARED TO EXECUTE A COORDINATED ATTACK BY RECONNOITERING THE AREA AROUND THE ELEMENT'S POSITION. ELEMENT SNIPERS THWARTED THE ENEMY'S INITIAL ATTEMPT BY ELIMINATING TWO INSURGENTS. THE ENEMY CONTINUED TO ASSAULT THE ELEMENT, ENGAGING THEM WITH A ROCKET-PROPELLED GRENADE AND SMALL ARMS FIRE. AS ENEMY ACTIVITY INCREASED, PETTY OFFICER MONSOOR TOOK POSITION WITH HIS MACHINE GUN BETWEEN TWO TEAMMATES ON AN OUTCROPPING OF THE ROOF. WHILE THE SEALS VIGILANTLY WATCHED FOR ENEMY ACTIVITY, AN INSURGENT THREW A HAND GRENADE FROM AN UNSEEN LOCATION, WHICH BOUNCED OFF PETTY OFFICER MONSOOR'S CHEST AND LANDED IN FRONT OF HIM. ALTHOUGH ONLY HE COULD HAVE ESCAPED THE BLAST, PETTY OFFICER MONSOOR CHOSE INSTEAD TO PROTECT HIS TEAMMATES. INSTANTLY AND WITHOUT REGARD FOR HIS OWN SAFETY, HE THREW HIMSELF ONTO THE GRENADE TO ABSORB THE FORCE OF THE EXPLOSION WITH HIS BODY, SAVING THE LIVES OF HIS TWO TEAMMATES. BY HIS UNDAUNTED COURAGE, FIGHTING SPIRIT, AND UNWAVERING DEVOTION TO DUTY IN THE FACE OF CERTAIN DEATH, PETTY OFFICER MONSOOR GALLANTLY GAVE HIS LIFE FOR HIS COUNTRY, THEREBY REFLECTING GREAT CREDIT UPON HIMSELF AND UPHOLDING THE HIGHEST TRADITIONS OF THE UNITED STATES NAVAL SERVICE.
SIGNED GEORGE W. BUSH
Updated 5/01/09

---
A real example of the eRumor as it has appeared on the Internet:
NAVY PETTY OFFICER MIKE MONSOOR

PO2 (EOD2) Mike Monsoor, a Navy EOD Technician, was awarded the Congressional Medal of Honor posthumously for jumping on a grenade in Iraq , giving his life to save his fellow SEALs.

During Mike Monsoor's funeral in San Diego , as his coffin was being moved from the hearse to the grave site at Ft. Rosecrans National Cemetery , SEALs were lined up on both sides of the pallbearers route forming a column of twos, with the coffin moving up the center. As Mike's coffin passed, each SEAL, having removed his gold Trident from his uniform, slapped it down embedding the Trident in the wooden coffin.
The slaps were audible from across the cemetery; by the time the coffin arrived grave side, it looked as though it had a gold inlay from all the Tridents pinned to it. This was a fitting send-off for a warrior hero.

This should be front-page news instead of the crap we see every day.

Since the media won't make this news, I choose to make it news by forwarding it onto you guys. I am proud of our military and the men and women who serve in it. They represent the highest and finest values of this country.






The liberal media never reports this type thing please forward it to a few of of yourï friends…
God bless the men and women in our Sea Services.