There is no such thing as "National Kill a Pitbull Day." But what seemingly began as a hoax targeting a city official in Missouri in September 2012 soon attracted attention outside of local politics.
CONTENT WARNING: This story includes images of a message promoting violence against animals.
The grisly message urging readers to attack the dog breed first surfaced as an attack on Terry Jordan, a member of the city council of Slater, Missouri, a town located 180 miles from St. Louis; Jordan had expressed support for a proposed ordinance that would've listed pitbulls among "vicious" animals. Jordan would ultimately reverse course on the matter and the council passed a resolution that did not identify specific animal breeds as "vicious."
Despite that, a social media user or users began spreading messages online posing as Jordan saying he was "here by [sic] announcing October 31 [as] National Kill a Pitbull Day" and urging readers to "spread the word" about making the dogs suffer: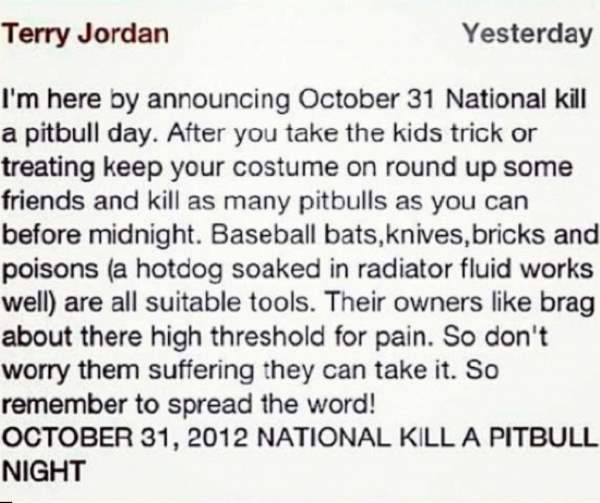 "We don't know who posted it, and I don't know how to stop it," Jordan said at the time; as the messages spread, the councilmember reportedly received harassing phone calls, as did the local police department and Slater City Hall.
While local authorities said that they did not expect the copypasta to lead to actual violence — and indeed, there are no reports of instances of cruelty related to the "Kill a Pitbull Day" hoax — the spread of the message garnered attention outside of Missouri; an online petition was posted opposing the idea. And animal protection advocates in states as close as Indiana and as far away as New Mexico/a> and Virginia also took notice.
"Anything that plants that idea in people's heads or just kind of continues the further discrimination against pit bulls is concerning to us and we wanted to speak out against that," said Will Lowery, a volunteer for the Richmond Animal League at the time.
Another iteration of the message, however, was circulated by people looking to warn pet owners; in this version, the original text is preceded by a message reading:
WARNING!
Don't plan on your 4 legged friends walking around with you on Halloween this year.
KEEP ALL DOGS LOCKED IN A HOUSE
October 31 (Halloween Night) is trying to become National "Kill A Pitt Bull Day"
Not only is pit bulls part of this "Holiday". Any breed is fair game. Especially any look alike breeds.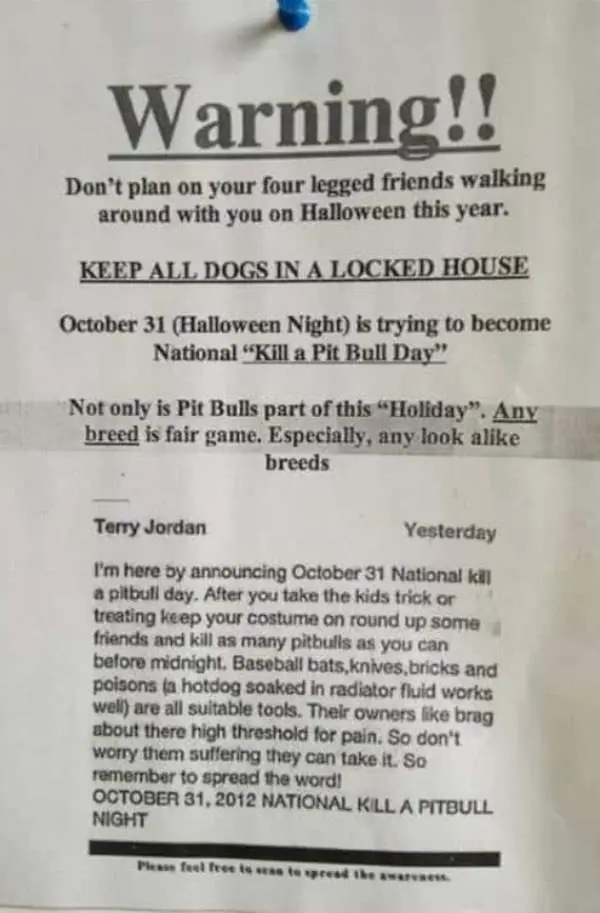 Within a month of it surfacing online, the message was listed by NBC News as a Halloween hoax, illustrating how quickly disinformation can spread even after being debunked. (Speaking of myths involving pitbulls, the idea that they are inherently more aggressive than other dog breeds has also been roundly debunked.)
In July 2023, years after weathering the harassment caused by the hoax, Jordan was appointed mayor of Slater by the city council. He took office on August 2 2023.
Update 10/6/2023, 1:39 a.m. PST: This article has been revamped and updated. You can review the original here. — ag