President Obama Cancelled 21st Annual National Day Of Prayer-Truth! & Fiction!
President Obama Cancelled the 21st Annual White House Observance of the National Day Of Prayer-Truth! & Fiction!
 
Summary of eRumor:
This is a forwarded email that says that President Obama cancelled the 21st annual National Day of Prayer ceremony at the White House.  The email also says that the White House participated in a Muslim Prayer Event in Washington D.C. and that the President said that the United States is no longer a Christian nation.
 
The Truth:
The National Day of Prayer is celebrated in the United States every year on the first Thursday in May but President Obama did not have a ceremony at the White House in 2009.  On May 7, 2009, the President did issue an official proclamation in observance of the National Day of Prayer.   Click for proclamation
According a statement by White House Press Secretary Robert Gibbs, the President would be spending some time in private prayer that day – "as he does every day."
A spokesperson from the National Day of Prayer task force told TruthorFiction.com that the 2010 event, now in its 59th year, is scheduled for May 6th but there is still no word from the Obama Administration regarding ceremonial observance at the White House.  The spokesperson also said Evangelical leaders were invited to gather for a ceremony of prayer and commemoration in the East Room at the White House during the years that President George W. Bush occupied the Oval Office.
The myth that the White House ceremony is a 21 year tradition is a fabrication.  The National Day of Prayer task force, in a May 4, 2009 USA Today released a statement saying, "While there will be tens of thousands of prayer gatherings throughout the nation, on May 7th, the Obama Administration announced there will not be a White House Observance for the National Day of Prayer this year, contrary to the administrations of President George W. Bush, President George H. W. Bush, and President Ronald Reagan. A White House Observance was not held during the administration of President Bill Clinton."
President Obama and the Muslim Prayer Day?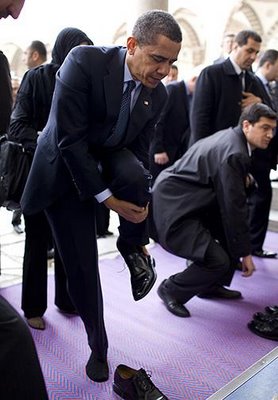 Additional confusion has been sparked over a Muslim prayer event that was scheduled in September 25, 2009.  There was no official White House ceremony for this event.
Some forwarded emails included a photograph of President Obama removing his shoes as he prepared for the prayer event.   The photograph was taken prior to the President's tour of a Mosque in Turkey.   Truth of Fiction findings are posted at this link:  Muslims Pray at the Capitol
United States Is Not A Christian Nation?
President Obama did say "we do not consider ourselves a Christian nation" in Turkey but this quotation has been taken out of context.  The President said, "We do not consider ourselves a Christian nation, or a Jewish Nation or a Muslim Nation.  We consider ourselves a nation of citizens who are bound by ideals and a set of values."
YouTube Video of President Obama's speech
updated 04/05/10