A random commenter's idea of what Israeli Prime Minister Benjamin Netanyahu "should have said" in the wake of the deaths of three teenagers at the hands of the Palestinian militant group Hamas in July 2014 was falsely circulated as Netanyahu's actual remarks.
The comment appeared under a story in the Orthodox Jewish news site the Yeshiva News reprinting Netanyahu's actual statement announcing that Israel was expanding its operations against Hamas in response to the kidnapping and killing of Eyal Yifrah, Gil-Ad Shaer and Naftali Fraenkel a month earlier. The statement read in part:
We will continue to protect our civilians against Hamas attacks on them. Hamas, by contrast, is deliberately putting Palestinian civilians into harm's way. It embeds its terrorists in hospitals, schools, mosques and apartment buildings throughout Gaza. Hamas is thus committing a double war crime: It targets Israeli civilians, while hiding behind Palestinian civilians.

This operation could take time. We are resolved to defend our families and our homes.

Today I spoke with several world leaders. I appreciated their expressions of strong support for our right and our duty to defend ourselves, and this is what we will continue to do.
The comment, introduced by the user as "what [Netanyahu] should have said," read in part:
We, the people of Israel, owe you a huge debt of gratitude. You have succeeded where we have failed. Because never before, in the history of the modern State of Israel, has the Jewish people been so united, like one person with one heart. You stole three of our most precious children, and slaughtered them in cold blood. But before we could discover the horrible truth, we had 18 days of pain and anxiety while we searched for them, during which our nation united as never before, in prayer, in hopes, in mutual support.

And now, as you continue to launch deadly missiles indiscriminately, intended to maim and murder as many civilians as possible, while you take cowardly refuge behind your own civilians – you continue to inspire us to hold strongly onto our newly discovered unity. Whatever disputes we Jews may have with each other, we now know that we have one common goal: we will defeat you.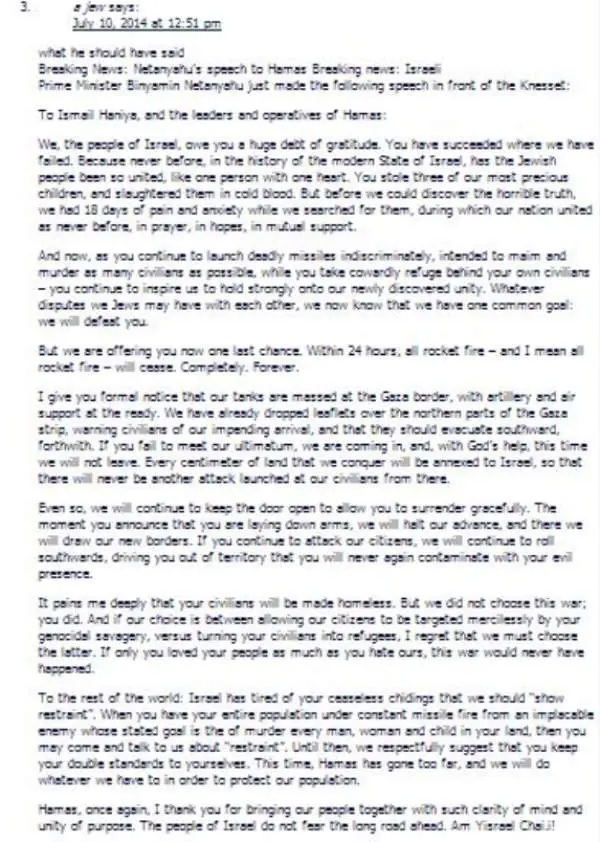 Hamas admitted to killing the three teenagers in August 2014, by which time Israel had responded with what NPR described at the time as "a broad Israeli crackdown on Hamas members throughout the West Bank." As the radio network reported:
More than 2,000 Palestinians, most of them civilians, have been killed in the fighting, according to Palestinian and U.N. officials, while 67 Israelis have also been killed, all but three of them soldiers. An Egyptian effort to mediate a cease-fire collapsed this week, leading to a resumption of heavy fighting.
The ensuing conflict would cause the deaths of 2,256 Palestinians including a reported 1,462 civilians and 71 Israelis, including five civilians before a cease-fire took effect on August 26 2014.
While Netanyahu did not offer a statement of "thanks" toward Hamas in 2014, the outbreak of another heavy conflict between them and Israel in October 2023 prompted the Israeli newspaper Haaretz to highlight a separate remark by the prime minister:
"Anyone who wants to thwart the establishment of a Palestinian state has to support bolstering Hamas and transferring money to Hamas," Netanyahu told his Likud party's Knesset members in March 2019. "This is part of our strategy — to isolate the Palestinians in Gaza from the Palestinians in the West Bank."
Israel declared war on Hamas after the group launched a surprise attack on the country on October 7 2023, killing more than 1,200 people. Israel's response has reportedly killed at least 900 people in Gaza. Associated Press reported that the attack followed another year of increased tensions in the region:
Over the past year, Israel's far-right government has ramped up settlement construction in the occupied West Bank. Israeli settler violence has displaced hundreds of Palestinians there, and tensions have flared around the Al-Aqsa mosque, a flashpoint Jerusalem holy site.
Both AP and Reuters have noted that social media has fueled a surge in false information surrounding the conflict. On October 10 2023 the Israeli army debunked one of the more prominent bits of disinformation circulating online, saying that it had no information corroborating the claim that Hamas was "beheading babies."
Update 10/11/2023, 2:04 a.m. PST: This article has been revamped and updated. You can review the original here. — ag