Why No Salute By Obama At Medal Of Honor Ceremony?-Commentary!
Why No Salute By Obama At Medal Of Honor Ceremony?-Commentary!
Summary of eRumor:
This is a forwarded article that asks why President Obama did not salute a medal of honor recipient after decorating him at the White House on November 16, 2010.
The Truth:
On November 16th President Obama awarded U.S. Army Staff Sergeant Salvatore Giunta with the Medal of Honor for heroism in the field of combat in Afghanistan. 
Click
for White House release.
This eRumor was based on an article that was written by Reese Lloyd on November 26, 2010 and published on the NewsWithViews web site.  Saluting Medal Of Honor recipients, however, is not mandatory according to a November 18th article in the military news service Stars and Stripes , "Officially, there is no law or military regulation requiring all service members to salute Medal of Honor recipients, but you are allowed to do so when the recipient is physically wearing the medal, according to the Congressional Medal of Honor Society."
The ceremony took place in the East Room of the White House before a large group of invited guests and dignitaries.  Major General and Chief of Chaplains for the United States Army Douglas Lanier Carver began the ceremony with a prayerful invocation. President Obama then came to the podium and addressed the audience saying that this was the first decoration of the medal of honor to a living member of the military in 40 years. https://www.youtube.com/watch?feature=player_embedded&v=R2RWscJM97U
Official White House Video of ceremony posted on YouTube
After the the reading of the citation President Obama placed the medal around the neck of Staff Sergeant Giunta. The  President then shook hand the hand of the Staff Sergeant and hugged him.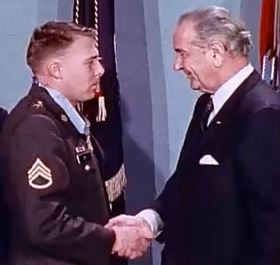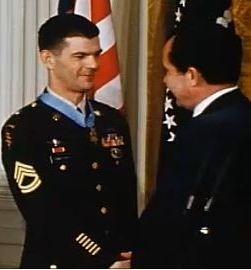 Image left: President Johnson shakes the hand of Staff Sgt. Drew Dix after presenting him with the medal of honor Image right: President Nixon shakes the hand of Sgt. Fred  Zabitosky
In our investigation we found two videos of Medal of Honor awards ceremonies officiated by President Richard M. Nixon and President Lyndon B. Johnson.  In both cases after the reading of the citation and presentation of the medal both U.S. Presidents shook the hands of the recipients.  Click for Nixon video.   Click for Johnson video.
The President of the United States has only been known to return the salute from military personnel and is often seen doing so when boarding or leaving Marine One, the Presidential helicopter.
updated 11/30/10
---
A real example of the eRumor as it has appeared on the Internet:
WHY NO SALUTE BY OBAMA AT MEDAL OF HONOR CEREMONY?

By Attorney Rees Lloyd
November 26, 2010
NewsWithViews.com

A moment of national pride took place recently in the White House when an American soldier, Staff Sgt. Salvatore Giunta, received the Medal of Honor for bravery above and beyond the call of duty in combat in Afghanistan.

Sgt. Giunta became the first living American soldier to receive the Medal of Honor since the Vietnam War. He is now one of only eighty-eight (88) living holders of the Medal of Honor.

As modest and self-effacing as he is brave, Sgt. Giunta brought further honor to himself by his humility in receiving the nation's highest medal of valor. While he made no comment in the ceremony, Giunta said before the ceremony that he was "not at peace" with being "singled out" for the honor as so many other soldiers did so much. And after the ceremony, he said he would trade the honor in a moment if he could bring back those whose lives he attempted to save under enemy fire but was unable to save. He definitely showed that he was an American in whom America could be proud.
In contrast, there was another "first" at the ceremony involving the Commander-in-Chief, President Barack Hussein Obama, in whose conduct the nation cannot and should not take pride: As far as is known, Obama became the first President, the first Commander-in-Chief , not to salute the living recipient of the Medal of Honor after presenting the medal.
It is a tradition in the military for all military personnel, no matter how high their rank, including the Commander-in-Chief, to salute a holder of the Medal of Honor no matter how lowly his or her rank. If General David Petreas was to encounter Sgt. Giunta, it would be the General who would salute the enlisted man, as a sign of respect for that soldier's extraordinary bravery, but also to show respect to all those who have received the Medal of Honor.
At all gatherings of veterans of the American Legion, or VFW, or other veterans organizations, if a Medal of Honor recipient enters the room, even a National Convention involving thousands, the proceedings stop to render military honor to that holder of the Medal of Honor. All veterans rise, come to attention, and salute. It is a matter of pride, of respect, of tradition.

And, as far as is known, it is tradition that every President who has had the honor to present the Medal of Honor to a living recipient, has shown humility, respect, and national pride in that recipient by stepping back and rendering a salute.

It was missing in action in the Obama presentation. He is apparently above all that; "like a God," as an editor of Newsweek once wrote.
Instead of rendering the traditional salute, after fumbling as if all-thumbs in trying to affix the blue-ribboned Medal of Honor, Obama, equally awkwardly, tried to "hug" the Sergeant. Yes, a "hug" for the soldier who remained at attention with eyes front in military bearing.
But a "hug" is not a "salute," even in the Age of Obama. While there may be some comedic value in Obama's pathetic display, it was more emetic than comedic. I didn't write about it at the time, so as not to distract from Sgt. Giunta's receipt of the Medal of Honor. But days have past, and it needs to be said.
Why? Is it naught but petty carping of poor President Obama? I think not. He is the "Commander-in-Chief" who has in his power the lives of those who serve in defense of the country, which he himself did not deign to do. It is pointing out that this man, this professional politician, repeatedly evidences contempt for America, for America's traditions, and for Americans who respect those traditions.
It is as if he loathes the nation he was so desperate to lead, and be loved by, Messiah-like. It is of a piece with his constant misquoting of the Declaration of Independence by leaving out the words "endowed by their Creator" when speaking of "unalienable rights."
Perhaps more aptly: It is of a pathetic piece with Obama's penchant for declining to abide by the U.S. Flag Code when the Flag passes to place his hand over his heart. Instead, he drapes his arms down and enfolds his hands at his crotch Michael Jackson-style. It is now mocked as Obama's "crotch salute." But it isn't funny. It is contempt by Obama for the Flag, for America.
Perhaps it is unfair to criticize this President of the United States for displaying such contempt for American traditions. Perhaps it is too much to expect an American President to salute a recipient of the military Medal of Honor when that president never served in the uniform of his country; has said that the Rules For Radicals of the America-hating socialist revolutionist Sol Alinsky are "seared into my [his] brain;" who launched his political career in Chicago from the living room of the revolutionist Weather Underground rich-brat-bombers Bill Ayers and Bernadine Dohrn; and who sat for twenty years in a pew of the church of Rev. "God D…n America" Wright, being marinated in hate-filled, grievance-filled, self-defined "anti-white" and "revolutionary" Black Liberation Theology.
Then again, perhaps it is not too much to expect anyone who would be America's president to at least respect American traditions, including honoring the Flag, and saluting those who receive the Medal of Honor.