How Obama is Scheming to Sabotage Trump's Presidency-
Commentary!
Summary of eRumor:
President Obama has been scheming to sabotage President Trump's time in office through a network of  nonprofits led by Organize for Action.
The Truth:
Conservative columnist Paul Sperry penned a commentary for the New York Post under the headline "How Obama is Scheming to Sabotage Trump's Presidency" on February 11, 2017.
The commentary describes the "little known but well-funded protesting arm" Organize for Action as actively recruiting leftist protestors and speculates that Obama has been "working behind the scenes to set up what will effectively be a shadow government" to oppose Trump at every turn:
Since Donald Trump's election, this little-known but well-funded protesting arm has beefed up staff and ramped up recruitment of young liberal activists, declaring on its website, "We're not backing down." Determined to salvage Obama's legacy, it's drawing battle lines on immigration, ObamaCare, race relations and climate change.
Obama is intimately involved in OFA operations and even tweets from the group's account. In fact, he gave marching orders to OFA foot soldiers following Trump's upset victory.
"It is fine for everybody to feel stressed, sad, discouraged," he said in a conference call from the White House. "But get over it." He demanded they "move forward to protect what we've accomplished."
Sperry quoted excerpts from a conference call that Obama held with "grassroots organizers" following Trump's upset victor in November. And Organize for Action is a 501c4 nonprofit organization tasked with advancing Obama's agenda. The former president's website links to OFA's, and it have an extensive network of volunteers and states that its mission is to rear the next generation of progressive grassroots organizers:
With more than 250 local chapters around the country, OFA volunteers are building this organization from the ground up, community by community, one conversation at a time—whether that's on a front porch or on Facebook. We're committed to finding and training the next generation of great progressive organizers, because at the end of the day, we aren't the first to fight for progressive change, and we won't be the last.
But aside from citing statistics, Sperry's doesn't provide any hard evidence to back up his central idea is that anti-Trump protests being organized across the country have been the work of OFA and/or Saul Alinksky — but Sperry doesn't provide any concrete evidence to support that theory: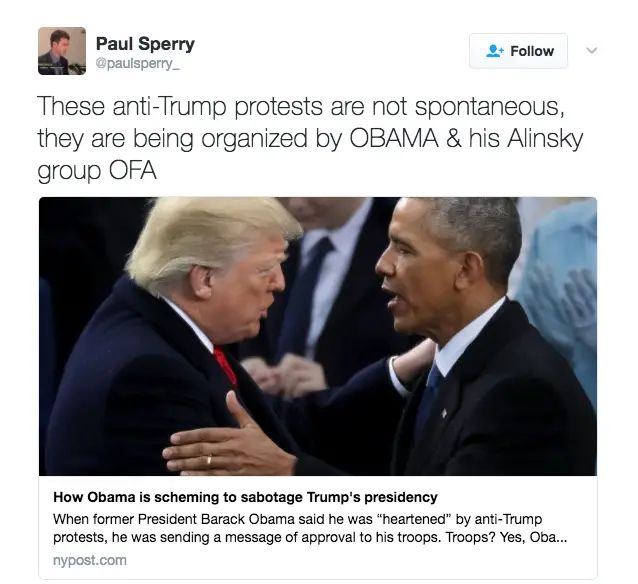 In the end, Sperry's column cites accurate details about Obama's connection to Organize for Action, and the nonprofit's aim to train progressive grassroots organizers. But we're classifying this one as commentary since the column appears to advance Sperry's personal view that Obama is scheming to sabotage Trump without providing any concrete evidence to connect the dots.