Mississippi Police Delete Post About 'Ecstasy' Candy Halloween Plot
Police in Jackson, Mississippi backtracked on a Facebook post sowing fear among local parents in 2015 after admitting it was not backed up by a specific threat.
That October, the department published a photograph of candies on a table alongside the caption:
If your kids get these for Halloween candy, they ARE NOT CANDY!!! They are new shapes of "Ecstasy" and can kill kids through overdoses!!! So, check your kid's candy and "When it doubt, Throw it Out!!" Be safe and always keep the shiny side up!!!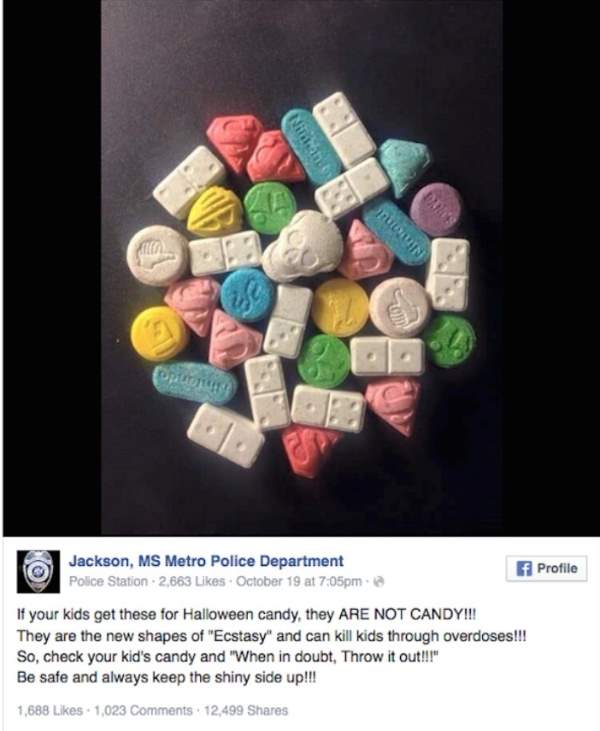 Not only was the post shared more than 230,000 times on the platform, it also spread through coverage by local-level news outlets: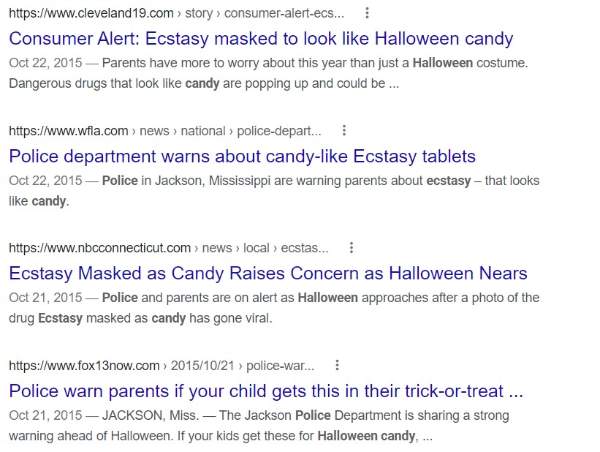 And while the Food and Drug Administration, among other groups, had already advised parents to make sure their children received safe candy after trick-or-treating, there were cases where the police department's post was shown to lack context. As KIRO-TV in Seattle reported in October 2015:
We called the King County Sheriff's Office and Seattle police and asked: Have there been reports of kids locally hurt by Halloween candy?

"Not at all," Sheriff's spokeswoman Cindi West said. "The most common thing we see are robberies – where bags of candy are stolen by older kids. What they don't realize is that can be a robbery."

She checked Wednesday afternoon to see if there were reports of people being hurt by candy, and didn't find even reports of cases in the last few years.

Neither could Seattle police spokesman Sgt. Sean Whitcomb.
Jackson police took the post down, but not before it became part of a phenomenon sociologist Dr. Joel Best described as "Halloween sadism" to Patch that same year.
"It's a great thing to worry about, because it happens one day a year," said Best, who teaches criminal justice at the University of Delaware. "People are imagining this terrible person, who lives down the block, is so crazy that he poisons little children at random. But he's so tightly wrapped that he only does it one day a year."
In August 2022, federal officials fueled a new round of panic over poisoned "candy" when Michael Humprhies, a port director for U.S. Customs and Border Protection (CBP) posted a photograph of what he claimed was "5,000 fentanyl pills" seized at the port of Nogales, Arizona:
8/17 CBP officers #Nogales POE seized over 15,000 fentanyl pills strapped to a person's legs. Second consecutive day colored fentanyl pills with the appearance of candy seized .This could be the start of a trend with Transnational Criminal Organizations targeting younger users. pic.twitter.com/y5KT5Zveop

— Port Director Michael W. Humphries (@CBPPortDirNOG) August 18, 2022
"This could be the start of a trend with Transnational Criminal Organizations targeting younger users," Humphries wrote, without citing any evidence.
Predictably, news outlets repeated Humphries' claim in stories about "rainbow fentanyl":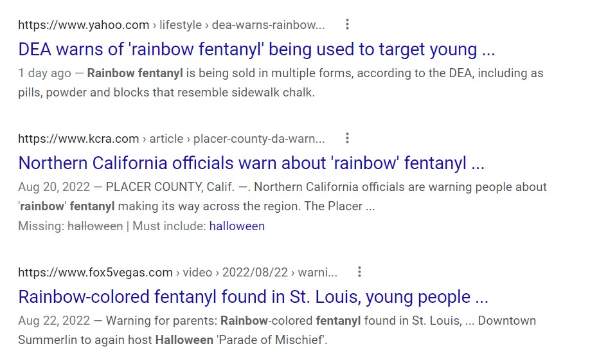 But as Vice reported, actual experts believe it is more likely that food coloring is being added to fentanyl products by some dealers as a way to brand their product.
"There is not a lot of money in targeting kids and this idea that drug sellers are coming for our children is a very old one that's been washed and repeated over the decades," said Claire Zagorski, who coordinates the Pharmacy Addictions Research and Medicine Program for the University of Texas in Austin.
Regardless, law enforcement officials continued to lace debunked allegations into public service warnings regarding drugs.
"Whether the person intends to take it or accidentally comes in contact with it, there may be no return, it could cause a fatal overdose," a spokesperson for the Multnomah County Sheriff's Office in Oregon told the news site.
Update 9/29/2021, 3:28 pm: This article has been revamped and updated. You can review the original here. -ag
Update 8/31/2022, 11:05 p.m. PST: Updated to note law enforcement officials' allegations about the spread of "rainbow fentanyl." — ag