'Peaceful Flag Burning to Resist Police Sponsored by Antifa'
Claim
The United States flag will be burned at the Gettysburg National Cemetery during a protest on July 4 2020.
Like this fact check?

Reporting
A group with content seemingly designed to anger right-wing readers attracted attention from actual government officials — before finally being removed from both Twitter and Facebook in June 2020.
The group, "Left Behind USA," was using Facebook to promote what it called a "peaceful flag burning" on July 4 2020:
We'll be travelling to the Gettysburg National Cemetery this July 4th to protest police violence against unarmed black civilians.

This will be a PEACEFUL flag burning ceremony. We will be burning the US flag, the Confederate Flag, and Blue Lives Matter flags.

We're encouraging you to watch from home and also burn your own flags (safely).

To protect against far-right militia groups, we will be legally armed.
A spokesperson for Facebook told us, "This Event Page was removed when we disabled the account behind it for breaking our rules against maintaining more than one Facebook account."
Local news station WPMT-TV reported that law enforcement agencies around Gettybsurg, Pennsylvania where the cemetery is located are aware of posts threatening to burn the United States flag there.
"We are taking all precautions at our disposal to maintain the safety of all residents and visitors to the area as well as the protection of property to include businesses, homes, monuments, churches and other historical treasures located in the greater Gettysburg area," Gettysburg Borough Police Chief Robert Glenny said in a statement.
The page for the "event" also featured photographs of purported flyers, including one with a phone number for people to call. When we called the number on June 24, 2020, though, it had been disconnected.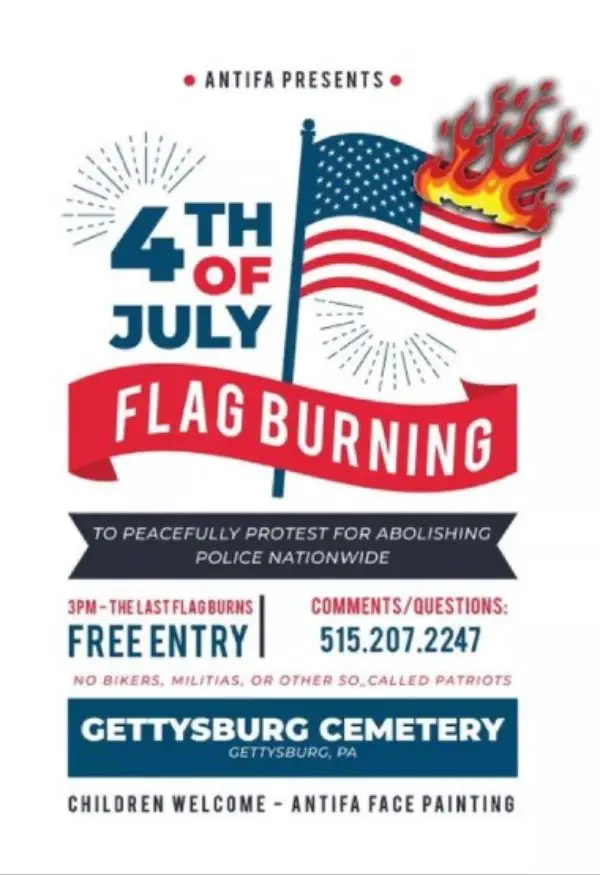 In a separate post, the group encouraged users to follow the "@LeftBehindUSA" Twitter account, which it claimed boasted "over 3500 comrades." However, a search revealed that the account had been suspended: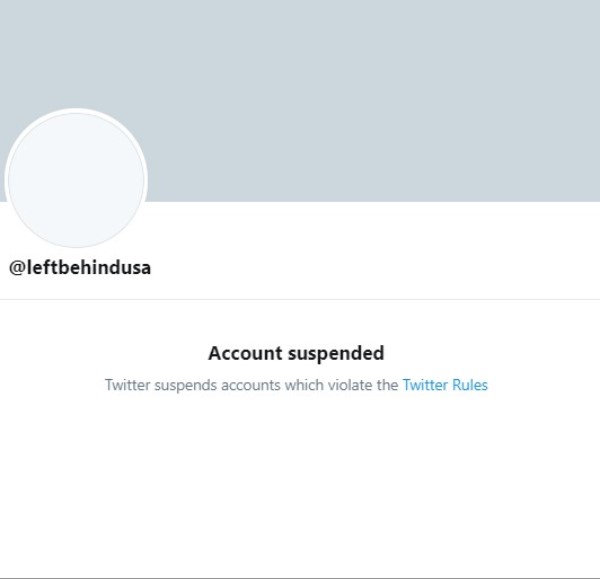 According to that platform, "@LeftBehindUSA" was suspended for for operating multiple accounts and violating Twitter's terms of service.
Neither the "flag burning" event nor the Left Behind USA group page had information about their possible organizers. The group's content mostly consisted of photos and posts that appear to be specifically designed to rile up readers on the right. But it was also "covered" by Hal Turner, a longtime source of disinformation who used alarmist language and inflammatory rumors to spin up a hysterical and incoherent fantasy of violence (but naturally, offering no real proof). He wrote:
ANTIFA is planning to desecrate the Gettysburg National Cemetery by burning flags there on July 4; just before they begin MURDERING White people and BURNING DOWN Suburbs the same day.

Announcements are already appearing on the Internet about the desecration of 3500 Union Solder graves at the Hallowed ground where Abraham Lincoln gave his Gettysburg Address.

The real eye-opener is from a Controlled Unclassified Law Enforcement Bulletin issued as "Law Enforcement Sensitive – For Official Use Only" to Police and Fire Departments about ANTIFA already using fireworks to acclimate suburbia with sounds of explosions, so they can use those to cover for gun fire when they attack white, suburban, neighborhoods the same day.

According to Controlled Unclassified Information (CUI) in a Bulletin issued to Police and Fire Departments,  ANTIFA has been taking deliveries of very large shipments of professional-grade fireworks.
Local police further refuted Turner's claim.
"That's false," Investigator Dennis Bevenour told us. "We did not put anything out."
Turner's post spread further in "copypasta" form on Facebook when other users began republishing it without naming him as the source. At least one iteration has been shared more than 2,000 times on the platform: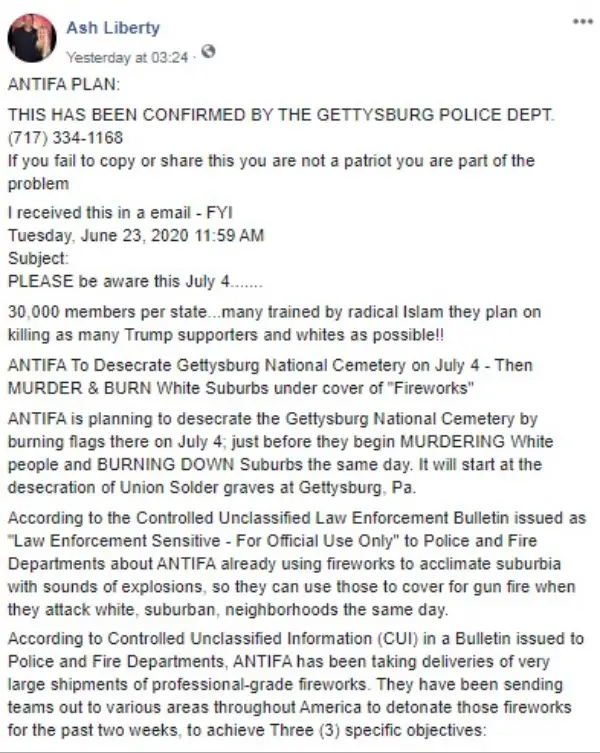 The event page also attracted attention from a separate far-right group planning an actual protest in Harrisburg, Pennsylvania on July 4 2020 — this one against guidelines asking people to wear face coverings to help mitigate the spread of COVID-19. Similar "freedom" events have been announced for San Diego, California; Nashville, Tennessee; and Salem, Oregon.
At least one post, though, named an actual group — the Socialist Rifle Association (SRA):
It's time to rise up against the mindless idiots who threaten to run over protesters with their vehicle.

Join the Socialist Rifle Association today. Learn to properly use and fire a weapon.re a weapon.

Protect your comrades from these potential murderers.
We contacted the actual SRA seeking comment on being named by the group, but did not hear back.
Updated June 25, 2020 10:34 a.m. PST: Updated with comment from a Facebook spokesperson.
Updated June 30, 2020 10:31 a.m. PST: Updated with comment from Gettysburg police and a new iteration of the claim.