Did Spirit Halloween Announce It Would Not Open Stores in 2020?
Claim
The Spirit Halloween retail chain will not open any physical stores in the fall of 2020 because of the spread of COVID-19.
Like this fact check?

Reporting
Fans of the Spirit Halloween chain of seasonal stores could be reassured about the chance to shop there in 2020, after a YouTube creator apologized for his role in the false rumor spreading online.
"This is a great example to not trust you see on the Internet because a lot of times, if [it's] not official it can be fake even if it looks official," Mak Ralston said in a June 24 2020 video he posted to his channel, Haunt Former. "I never meant for this to get out other than my video and my community."
Ralston's apology came after photographs spread online of a document resembling an official statement from Spirit Halloween announcing that due to the spread of COVID-19, the retailer would not open any physical stores in the fall of 2020.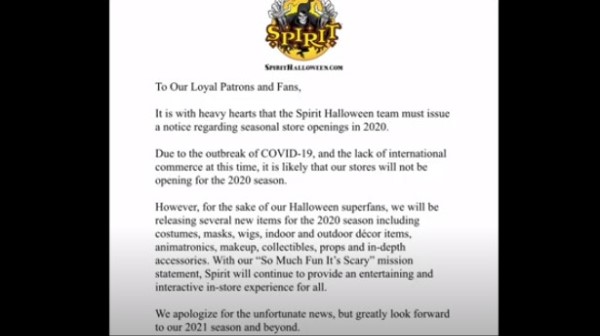 The "statement" read:
To Our Loyal Patrons and Fans,

It is with heavy hearts that the Spirit Halloween team must issue a notice regarding seasonal store openings in 2020.

Due to the outbreak of COVID-19, and the lack of international commerce at this time, it is likely that our stores will not be opening for the 2020 season.

However, for the sake of our Halloween superfans, we will be releasing several new items for the 2020 season including costumes, masks, wigs, indoor and outdoor decor items, animatronics, makeup, collectibles, props and in-depth accessories. With our "So Much Fun It's Scary" mission statement, Spirit will continue to provide an entertaining and interactive in-store experience for all.

We apologize for the unfortunate news but greatly look forward to our 2020 season and beyond.
But in fact, Ralston explained, he created the fake document as a prank for a separate video released on April 1 2020 — otherwise known as April Fool's Day.
"We are not going to be seeing stores popping up in our local areas," Ralston said at the time. "So that map finder, the store finder on their website is going to be inactive this year because there are no stores for Spirit Halloween, unfortunately, because this Coronavirus is too uncertain for stores to open up. They have to worry about the health and concerns of their staff and also the merchandise shipping from overseas."
Photos of the bogus statement spread to the point that they were covered by some pop culture–related websites.
But the spread of the photographs of the ginned-up document omitted the punchline to Ralston's April Fool's joke: with Spirit Halloween shutting down in 2020, he said, the Bed Bath & Beyond chain would be offering "sweet Halloween sneak peeks" instead, including a "Freshee 2-pack sculpted terry kitchen towels set":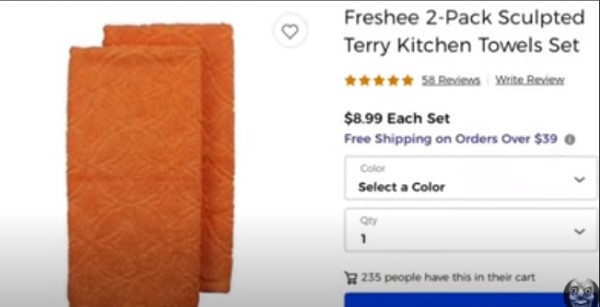 In his follow-up post, Ralston encouraged viewers to cite it as a way to refute other users posting the April Fool's letter and treating it as legitimate.
"I thought it was a funny joke, and obviously people have stretched it," he said. "I want to apologize to anyone that this has upset or Spirit Halloween if this has gotten you into any media frenzy. This was clearly just a joke and a part of a bigger video which was an even bigger joke."
We contacted Spirit Halloween seeking comment; a day before Ralston published his apology, though, the retail chain said on Twitter, "We stil[l] plan on opening as originally anticipated."
Ralston told us that he has posted April Fool's-related videos in the past and felt that " because Spirit has been a long-time feature on my channel, I thought it would be funny to poke at the community, not aware that people would repost as it being legit."
But the unintended spread of his latest joke, he said, has made him want to stray away from posting content that could be taken the wrong way.
"I'm a humorous guy but not at the risk of hurting a business, especially one dear to me like Spirit," Ralston told us. "Thankfully, Spirit has been doing great over the past few years as has the industry. So I think a joke won't be hurting the industry anytime soon."
Update June 26, 2020 9:37 a.m. PST: Updated with additional comments by Mak Ralston.