The story of a French hospital's unusual relationship with a former dressage horse — and the horse's relationship with terminal patients there — recirculated online in July 2021.
Interest in "Doctor Peyo" reignited following a popular post by the Twitter account "All Things Interesting," The tweet shows a photograph of Peyo standing next to a bedridden patient, alongside the caption:
In France, a beautiful 15-year-old stallion named Peyo often comes to comfort and soothe terminal patients at the Techer Hospital in Calais. The horse chooses which patient he wants to see, kicking his hoof outside the door.
As so often happens, the tweet resurfaced on Facebook, with text copied over from the Twitter variation: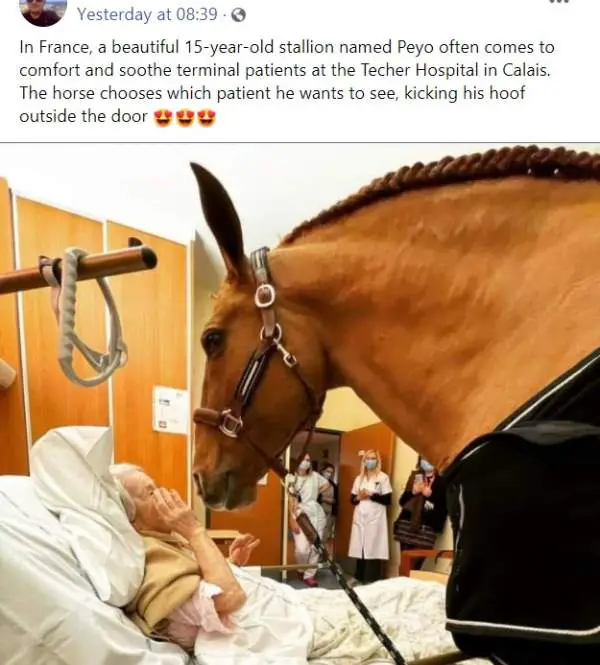 Peyo's story is legitimate; in truth he has been making his rounds, so to speak, at Calais Hospital alongside his owner Hassen Bouchakour since 2016. The non-profit organization Les Sabots Du Coeur ("The Hooves Of The Heart") handles both Peyo's excursions and research into Peyo's apparent ability to detect when a person is living with cancer. The group further claims that researchers have studied more than 500 other horses — including foals sired by Peyo — and found that his instinct for knowing which patients to visit or spend time with is a singular activity.
Peyo's story has circulated online intermittently since he began comforting patients, through blogs, Facebook groups, and YouTube videos:
But he and Bouchakour received more attention in March 2021, when The Guardian published a photo essay in March 2021 showing the duo during a normal working day.
According to the story:
At the hospital Peyo tells his trainer which room he wants to enter next by stopping or raising his leg. Peyo is 15 and seems able to detect when humans have cancers and tumours. He stayed nearly two hours here, watching over a dying woman. "I accompany him but I let him do what he wants, he's the one who decides," says Bouchakour. "What really pushed scientists to take an interest in him and open the health establishment doors to us, was this [seeming] ability to greatly reduce [the patients' dosage of] all hard drugs and thus allow a more peaceful departure," he says.
In one photo, Peyo is seen standing guard at the door to a patient's room.
"When he decides, I cannot hold him back," Bouchakour told the Guardian. "It's a need, it's visceral, it is in him, he needs to go and cling onto the specific person he has chosen."
Les Sabots Du Coeur also has its own Facebook page, as well as a separate Instagram account devoted to Peyo.