Philandro Castile Was an Armed Robbery Suspect-Mostly Fiction!
Summary of eRumor:
Philandro Castile, a black man who was killed by a white police officer just outside of St. Paul, Minnesota, was a suspect in an armed robbery.
The Truth:
Police in Minnesota have not identified Philandro Castile as an armed robbery suspect.
Those rumors started shortly after an audio recording of police radio chatter just before Philandro Castile and his girlfriend were pulled over was released to the public. In the recording, the St. Anthony Police Officer Jeronimo Yanez can be heard radioing to dispatch that Castile and his girlfriend matched the description of two armed robbery suspects in the area before he pulled them over:
I'm going to stop a car… I'm going to check IDs. I have reason to pull it over. The two occupants just look like people that were involved in a robbery. The driver looks more like one of our suspects, just 'cause of the wide set nose.
It not clear exactly which armed robbery Yanez was referring to, but the St. Antony Police department had issued a press release earlier in the week saying that they were investigating a gas station robbery that had occurred on July 2nd blocks from the traffic stop, Lillie News reports:
Armed with handguns, two men robbed a convenience store in Lauderdale early in the evening of July 2.
According to a press release from the St. Anthony Police Department, which contracts for police service in Lauderdale, the two robbed the Super USA store in the 2400 block of Larpenteur Avenue around 7:30 p.m., taking cash from the register and cartons of Newport cigarettes. 
No employees were injured during the robbery said St. Anthony Police Chief Jon Mangseth.
Police also released surveillance camera footage of one of the robbery suspects, who was shown to be an unmasked black male with long dreadlocks: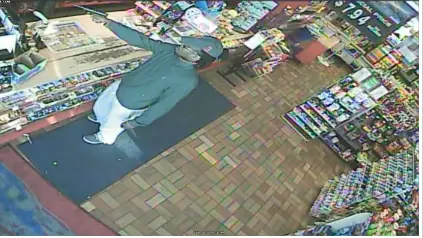 That revelation led to fringe media outlets like The Conservative Tree House reporting that it was "confirmed" that Philandro Castile was an armed robbery suspect.
However, just because an officer said that Philandro Castile had a passing resemblance to an armed robbery suspect, that doesn't mean that he actually was actually an armed robbery suspect. And following Castile's death, Minnesota authorities made no mention of him being a suspect in any armed robbery and said that he was stopped for a broken taillight.
And, a quick check of Philandro Castile's online court records showed that he had a number of traffic infractions on his record, but no history of serious crime or pending charges for armed robbery against him.
Given the fact that Castile has not been identified as an armed robbery suspect, but the arresting officer said he looked like an armed robbery suspect, we're calling this one "mostly fiction."