A Republican lawmaker who once inspired his family to record a statement urging constituents to vote against him and who embedded a weaponized Jeffrey Epstein meme in impeachment tweets lashed out at reporters on January 6 2020 after posting a regurgitated fake photograph of former United States president Barack Obama shaking hands with Iranian president Hassan Rouhani.
Rep. Paul Gosar of Arizona posted the image — manipulated to show Obama alongside Iranian President Hassan Rouhani — on his Twitter account, adding, "The world is a better place without these guys in power":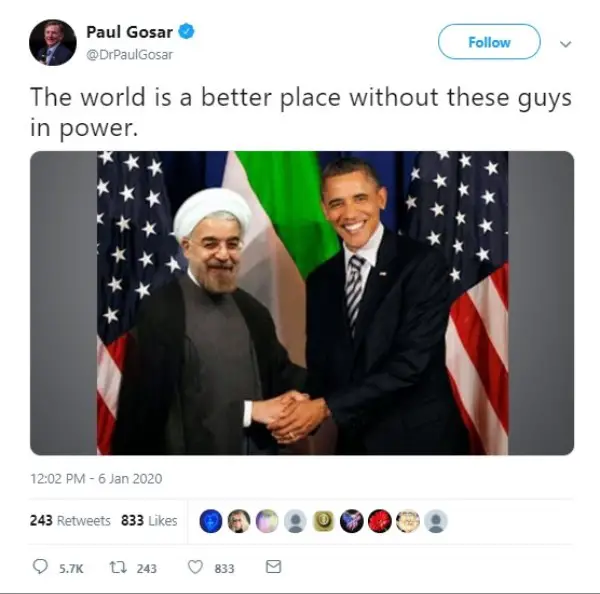 But as Buzzfeed reported in 2015, the fake photograph is actually a digitally altered photo originally showing  Obama with then-Indian Prime Minister Manmohan Singh in 2011: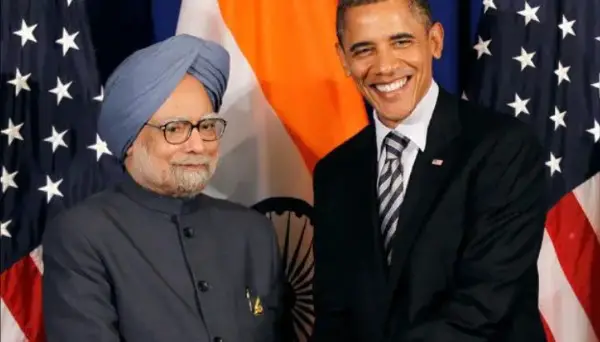 The image comes from an ad that was produced by the Illinois-based Restoration PAC; it was originally used by the Republican political action committee for television ads in Wisconsin to criticize the Obama administration for forging a nuclear power pact with Iran.
At that time Dan Curry, a spokesperson for the group, first feigned ignorance. When asked about using the doctored photo he told BuzzFeed, "I don't know what you're talking about. You're saying that's a photoshop — can you explain what you're talking about?"
Later, when contacted by FactCheck.org, Curry's group claimed that "BuzzFeed was not able to provide any proof that the photo was fake and it indeed is in circulation widely on the internet," but removed the photograph anyway.
For his part, Gosar claimed that the fact he was pushing a falsified image was irrelevant and called reporters who identified the regurgitated fake "dim witted [sic]".
"No one said this wasn't photoshopped," Gosar wrote. "No one said the president of Iran was dead. No one said Obama met with Rouhani in person. The tweet says: 'the world is a better place without either of them in power.'"
In September 2018, six of Gosar's siblings took part in a campaign ad opposing his re-election campaign. One of the congressman's brothers, Tim, said "He is not listening to you, and he does not have your best interests at heart."
Gosar has a long history of pushing corrosive disinformation. In a 2017 interview he employed a common far-right (and anti-Semitic) canard when he suggested that billionaire and Democratic Party supporter George Soros was behind a rally opposing white nationalists in Charlottesville, Virginia; and in May 2019 he accused Pope Francis of promoting "socialist tripe."
"It would be difficult to see my brother as anything but a racist," said another of Gosar's siblings, his sister Grace.