On April 19 2021, far-right blogger and commentator Dan Bongino shared an hour-long video under the title "Ep. 1502 Caught on Tape, Maxine Waters Is Inciting Violence." It appeared to be very similar to a claim tweeted by self-styled right-wing comedian Steven Crowder a day earlier:
Claims About Waters 'Inciting Violence' or 'Inciting a Riot'
The narrative was clearly coordinated. For example, Stephen Crowder claimed that if "Trump was removed from Twitter AND Facebook for 'inciting violence' then Maxine Waters needs to be federally charged and impeached." For his part, Dan Bongino repeatedly posted about Waters purportedly inciting a riot on Parler on April 19 2021: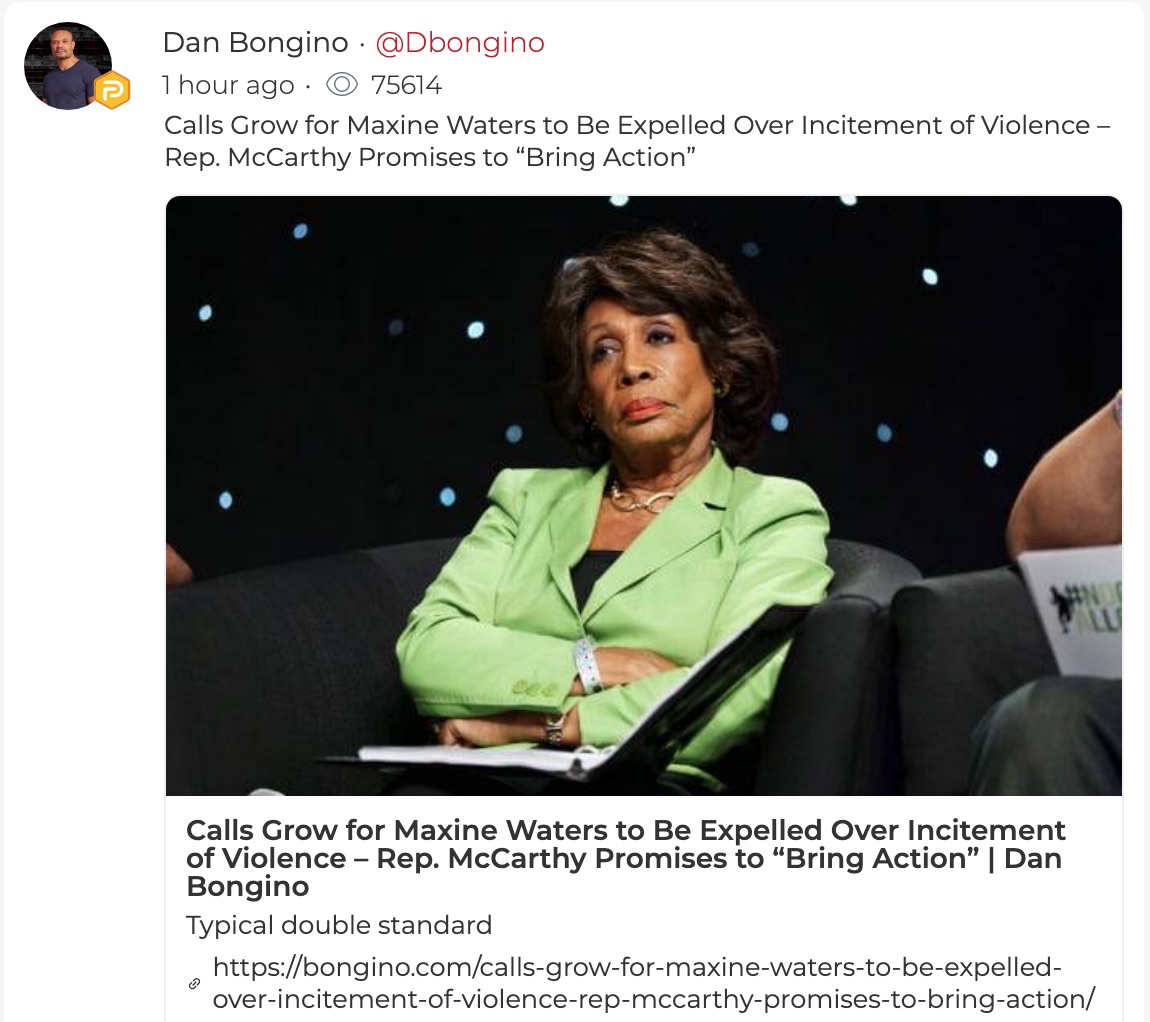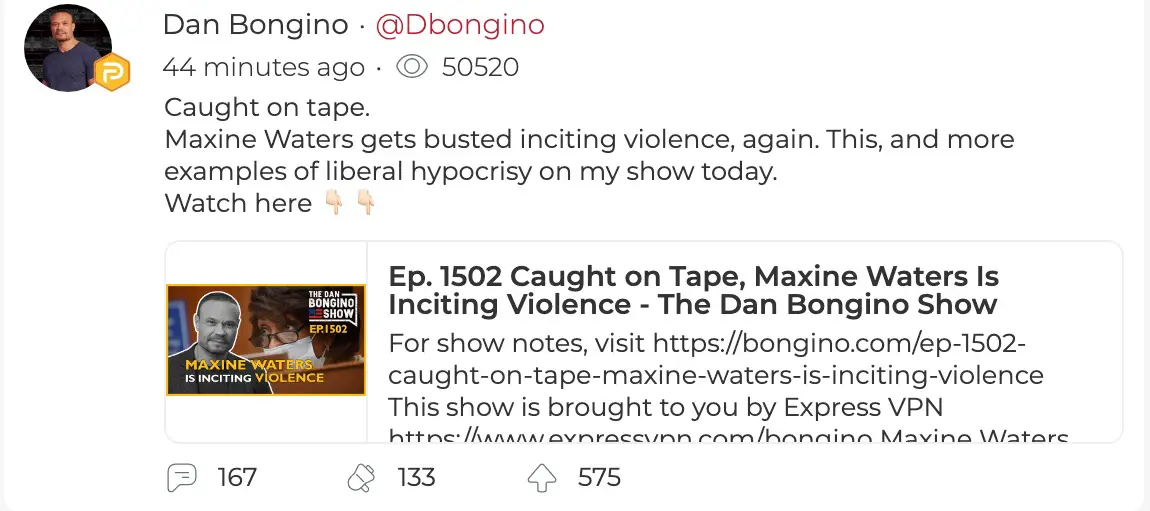 In consecutive Parler posts, Bongino wrote:
"Calls Grow for Maxine Waters to Be Expelled Over Incitement of Violence – Rep. McCarthy Promises to 'Bring Action'"

"Caught on tape. Maxine Waters gets busted inciting violence, again. This, and more examples of liberal hypocrisy on my show today. Watch here ????????????????"
Waters' Congressional opponent Joe Collins issued a press release on April 19 2021, repeating (but slightly softening) the accusation in the headline: "Joe Collins Fires Back at Maxine Waters for Seemingly Inciting Violence Against Police Officers":
California Congressional candidate Joe Collins spoke out again [on April 19 2021] after his opponent, Rep. Maxine Waters, seemingly incited violence against police officers during an anti-cop protest in Brooklyn Center, Minnesota.

In response to Waters' statements, Collins declared, "Maxine should be ashamed of herself. Inciting violence in an already emotionally torn city. This is the type of leadership the United States does not need. Violence is up 33% and young black men are killing each other on our streets every day and she has been silent on those issues."

Collins continued, "She is not a victim and instead of pretending like one she should be doing her job and creating police reform legislation. This is why we have restarted our campaign for 2022. I will be a representative who actually works instead of pandering."
Collins did not quote Waters in his response to the remarks. Rep. Lauren Boebert (R-Colorado) used similar language in an April 18 2021 tweet:
Maxine Waters' Remarks
Nearly all iterations of Waters' remarks led back to one single tweet from an obscure right-wing account with the name @DDarnae on April 18 2021:
That tweet was published at 12:04 AM on April 18 2021, and it featured one minute and 46 seconds of Waters answering questions about protests in Minneapolis during Derek Chauvin's murder trial. The @DDaunte account tagged several partisan outlets or commentators with the following claim:
Maxine Waters Inciting violence if Derek Chauvin isn't found guilty for murder.
Every copy of the video we located included a visual watermark attributing the clip to @UR_NINJA, the official twitter account for media collective Unicorn Riot. At 11:35 PM on April 17 2021, the account aired a Twitter broadcast which included remarks from Waters:
In addition to what looked like a still from the same video, the tweet read:
U.S. Rep. Maxine Waters (D-CA43) is speaking out about police violence and racism in Brooklyn Center – we are live now
Clicking through led to a four-hour long video aired by @UR_NINJA on April 17 2021 (which was not embeddable), called, "#DaunteWright Protests: Day 7 – Brooklyn Center, MN."
In it, an individual off-camera asked Waters what protesters should do if Chauvin wasn't found guilty after the trial (which was in progress as of April 17 2021). Waters asked the man to repeat the question, and then responded:
We gotta stay on the street. And we've got to get more active, we've got to get more confrontational. We've got to make sure that they know that we mean business.
That was the portion of the commentary cited by Boebert, Crowder, Bongino, and others. Although "get more confrontational" could be described as nebulous, nothing in Waters' remarks specifically appeared to incite violence.
Context and Comparisons
Calls for Waters to be sanctioned or censured frequently referenced the January 6 2021 "storming of the Capitol," which left at least five people dead. In the wake of the violent but unsuccessful coup attempt, two additional Capitol Police officers died by suicide.
Stephen Crowder claimed in his tweet that that "if Trump was removed from Twitter AND Facebook for 'inciting violence' then Maxine Waters needs to be federally charged and impeached."
During and after the insurrection, former United States President Donald Trump was banned from most social media platforms due to then-current violence and deaths at the Capitol:
On [January 7 2021], Facebook founder Mark Zuckerberg went a step further [than temporary suspension], announcing Trump will be banned from Facebook's social media platforms until at least the end of his term on January 20 [2021].

The events were a direct reaction to words that Trump has repeated on social media, and that he said at a rally Wednesday before the attack on the Capitol—baseless claims about election fraud, the election being stolen from him, and his loss to Joe Biden in November [2020].
In a January 8 2021 statement ("Permanent suspension of @realDonaldTrump"), Twitter explained:
After close review of recent Tweets from the @realDonaldTrump account and the context around them — specifically how they are being received and interpreted on and off Twitter — we have permanently suspended the account due to the risk of further incitement of violence.

In the context of horrific events this week, we made it clear on [January 6 2021] that additional violations of the Twitter Rules would potentially result in this very course of action. Our public interest framework exists to enable the public to hear from elected officials and world leaders directly. It is built on a principle that the people have a right to hold power to account in the open.

However, we made it clear going back years that these accounts are not above our rules entirely and cannot use Twitter to incite violence, among other things. We will continue to be transparent around our policies and their enforcement.
Twitter cited two tweets from Donald Trump on January 8 2021, two days after the Capitol insurrection. Citing Twitter's "Glorification of Violence policy," the platform deemed the tweets "could inspire others to replicate violent acts and [subsequently] determined that [Trump's tweets] were highly likely to encourage and inspire people to replicate the criminal acts that took place at the U.S. Capitol on January 6, 2021."
In an "Assessment" section, Twitter provided five of "a number of factors" identified in their internal risk evaluation. Those factors were:
President Trump's statement that he will not be attending the Inauguration is being received by a number of his supporters as further confirmation that the election was not legitimate and is seen as him disavowing his previous claim made via two Tweets (1, 2) by his Deputy Chief of Staff, Dan Scavino, that there would be an "orderly transition" on January 20th.
The second Tweet may also serve as encouragement to those potentially considering violent acts that the Inauguration would be a "safe" target, as he will not be attending.
The use of the words "American Patriots" to describe some of his supporters is also being interpreted as support for those committing violent acts at the US Capitol.
The mention of his supporters having a "GIANT VOICE long into the future" and that "They will not be disrespected or treated unfairly in any way, shape or form!!!" is being interpreted as further indication that President Trump does not plan to facilitate an "orderly transition" and instead that he plans to continue to support, empower, and shield those who believe he won the election.
Plans for future armed protests have already begun proliferating on and off-Twitter, including a proposed secondary attack on the US Capitol and state capitol buildings on January 17, 2021.
This context makes clear that any criticism of Maxine Waters' statements hinged on a comparison to Donald Trump's inflammatory rhetoric and ensuing series of increasingly violent stunts that culminated in a coup attempt that killed at least five people (and two Capitol officers who later died by suicide.) Trump's ban from the platforms occurred after violence occurred resulting in several deaths.
By contrast, Waters did not call for violence, nor did we find any indication her response to the question of what protesters ought to do inspired any violent action.
Summary
On April 18 2021, a narrative emerged on Twitter, suggesting Rep. Maxine Waters  (D-California) had "incited a riot," due to a clip in which Waters said if Chauvin was not found guilty that they "gotta stay on the street … get more active … get more confrontational," and "make sure that they know that we mean business."
These statements about Waters are in bad faith. She did not incite a riot, and her commentary did not result in any violent behavior. Nearly verbatim claims to the contrary all did so citing the same single clip presented without proper context — tweeted by an obscure right-wing account to far-right pundits and bloggers — in which Waters responded to an interview question.