Did Rep. Sheila Jackson Lee Blame Trump for a 'Plane Derailment'?
Claim
Rep. Sheila Jackson Lee (D-Texas) blamed an "American Airlines Derailment" in Washington State in 2017 on then-U.S. President Donald Trump's "racist hatred of African-Americans."
Like this fact check?

Reporting
Another online "prank" targeting Texas Democratic Party Rep. Sheila Jackson Lee in December 2017 sought to take morbid advantage of an actual railroad disaster to attack her intelligence.
In this case, it was the Amtrak passenger train derailment in Washington state that killed three people and injured 52 more when it derailed on December 18 2017, near the small city of DuPont.
The fake post, which was designed using the website tweeterino.com, was a fake screengrab with a fake social media account for Jackson Lee saying:
It's a direct result of Trump's racist hatred of African Americans that caused an American Airlines plane to derail in Washington state. Just another way to genocide us.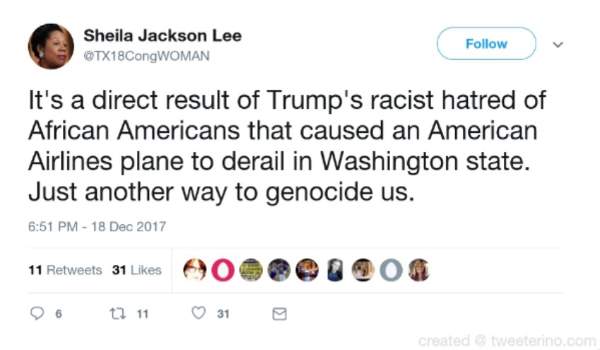 As we have previously reported, the fake post was part of an ongoing attempt to smear Jackson Lee, a Black woman, in keeping with a bigger pattern of attacks against U.S. lawmakers of color. More details on this type of disinformation campaign can be found here.
The National Transportation Safety Board (NTSB) later determined that the accident was caused by the train's engineer, Steven Brown, receiving "insufficient training" prior to the doomed trip; and a lack of planning by not only Amtrak, but oversight agencies from local to the federal level.
"nvestigators found there was a general sense that none of the participants fully understood the scope of their roles and responsibilities as they pertained to the safe operation of the service, which allowed critical safety areas to be unaddressed," the NTSB report stated.
Meanwhile, Associated Press reported in June 2022 that Amtrak had reached a settlement with Brown, who had been fired in the wake of the derailment.
Update 9/21/2023, 12:43 a.m.: This article has been revamped and updated. You can review the original here. — ag