Native American Journalists Call On Cohorts to 'Withdraw Support from CNN' after Pundit's Racist Comments
The Native American Journalists Association (NAJA) called on fellow industry advocacy groups to push back against CNN in response to inaccurate and racist comments by one of the news network's pundits.
The group made the request in the wake of past incidents involving the CNN news network, including remarks from Rick Santorum, a former right-wing politician who has been working for the network as a political commentator:
With a lack of accountability or ethics around multiple racist and insensitive comments from CNN staff, the Native American Journalists Association urges its members to avoid working with the network to avoid harassment and racism. NAJA also calls on advertisers, funders and journalism diversity organizations to withdraw their support from CNN indefinitely.
Calls for Santorum's firing began circulating after the former senator's remarks at a right-wing conference on April 23 2021. Santorum said, inaccurately:
If you think of other countries like Italy and Greece and China, Turkey and places like that, they've all sort of changed over time. They've been there for millennia in many cases and their culture has sort of evolved over time. But not us. We came here and created a blank slate. We birthed a nation. From nothing. There was nothing here. I mean, yes we have Native Americans but candidly there isn't much Native American culture in American culture. It was born of the people who came here pursuing religious liberty to practice their faith, to live as they ought to live and have the freedom to do so.
The remarks, which also appeared to coyly reference "Birth of a Nation," were posted on YouTube by conference organizers; an online petition pushing for that outcome has amassed thousands of signatures, and CNN has been criticized by NAJA and other activists for continuing to give Santorum a platform.
"Rick Santorum is an unhinged and embarrassing racist who disgraces CNN and any other media company that provides him a platform," said Fawn Sharp, president of the National Congress of American Indians. "What European colonizers found in the Americas were thousands of complex, sophisticated and sovereign Tribal Nations, each with millennia of distinct cultural, spiritual and technological development."
NAJA did say that the network had not responded to their statement as of April 27 2021. However, Washington Post columnist Erik Wemple reported that a public relations company did provide him with a statement attributed to Santorum claiming that he had "no intention of minimizing or in any way devaluing Native American culture."
But NAJA also noted in its statement that CNN had previously failed to respond to criticism over its treatment of indigenous Americans:
During its live Election Night coverage in November, CNN labeled Native American voters as "something else." When asked by NAJA to issue an apology, CNN refused.

Last week, a CNN host incorrectly identified Minnesota Lieutenant Governor Peggy Flanagan, a member of the White Earth Band of Ojibwe, as a white woman. The network has yet to correct its mistake.
The November 2020 issue stems from a graphic the network put on the air showing a breakdown of voters in that year's presidential election; Native Americans were listed as "something else," compared to individual mentions for Black, Latinx, Asian, and white voters: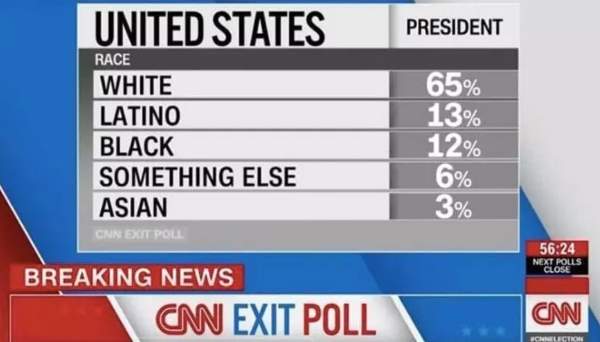 At the time, NAJA called for an apology from the network. Reached for further comment, NAJA did tell us that CNN did not respond to her group, but that they did send a statement to the Aboriginal Peoples Television Network in Canada.
"Our exit poll results included a poor choice of words and in no way did we intend to minimize the importance of indigenous communities and the Native American vote," spokesperson Alison Rudnick told APTN at that time. "We have corrected it for any of our coverage moving forward."
We can also confirm that in April 2021, CNN presenter Poppy Harlow did call Flanagan a "white woman" while referring to a statement Flanagan had posted on Twitter following the murder of George Floyd by a white police officer.
"As a child advocate I am grappling with the stark reality: Minnesota is a place where it is not safe to be Black," she wrote. "This is the essence of an emergency we face. We must speak that truth in light of this past year."
— Lt. Governor Peggy Flanagan (@LtGovFlanagan) April 18, 2021
The news network is no stranger to being criticized by journalist advocacy groups; NABJ placed it on a "media monitoring list" in March 2019 after CNN President Jeff Zucker refused to meet with an NABJ delegation. The group said in a statement at that time that Zucker's refusal compounded overall concerns over diversity at the network:
NABJ received a communication from CNN disputing only one of our research points, saying the assertion that there are not any black vice presidents on the news side is inaccurate. However, when asked to provide the name and position of the individual or individuals involved on the editorial side of news, CNN has yet to provide specifics.

In addition to special media monitoring activities and the civil rights audit, NABJ's next steps involve further engaging with CNN's parent company, AT&T, which has responded positively to outreach efforts and previously agreed to meet with NABJ.
Within three months, CNN promoted two Black executives in Chief Diversity & Inclusion Officer for news and sports Johnita Due and Vice President of Global Programming for its digital operations Marcus Mabry, moves that NABJ attributed to the pressure it applied on the network.
Journalism groups with missions similar to that of NAJA — the National Association of Hispanic Journalists (NAHJ); National Association of Black Journalists (NABJ); Asian American Journalists Association (AAJA); and the National Lesbian and Gay Journalists Association (NLGJA) — have not issued a comment on NAJA's statement. We contacted each of those groups — as well as CNN — seeking comment, but have yet to hear back. We have also asked NAJA what it meant by "withdrawing support" from the network, but the group did not elaborate.
Matt Hall, president of the Society of Professional Journalists, sent us a statement calling on CNN executives to meet with NAJA as soon as possible, though he stopped short of calling for Santorum's removal.
"That meeting is overdue. CNN needs to meet with journalists from NAJA and take concrete steps that show Indigenous journalists and their allies that CNN is listening and learning," Hall said. "CNN should also apologize and abide by its corrections policy for its insensitive labeling in November and for misidentifying a Minnesota politician more recently, and Rick Santorum should publicly apologize for outrageous, ignorant comments about Native Americans."
Updated April 29 2021, 11:50 a.m. PST: Updated with comment from Society of Professional Journalists President Matt Hall.