Was 'Proud Boy' Rob Cantrell Photographed at a Right-Wing Protest in Michigan?
Claim
A man photographed yelling during an anti-government protest on April 30, 2020 is actually a California-based member of the far-right group Proud Boys.
Like this fact check?

Reporting
The photograph that came to symbolize the hypocrisy present in an anti-government protest in Michigan on April 30 2020 became the center of an unfounded allegation concerning its origins.
The image, showing an unidentified man yelling at a group of police officers outside the state House of Representatives in Lansing, was first captured by photographer Jeff Kowalsky and published in several news outlets.
"I was trying to get a picture of the [state] Senate voting. They called recess so I went out," Kowalsky recalled. "Then people started chanting. So I started taking pictures when it wasn't that crowded. Then all of a sudden the guy started yelling, I took some pictures; then it got totally packed and I got the hell out of there. I didn't feel comfortable."
Kowalsky said he did not get a name for the man at the time he took the photograph, which took on a new light after it was re-circulated via online platforms identifying the yelling man as Rob Cantrell, a member of the far-right Proud Boys, and who lives in southern California. (The news site It's Going Down, which specializes in covering far-right activity, has also spelled his last name as Cantrall.)
"Trump says these are good people," a caption alongside the photo says. "Rob lives in Los Angeles, but he and many others will travel if paid to take part in protests such as the recent one in Michigan. This is the face of MAGA. Spread their shame."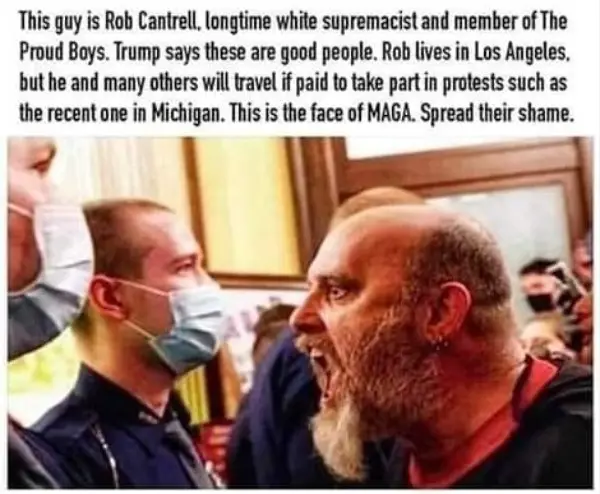 We consulted researchers J.J. MacNab and Samantha Kutner, as well as journalist Zach D. Roberts, each of whom have years of experience covering and reporting on the far right, and each told us they do not identify the man as Cantrell.
"Other than invited speakers such as Former Sheriff David Clarke, I've seen no evidence of these protesters traveling long distances or being paid to participate," said MacNab, who is a fellow with George Washington University's Program on Extremism.
Kutner — who has tracked Proud Boys activity for several years — told us that there is evidence that members will travel for events following the white nationalist rally in Charlottesville, Virginia, in August 2017, during which one demonstrator ran his car into a group of counter-protesters and killed 32-year-old Heather Heyer.
"Since the fallout from Charlottesville, the arrests of Maxwell Hare and John Kinsman, and the group temporarily being classified as an extremist organization, Proud Boys are likelier to co-attend events with conservative leaning individuals and militia groups e.g. Oathkeepers and Three Percenters," said Kutner, who specializes in countering violent extremism.
Kutner also cited an encounter with a Sacramento-based member of the group at an appearance in Reno, Nevada by far-right speaker Charlie Kirk in October 2019, as well as evidence that members of the group from Las Vegas attended a May 2, 2020 demonstration in Carson City, Nevada — about 430 miles away — calling on local leaders to "reopen" businesses.
According to a story published by the Detroit Free Press on May 5 2020, the man identified himself as 52-year-old Brian Cash. Cash claimed that he was not yelling at the officers in front of him, but at one behind those shown in the photos who had previously been seen assisting in the forced removal of three women protesters a day before the Lansing protest.
"I was there chanting, 'Let us in,' and I saw that guy and I just, I just kind of lost it a little bit," said Cash. He also disavowed any comparisons between himself and Cantrell, calling him "openly racist." But he did not shy away from the attention he received because of the protest.
"I love it," he told the newspaper. "We got the ball rolling."
Updated May 5, 2020, 4:01 p.m. PST: Updated with comments from Samantha Kutner.
Updated May 7, 2020, 1:19 p.m. PST: Updated with note on an alternative spelling for Rob Cantrell's last name.