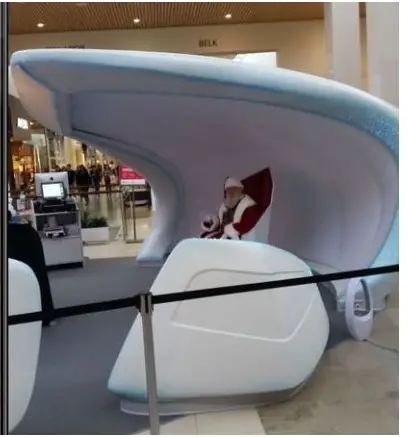 Roosevelt Field Mall in Long Island and Other Simon Property Management Locations Have Sanitized Christmas-Resolved! 
Summary of eRumor:
Roosevelt Field Mall in Long Island, and other malls across the country owned by Simon Property Management, have "sanitized" Christmas by taking away traditional Christmas decorations and putting Santa in a space aged display to ensure that shoppers aren't offended.
The Truth:
Simon Property Management announced plans to feature Santa in a sparkling glacier display instead of traditional North Pole display this year — but the company reversed course because of negative customer feedback.
The backlash started in early November after Simon Malls released an image of Santa perched in what looks like a futuristic, sparkling glacier that resembled a space ship instead of the traditional North Pole setting:

Shoppers at Simon Property Management locations in Long Island (and elsewhere) took exception and started Change.org petitions that accused the mall of "sterilizing" Christmas in an effort to avoid offending its shoppers. A shopper at Roosevelt Field Mall started a petition that reads:
Lots of people are very upset by the news coming from long islands largest mall…. Simon malls own Roosevelt Field has decided to take away Christmas decorations and santas tree to put him in a space ship sort of contraption in order to not offend people. Honestly, I think this is a true disgrace. Simon malls and roosevelt in particular was one of my favorite Christmas memories. They are disappointing thousands of customers this year who will not be shopping at their malls…. That was a terrible management idea, especially since they just put millions into renovation. If Christmas is so offensive then they are right… we shouldn't celebrate or buy merchandise from the companies who invest in their malls during the busiest season of the year. Other cultures and religions can have their holidays, and decorate accordingly for them in malls, and at home… but Roosevelt Field cannot minimize then try to capitalize off of ours. Goodbye to Simon malls. Oh, and MERRY CHRISTMAS Scrooge !! Voice your complaints at https://www.simon.com/contact
Thousands of people signed the petitions, and Simon Property Group later relented.
David Contis, the president of Simon Property Group, said that the space aged theme Santa display would be replaced with a more traditional one. Contis said it was a "pretty easy decision" given customer feedback.
The same situation played out when the glacier Santa display at SoutPark Mall, another Simon Property Group Mall located in North Carolina, sparked outrage among customers, the Charlotte Observer reports:
SouthPark is among the first wave of Simon malls to get one of the glaciers. The giant white mound will feature interactive elements, including a sound and light show every 30 minutes, the mall said in a statement Friday.
SouthPark is the only Simon center in Charlotte with the new "Santa experience," the spokeswoman said. Other Charlotte Simon properties in Charlotte include Charlotte Premium Outlets and Concord Mills.
"The reinvented and modernized experience will bring the Charlotte community together in a way that hasn't been done before," the mall said.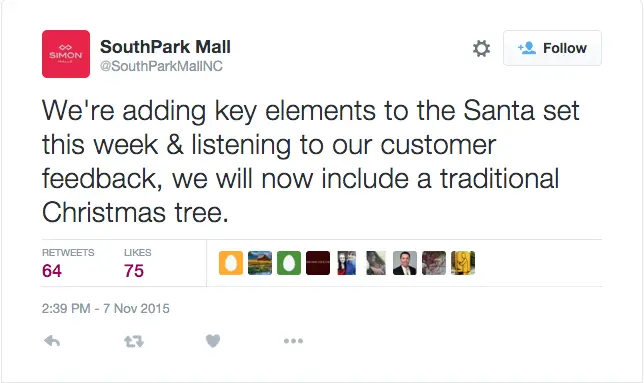 Again, after negative customer feedback, SouthPark Mall announced that the glacier Santa display had been pulled in exchange for a more traditional one:

So, various malls owned by Simon Property Group across the country had planned to feature a modern glacier Santa display instead of the traditional North Pole setting, but the company has reversed course on that decision in response to negative customer feedback