Failed GOP Candidate Embraced Disinformation, Violence in Shooting Plot
The history of the 39-year-old alleged "mastermind" behind a plan to attack multiple Democratic Party officials in New Mexico showed an embrace of both violence and conspiracy theories that have driven right-wing political violence in the U.S.
Failed Republican Party candidate Solomon Peña, a self-professed follower of former United States President Donald Trump, was arrested on January 17 2023 in connection with the plot to attack local and state lawmakers, following months of not only a refusal to accept his own loss but a harassment campaign.
Peña ran to represent the state's 14th District in the New Mexico House of Representatives, but he was trounced in the November 2022 election, garnering 26 percent of the vote against Democrat Miguel P. García.
But less than a month after his electoral drubbing, Peña took inspiration from Trump's own refusal to accept his loss.
"Trump just announced for 2024," Peña wrote on Twitter on November 16 2022. "I stand with him. I never conceded my HD 14 race. Now researching my options."
In the wake of his arrest the tweet, showing Peña standing by Trump flags while wearing Trump paraphernalia, circulated online: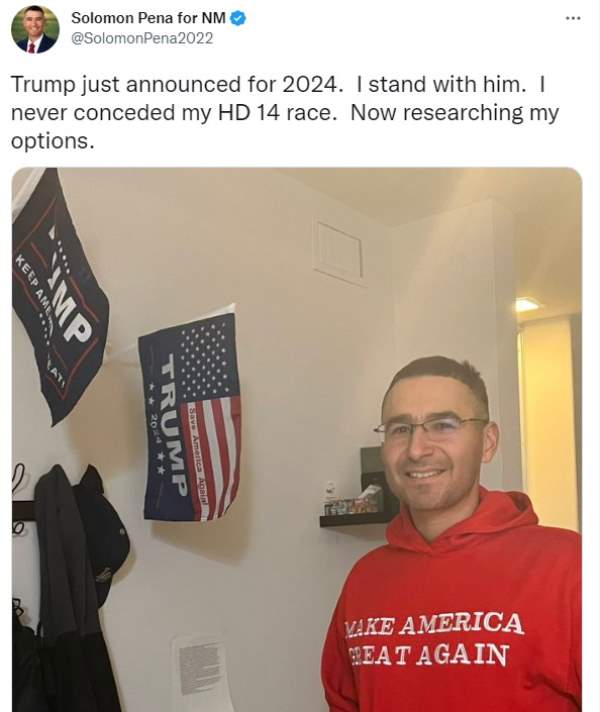 As the Albuquerque Journal reported, the day after posting that tweet, Peña (much like supporters of his party tried to do at the U.S. Capitol on January 6 2021) claimed that he would "stop the certification" of his loss:
On Nov. 17, in response to a Tweet by the New Mexico Secretary of State warning against attempts to manipulate the election certification process, Pena replied "I will attempt to stop the certification in Bernalillo County, until a hand recount has been done. It was rigged!"
Not only did Peña echo the language used to justify the January 6 2021 right-wing coup attempt, another photo on his Twitter account places him in Washington, D.C. at the time of the attack.
"This is one of the last pictures I have of the Jan 06 trip," Peña wrote. "I lost that phone at the Trump rally in Phoenix, July 2021.Make America Great Again!"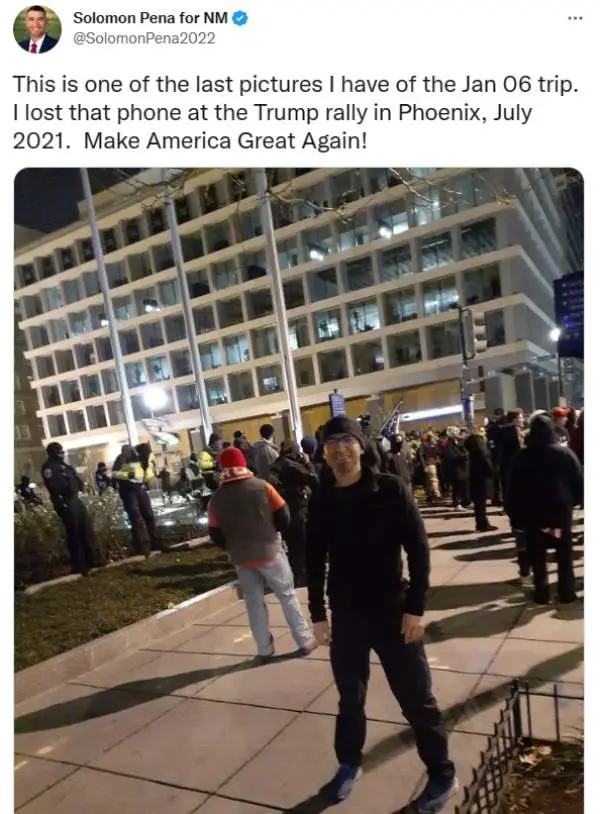 In a reply to someone calling him a criminal on social media, Peña said, "Everyone in the NM government who helped overthrow Trump are the active treasonists who must be placed in Guantanamo Bay Cuba for natural life. Once they are gone I can work on rebuilding Albuquerque."
Police would come to link Peña to shooting attacks in December 2022 against two county commissioners, Adrian Barboa and Debbie O'Malley, who voted to certify the results of the election — part of a wave of attacks and threats against election officials that have characterized Trump followers since his loss in November 2020 to U.S. President Joe Biden. As the Washington Post reported, the stresses have taken their toll:
The continued harassment has contributed to high turnover among election officials across the country. According to a survey published earlier this year from the Brennan Center for Justice at New York University Law, 1 in 5 election officials are unlikely to continue serving through 2024. Politicians' attacks on the system, and stress, are the primary reasons they plan to leave, according to the study.

"It's a challenge every day," said Lisa Deeley, who as chairwoman of the Philadelphia city commissioners oversees that city's elections. "The job has changed so much because every day you're getting the kitchen sink thrown at you, and all the vegetables in the refrigerator and all the sheets and towels in the linen closet."
No injuries were reported as a result of the multiple shootings. But as Reuters reported, Peña allegedly instructed the four men he hired to carry them out to be fatal.
"Solomon wanted them to aim lower and shoot around 8 pm because occupants would more likely not be laying down," the criminal complaint against Peña read.
Peña has been charged with conspiracy to commit a felony, shooting at an occupied dwelling, and shooting from a vehicle in connection to the attacks against the homes of county officials as well as the homes of state Reps. Rep Linda López and Javier Martínez.