In 'Spider-Man: No Way Home,' Disinformation is a Supervillain
Even as it deals with super-powered confrontations, the December 2021 movie Spider-Man: No Way Home introduces a different form of villainy to the Marvel Cinematic Universe in depicting the impact of disinformation on its titular hero.
This post contains SPOILERS for Spider-Man: No Way Home.
The movie, released on December 16 2021, picks up moments after its predecessor Spider-Man: Far From Home introduced this version of the character J. Jonah Jameson (J.K. Simmons) in a news report. Jameson and his "controversial news website" The Daily Bugle are listed as the source of footage not only implicating Spider-Man (Tom Holland) in the death of Quentin Beck, a.k.a. Mysterio (Jake Gyllenhaal), but revealing the hero's secret identity as high school student Peter Parker:
The viewer knows that while Beck doctored the footage to frame Parker prior to dying, he does tell the truth about Parker being Spider-Man. In this way, intentionally or not, the short scene does a good job of showing not only how disinformation can often contain kernels of truth and dubious websites push disinformation or "shocking video" without context, but also how quickly that kind of content can get picked up by (or shepherded into) bigger news outlets.
Parker, as well as his aunt May (Marisa Tomei), best friend Ned Leeds (Jacob Batalon) and girlfriend Michelle "MJ" Jones-Watson (Zendaya) are subsequently arrested in connection with Beck's death. But while the group's legal issues are soon cleared, Parker is still hounded by Jameson, who is depicted as having enough influence to be broadcast on a billboard in Times Square: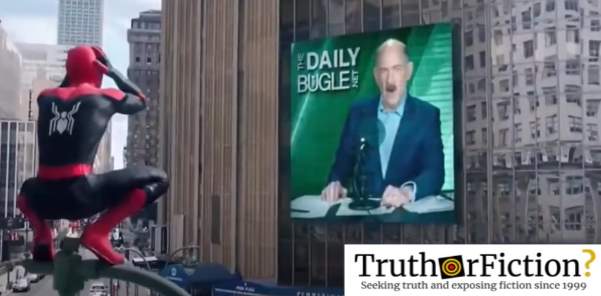 The film also positions Jameson as the only media-related character in its narrative; no other reporter is seen interviewing Parker or his allies, and no commentators are shown defending the teen heroes or other superpowered adventurers.
Shortly after the release of Far From Home in September 2019, Sony Pictures Entertainment also posted a separate video showing Jameson further smearing Spider-Man:
The Jameson character was created for Marvel Comics by Steve Ditko and Stan Lee, and he first appeared in the first issue of the Amazing Spider-Man comic in 1963. While his crusade against Spider-Man and superheroes is a pillar of his characterizations in the comic-book realm, Marvel's biography for him documents how that version of Jameson — the publisher of the Daily Bugle newspaper — is also couched in journalistic ethics:
At twenty he uncovered police corruption by supposed department hero Sam Kenner; beaten and bombed, Jameson nonetheless exposed Kenner with the help of Bugle owner William Goodman. He became a full-time Bugle reporter, including a stint as a war correspondent, criticizing most costumed heroes as glory-seeking vigilantes upstaging the common man. Marrying his high school sweetheart Joan, Jameson rose to editor-in-chief and became renowned for supporting civil rights and opposing organized crime.
An earlier version of the Jameson character (also played by Simmons in the 2002 movie Spider-Man) was also shown in a sympathetic light when he protected Parker (here a freelance photographer played by Tobey Maguire) even after being attacked by the villainous Green Goblin (Willem Dafoe):
By comparison, the presentation for the newest version of the Jameson character — seated in front of a (presumably) green-screened background — seemed reminiscent of the broadcasts of conspiracy theorist Alex Jones: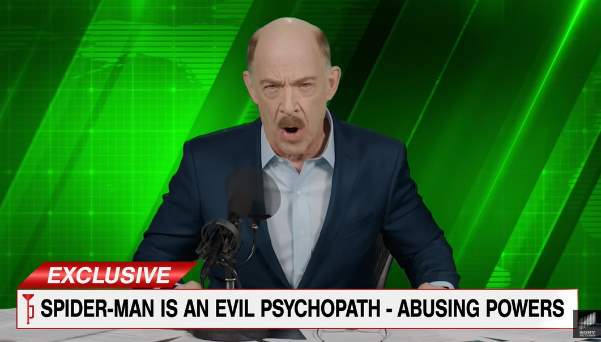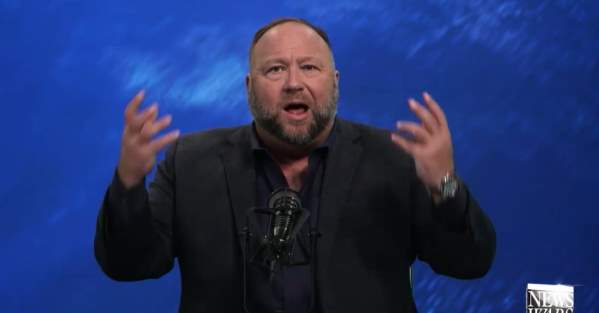 In November 2021, Jones was found liable in a defamation lawsuit brought against him by families of victims of the December 2012 mass shooting attack at Sandy Hook Elementary School in Connecticut. Jones has also been subpoenaed by the House select committee investigating the attempted coup by supporters of former U.S. President Donald Trump on January 6 2021.
Simmons himself has denied watching Jones' broadcasts.
"I'm not watching anything other than sports and whatever movie my wife and daughter want to watch," Simmons told Men's Health magazine in December 2021.
In the same interview Simmons said he was playing "the same guy with less hair and in a different medium":
He was always somebody who refused to listen to anything other than his own point of view. And, you know, if people want to equate that with their specific talking head in the media somewhere that they feel I'm channeling, well, feel free to do that. But all I'm doing is playing the same guy from the comic books, who has been brought forward into the 21st century. And so yeah, you're not running a print newspaper anymore, because that's not how most people are digesting their news anymore. You got to be on a screen, and you got to be controversial. You know, ranting about whatever it is you're ranting about. So, no. Coincidence. Similarities to any persons living or dead is entirely coincidental.
The events of No Way Home conclude with Jameson no longer aware of Spider-Man's secret identity. It is unclear, however, whether this take on the character will, like his comic-book predecessor, will come around to being sympathetic toward the hero or toward Parker himself, as seen at various points in Marvel's continuity. In one example, Jameson is shown looking at coverage of the murder of Parker's uncle Ben (the event that prompted the teen to become Spider-Man in the first place) while explaining why the newspaper buys Parker's photos: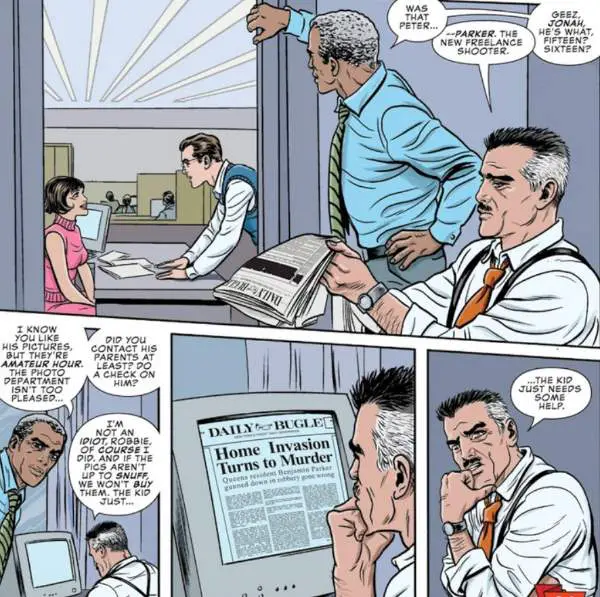 "The kid just…the kid just needs some help," Jameson says.