The rolling "controversy" that was Donald Trump's claims that he was under surveillance prior to becoming U.S. president depended on shifting targets, and in April 2017 the focus switched to former National Security Advisor Susan Rice.
Rice came under scrutiny after Bloomberg News reported that Rice had requested "the identities of U.S. persons in raw intelligence reports on dozens of occasions" of people connected to Trump's campaign and transition teams prior to him being elected in November 2016:
The pattern of Rice's requests was discovered in a National Security Council review of the government's policy on "unmasking" the identities of individuals in the U.S. who are not targets of electronic eavesdropping, but whose communications are collected incidentally. Normally those names are redacted from summaries of monitored conversations and appear in reports as something like "U.S. Person One."

…

The intelligence reports were summaries of monitored conversations — primarily between foreign officials discussing the Trump transition, but also in some cases direct contact between members of the Trump team and monitored foreign officials. One U.S. official familiar with the reports said they contained valuable political information on the Trump transition such as whom the Trump team was meeting, the views of Trump associates on foreign policy matters and plans for the incoming administration.
In the same story, Bloomberg noted that Rice's actions would not "vindicate" Trump's claims, adding:
The standard for senior officials to learn the names of U.S. persons incidentally collected is that it must have some foreign intelligence value, a standard that can apply to almost anything. This suggests Rice's unmasking requests were likely within the law.
At least one former intelligence official, Nada Bakos, concurred with that finding in an interview with The Atlantic at the time.
"In a situation where theres incidental collection and it appears that they're discussing U.S. incoming or current officials, it would not be unusual for a national security adviser to try to understand what it is this foreign government is trying to do to manipulate their position against the U.S," said Bakos, a former analyst for the Central Intelligence Agency. "That's how the game is played."
Even right-wing Rep. Devin Nunes, who was part of Trump's transition team on top of leading an investigation into the links between the Trump campaign and Russian operatives, did not argue that Rice had acted illegally.
"I have seen intelligence reports that clearly show that the president-elect and his team were, I guess, at least monitored," he said at a press conference. "It looks to me like it was all legally collected, but it was essentially a lot of information on the president-elect and his transition team and what they were doing."
But like many right-wing disinformation campaigns, that was ignored in favor of disseminating the claim that Rice acted illegally across right-wing blogs and tv outlets. Larry Klayman, perhaps best known as a serial litigator targeting Trump's predecessor, Barack Obama, was among those claiming that Rice would "probably" go to jail for the alleged offense: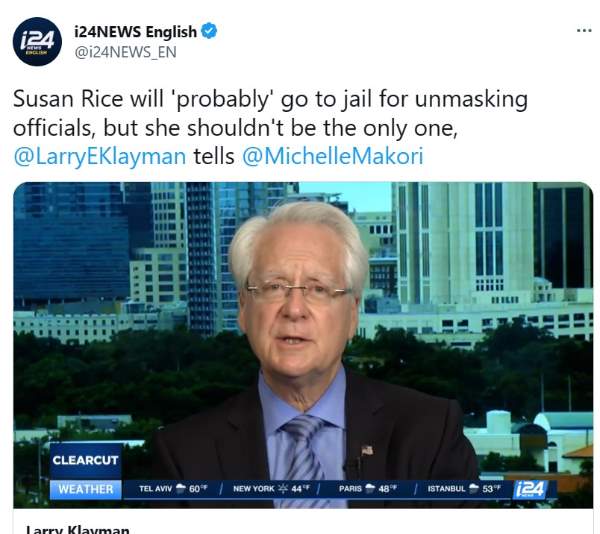 Predictably, Trump himself would pick up the claim; as the New York Times reported in April 2017 when he derailed an interview to rant about Rice:
The interview with The Times was supposed to be focused on Mr. Trump's plans for large-scale spending on the nation's infrastructure. But moments after it began, the president began talking about Ms. Rice.

"I think the Susan Rice thing is a massive story. I think it's a massive, massive story. All over the world," Mr. Trump said.

"It's a bigger story than you know," the president added cryptically, also saying that new information would emerge "in terms of what other people have done also."

"The Russia story is a total hoax. There has been absolutely nothing coming out of that," he said.
But despite Trump's efforts to pin the blame on Rice, Nunes himself was soon seemingly caught spreading disinformation; after first claiming that the "unmasking" information was new to him, the Times reported that Nunes had gotten the information from officials within the Trump White House:
Several current American officials identified the White House officials as Ezra Cohen-Watnick, the senior director for intelligence at the National Security Council, and Michael Ellis, a lawyer who works on national security issues at the White House Counsel's Office and was previously counsel to Mr. Nunes' committee. Though neither has been accused of breaking any laws, they do appear to have sought to use intelligence to advance the political goals of the Trump administration.
Cohen-Watnick was the official who conducted the review that led to the initial reports of Rice's "unmasking" requests that produced the attacks against her; the news that he had supplied Nunes with information on the affair led to the lawmaker leaving the House investigation.
The investigations into Trump's economic and political links to Russia took on a new light in January 2023, when Charles McGonigal, the former head of counterintelligence for the Federal Bureau of Investigations' New York office — who led that investigation — was indicted for allegedly working on behalf of Russian oligarch Oleg Deripaska after leaving the bureau.
Update 1/25/2023, 3:00 p.m. PST: This article has been revamped and updated. You can review the original here. — ag