Talking Angela iPhone App Warning- Fiction!
Talking Angela iPhone App Warning- Fiction!
Summary of eRumor:
This is a posted Facebook warning about an iPhone app called "Talking Angela" that has gone viral. The warning alleges that this app gathers children's personal information and images.
The Truth: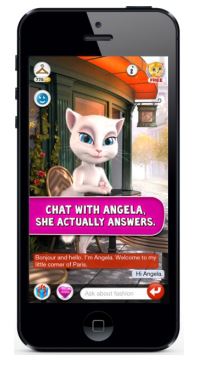 The warning is a hoax according to security software experts at Sophos, who called the scare "bogus" in a February 25, 2013 article. The Sophos article said that in 2013, the bogus warning was "spreading across Facebook, telling parents of young children to watch out for a rogue iPhone/iPad app that (the warning claims) steals children's names, details of where they go to school, and even takes secret pictures of their faces." This hoax was brought to light in 2013 but not many such warnings stay dead long.  One year later it has risen from the ashes and people are posting all over Facebook.
Sophos did suggest that parents play close attention to the Internet activity of their children saying, "it's always a good idea to keep a close eye on what children are doing on the internet - in case they get themselves into a spot of bother." Posted 02/13/14.
---
A real example of the eRumor as it has appeared on the Internet:
Talking Angela Warning

WARNING FOR TO ALL PARENTS WITH CHILDREN THAT HAVE ANY ELECTRONIC DEVICES , EX : IPOD,TABLETS ETC ….
THERE IS A SITE CALLED TALKING ANGELA , THIS SITE ASKS KIDS QUESTIONS LIKE : THERE NAMES , WHERE THEY GO TO SCHOOL AND ALSO TAKE PICTURES OF THEIR FACES BY PUSHING A HEART ON THE BOTTOM LEFT CORNER WITHOUT ANY NOTICES . PLEASE CHECK YOUR CHILDREN'S IPODS AND ALL TO MAKE SURE THEY DO NOT HAVE THIS APP !!! PLEASE PASS THIS MESSAGE ON TO YOUR FRIENDS AND FAMILY MEMBERS THAT HAVE KIDS !!!!/font>