Teddy Roosevelt: 'To Anger a Conservative, Lie to Him'
Claim
Teddy Roosevelt once said, "To anger a conservative, lie to him. To anger a liberal, tell him the truth."
Like this fact check?

Reporting
A quote falsely attributed to former United States President Theodore "Teddy" Roosevelt continued to circulate online in November 2020, with an advisor of outgoing U.S. President Donald Trump attempting to spread it.
There is no official record that Roosevelt coined or repeated the phrase, "To anger a conservative, lie to him. To anger a liberal, tell him the truth."
Barry Popik, a contributing editor of the Oxford English Dictionary, investigated the quote and found that it first appeared in print sometime around 2007. Early on, the quote was attributed to an "unknown source."
It was first attributed to Roosevelt in 2009, and by 2010 it was regularly linked to him. That progression suggests the quote was a modern invention and Theodore Roosevelt's name was attached to it nearly 100 years after his death.
We also searched archives of Theodore Roosevelt's letters in the National Archives for any references to the quote — but nothing turned up. A separate review by Reuters in July 2020 also found no evidence linking Roosevelt to the quote:
Reuters found no mention of this quote among those compiled by the Theodore Roosevelt Association, a nonprofit organization dedicated to perpetuating his memory and ideals.

The quote did not appear among the list of notable quotations listed by the Theodore Roosevelt Center at Dickinson State University, another organization working to preserve Roosevelt's legacy.
On November 24 2020, however, Trump legal advisor Jenna Ellis posted a graphic again wrongfully linking the remark to Roosevelt: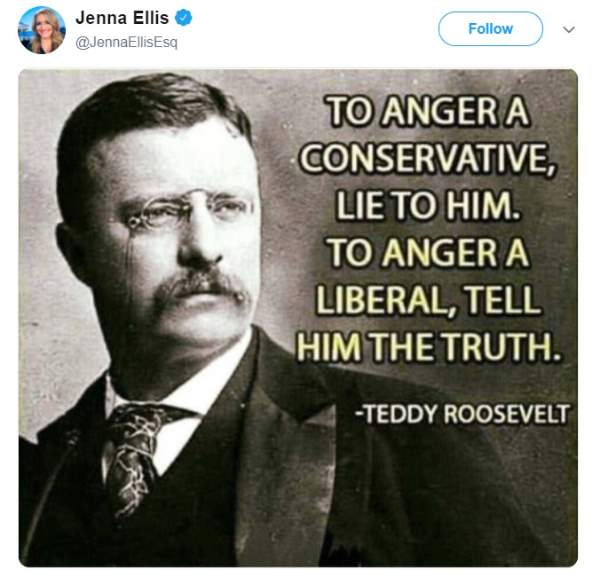 After being mocked online for the gaffe Ellis defended herself in a follow-up tweet, albeit while misspelling her response. "I posted it because the ifea [sic] itself is true, whether or not he said it," she wrote.
The post came a day after Ellis insisted in a televised interview that Trump had won the election "in a landslide" even after the federal General Services Administration officially moved to begin the transition to President-Elect Joe Biden's administration.
Trump campaign lawyer Jenna Ellis is still claiming on MSNBC that "President Trump won by a landslide." pic.twitter.com/bHSCa4d3ql

— andrew kaczynski (@KFILE) November 24, 2020
Ellis was not always as supportive of Trump. As CNN reported, she criticized both him and his supporters online before he was elected in November 2016.
"Here's the thing: his supporters DON'T CARE about facts or logic. They aren't seeking truth," she wrote in one post. "Trump probably could shoot someone in the middle of NYC and not lose support. And this is the cumulative reason why this nation is in such terrible shape: We don't have truth seekers; we have narcissists."
When the network asked her to comment on her posts, she said that she changed her mind about Trump "based on fact and personal knowledge."
"President Trump is a sincere Christian, the best president in modern history, and made and kept his promises to the American people. I am proud to stand with him and his goals for the future of this country and all of its citizens," she said.
Update November 25 2020, 9:13 a.m. PST This article has been revamped and updated. You can review the original here.