'Think Before You Donate'
Even in the annals of chain emails lingering online, the meme urging readers "THINK BEFORE YOU DONATE" is an achievement in disinformation.
The graphic, listing various false claims about charity groups, tends to recirculate during the holiday season; a 2016 variation was titled "Christmas is Coming — Donating Items or Money to Charities … Which ones?" but listed the same inaccuracies.
The meme can be split up into two halves; the top portion is more derisive in nature: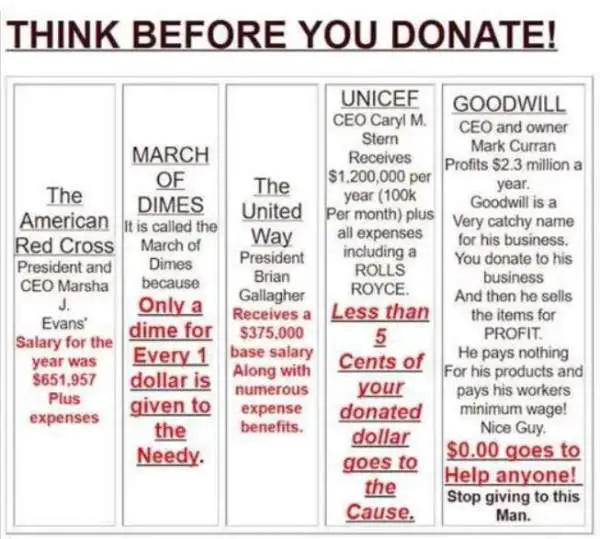 We'll go through each false claim one by one:
"American Red Cross President and CEO Marsha J. Evans' salary for the year was $651,957, plus expenses":
The meme was already outdated by the time it started spreading online; Evans had stepped down as the Red Cross' CEO in December 2005. Her successor, Gail McGovern, was paid around $517,000 in 2015. According to tax records, McGovern was paid $627,532 in 2020 — stil not as much as the meme would claim.
"The March of Dimes is called the March of Dimes because only a dime for every $1 is given to the needy":
In reality, this group's tax filings for 2021 show that it devoted just over $54 million to programs helping people compared to around $103 million in revenues, constituting 52 percent of its budget — more than "a dime for every $1."
"United Way President Brian Gallagher receives a $375,000 base salary, plus benefits"
Here, again, the meme overstates its claim; tax filings for United Way Worldwide show that Gallagher (listed as chief executive officer) earned $3,180,985 before leaving the organization in September 2021. However, his base compensation was listed at just over $82,000 for that period, with more than $2.8 million listed as "other reportable compensation." His successor, Angela Williams, was paid $171,539 that year after taking over a month later, with just over $125,000 of that coming from her base salary.
The watchdog group Charity Watch listed Gallagher as one of several leader of charitable groups making more than $1 million, but added:
Due to differences in the way compensation is allocated by charities in their IRS Form(s) 990 and audited financial statements, high salaries do not necessarily indicate inefficiencies just as low salaries are not always beneficial. Rather than perceiving a particular nonprofit executive's compensation as too high or too low based on its nominal value, appropriate salaries are better determined by considering factors such as special skills needed for the position, relevant education and experience, and the complexity of a charity's operations.
"UNICEF CEO Caryl Stern receives $1.2 million per year, plus expenses and use of a Rolls Royce."
In a testament to the meme's staying power, UNICEF itself published a response debunking this particular claim:
At first glance, the email may seem legitimate, which is why many people have re-forwarded it to friends and family. On closer inspection, you will notice that the email contains no signature, nor is an author or source identified. If the author made himself or herself known, we would be able to reach out directly to set the record straight.
The group added:
UNICEF USA President & CEO Michael J. Nyenhuis' salary, at $620,000, is less than 1% of all funds raised for children.
"Goodwill CEO Mark Curran takes in $2.3 million per year."
Goodwill Industries has also publicly rebutted the meme, specifically noting that nobody named "Mark Curran" has ever led the organization let alone "owned" it, as some versions of the chain email have claimed.
Tax data for 2020, the most recent year available, shows that actual CEO Steven C. Preston's salary that year was $423,940 — again, far below the claim made in the meme. Charity Watch also reported that 87 percent of its funding went to programs, futher debunking the meme's claim that "$0.00 goes to help anyone."
The second half of the meme, titled "Put Some Money Where It Will Do Some Good," puts out more positive-sounding claims, but they are just as false: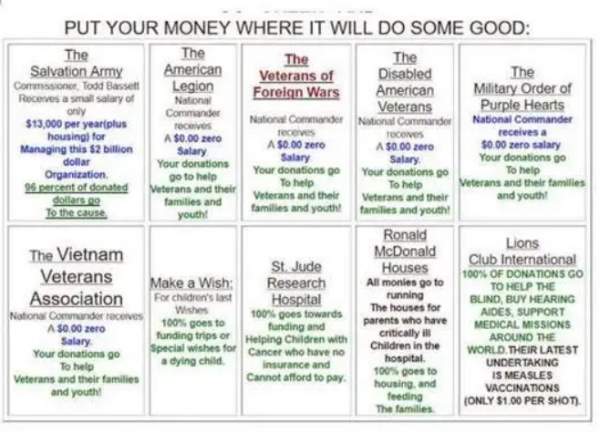 Most notably, the meme claims that the leaders of five charitable groups related to U.S. service members — the American Legion; Disabled American Veterans; the Military Order of Purple Hearts; the Veterans of Foreign Wars (VFW); and the "Vietnam Veterans Association" receive no salary. In some cases, this claim is Unproven and potentially misleading, as 2020 tax data shows leadership drawing salaries, even if people serving as national commanders are not.
It should also be noted that there is no group using the "Vietnam Veterans Association" name; a charitable interpretation might be that the chain email and meme misidentified Vietnam Veterans of America, an actual group. We'll go through each organization and list leaders' actual salaries.
We'll now look at the other claims listed in the second half of the meme:
"Salvation Army Commissioner Todd Bassett receives a small salary of only $13,000 per year."
Besides being outdated — the Salvation Army's leader on the national level, Kenneth Hodder, is listed as National Commander and not "commissioner" — this claim is unclear at best. The Better Business Bureau reported:
Kenneth Holder was hired as the organization's National Commander and CEO on July 1, 2020 and salary information is not yet available. Prior to that, David Hudson served as National Commander and CEO, earning $94,887 in 2019.
Finally, the meme claims that several other charities — the Lions Club International Foundation; the Make-A-Wish Foundation; Ronald McDonald House; and St. Jude's Children's Hospital — each devote 100 percent of donations to their respective programs. To examine these claims we consulted Charity Navigator, which examines how these types of groups devote their resources, and will list more accurate percentages as of December 2022.
Update 12/7/2022, 12:53am: This article has been revamped and updated. You can review the original here. — ag