Did Rep. Thomas Massie Tweet a Quote by a Neo-Nazi?
Claim
Republican Rep. Thomas Massie of Kentucky tweeted a quote that actually originated from a reputed white nationalist.
Like this fact check?

Reporting
Right-wing Rep. Thomas Massie of Kentucky, in attempting to paint Dr. Anthony Fauci as a "tyrant," spread a remark first made by a neo-Nazi pedophile that has been misattributed to an actual philosopher.
"You mustn't question Fauci, for he is science," Massie wrote on his Twitter account on January 30 2022, alongside a photograph bearing the caption, "To find out who is dominating you, simply find out who you are not allowed to criticize."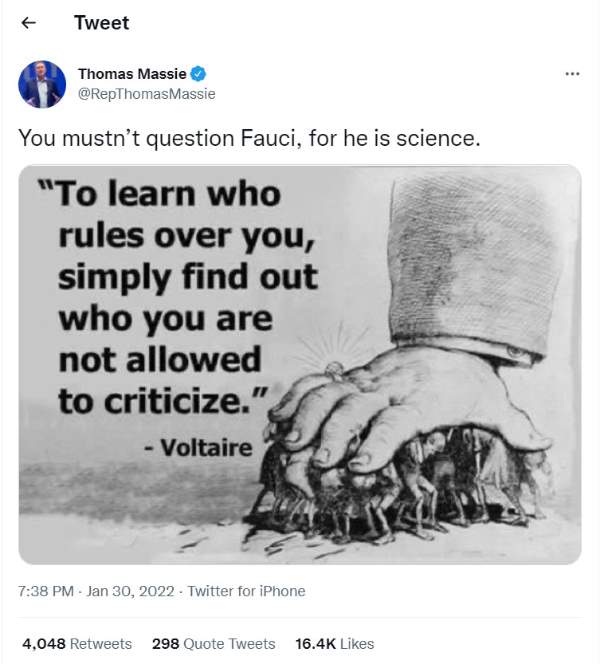 The photograph caption attributed the quote to the French philosopher Voltaire. But other Twitter users fact-checked him quickly, noting that its source had already been identified as Kevin Alfred Strom, a white nationalist. As USA Today reported in 2021:
"To determine the true rulers of any society, all you must do is ask yourself this question: Who is it that I am not permitted to criticize?" said Strom in "All America Must Know the Terror That Is Upon Us."

USA TODAY searched Voltaire's correspondence from 1742-1777 in the University of Southern California's digital library but did not find any evidence to support the claim.
Strom himself confirmed in 2017 that the remark had been wrongfully attributed to Voltaire.
The Southern Poverty Law Center describes Strom as "a bookish yet dogmatic neo-Nazi whose predilection for child pornography ultimately ruined his efforts to claim his former master's legacy."
Strom was tried in January 2008 on federal charges of possession of child pornography. After initially striking a plea deal with prosecutors he claimed he did not mean to download the material in question to his computer. He served 23 months; according to the SPLC, Strom's jail time contributed to the demise of his white nationalist group the "National Alliance."
It is unclear whether Massie was unaware of the quote's real origin. But his tweet is part of an ongoing effort by right-wing public figures to falsely depict Fauci — the director of the National Institute of Allergy and Infectious Diseases and a frequent source for information on government efforts to fight the COVID-19 pandemic — as an authoritarian figure.
According to the Kentucky Department for Public Health 12,890 people have died of COVID-19 to date, including 34 on January 28 2022.