Travis Scott and Astroworld: Occult Conspiracies Follow Festival Tragedy
The November 5 2021 "crowd crush" tragedy at Travis Scott's Astroworld festival in Houston, Texas prompted extensive discussion on social media — complete with major threads focusing on purported occult overtones surrounding the tragedy.
A Wikipedia entry specifically about the broader Astroworld incident ("Astroworld Festival crowd crush") summarized what was known about it as of November 8 2021:
On November 5, 2021, a crowd crush occurred during the first night of the Astroworld Festival, a music event in Houston, Texas, United States, operated by American rapper Travis Scott. Eight people died in what Houston officials declared a "mass casualty event," with the causes of death still under investigation. A further 25 were hospitalized, and more than 300 people were treated for injuries at the festival's field hospital.
A Brief History of Astroworld Occult Sacrifice Rumors: Twitter, Reddit, TikTok, and Facebook
Not long after social media users reacted to the deaths at Astroworld, posts vaguely hinting at (or directly claiming) occult symbolism began to circulate on Twitter:
Soooo weird pic.twitter.com/IlRHLCegyr

— 🫐 STOIC WARRIOR 🫐 (@TheAthenaking) November 7, 2021
Astroworld and The Mouth of Hell. Undeniable occult symbolism. pic.twitter.com/c5nBrH7LBM

— J (@The_Trxth) November 7, 2021
Remember, remember the 5th of November.

The Satanic ritual of Travis Scott

– 8 dead, 300 injured
– concert theme: "See you on the other side"
– occult symbolism throughout flyer, art, stage
– show continues despite pleas to stop
– "felt so demonic"#astroworld #metaphysics pic.twitter.com/YieB50se36

— Axel Balthazar (@AxelBalthazar) November 7, 2021
Among topics mentioned in the posts were a purported theme of "see you on the other side," the festival's supposed entrance, and feelings of unease among attendees. Several of Reddit's subreddits included posts about the rumors, from r/travisscott to r/conspiracy (at least twice):
I've been seeing quite a few people talking about the unfortunate events that took place earlier at the Astroworld Fest as well as the weird symbolism behind Utopia/Dystopia and Travis' image overall. These are my two cents. from travisscott
The esoteric meaning of Squid Game and the horror of Astro World from conspiracy
Travis Scott's 'Astro World' concert became a horrific scene of death and chaos. Ominously, the event's campaign is covered in occult imagery, and reveals a Saturn Assault Death ritual. A dart punctures the All-Seeing Eye, and Travis encourages the crowd to rush toward the Eye's Gateway. from SaturnStormCube
On TikTok, searching "Astroworld" led to an automatic suggestion of "Astroworld 2021 demonic." Videos returned for that search had more than or close to a million views: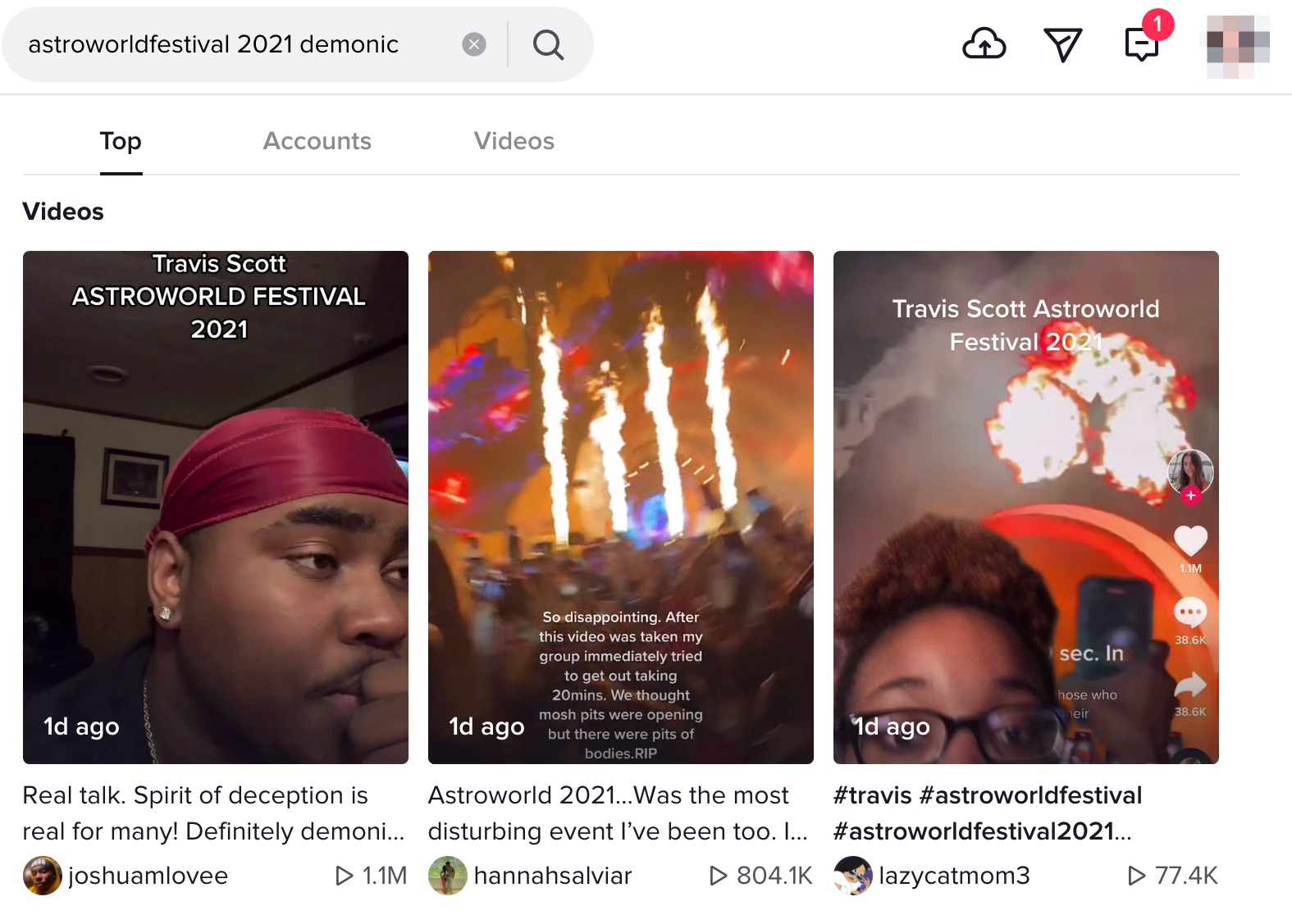 Of the three videos in the image above, the most viewed presented the idea that Astroworld was "demonic." Likewise, a November 7 2021 Facebook post by TVarius Richardson about Astroworld as an occult sacrifice was shared nearly a quarter of a million times in under 24 hours; it read:
Y'all eyes wide shut when it's right in your face and you still can't see the shit. 👁🙈 The flyer was full of Freemason occult symbolism 🤔 This was a Satanic Energy harvesting ritual that resulted in 8 people dying. The frequencies is what cause the people to go crazy. They were hypnotized and under a spell. Notice the spiral inside the flames inside the pyramid. Notice the shirt he wearing now pay attention to the "see you on the other side" reference to a portal that appeared then 8 flames 🔥 go up & 8 people die. This n**** was looking at the dead bodies while performing 🤦🏾‍♂️
More than a dozen images were added to the post, highlighting elements supposedly suggestive of occult influence: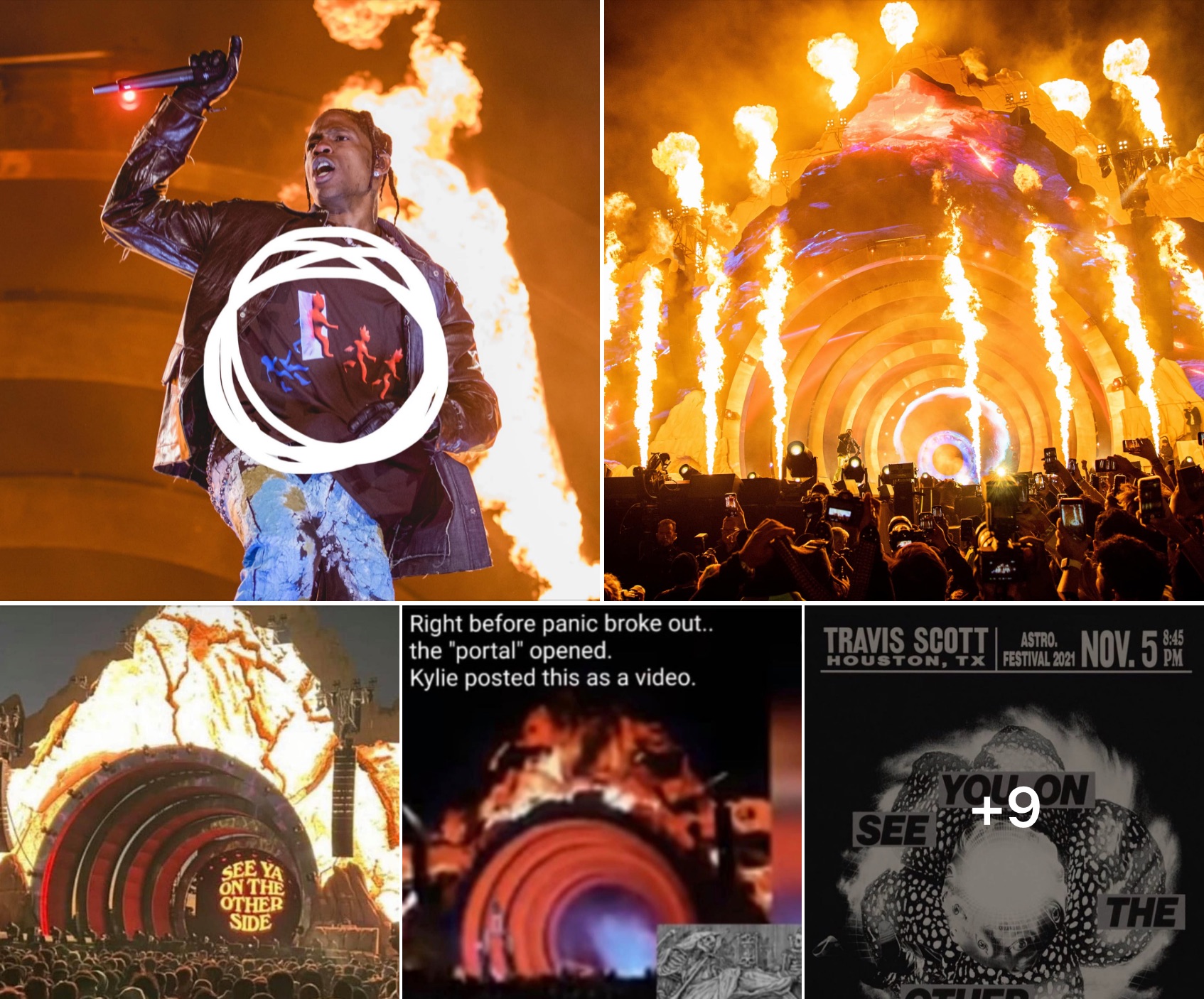 Not all commenters agreed, as one of the top comments on the third image said:
How are you all this stupid 😞 I weep for humanity. The fact you all think this demonic shit is truly astonishing to me. The blind leading the blind. Way to let those accountable for the deaths off, though 👌
Newsweek.com covered the rumors (without any additional context), highlighting a Twitter video of Travis Scott purportedly performing as a concertgoer was carried out:
Travis Scott sold his soul to the devil. Astro World was a BLOOD SACRIFICE. He took 8 innocent lives to pledge his allegiance to the occult elite. "He didn't do it om purpose!" SO WHY IS HE SINGING AS THEY CARRY OFF A DEAD BODY THEN?!? #AstroWorld

— Phillip ❤️ (@PhillipLikesTV) November 8, 2021
The Daily Dot did a roundup of rumors, some of which evoked recent, unrelated rumors about "needle spiking." In "Conspiracy theorists blame 'demonic forces,' voodoo in wake of deaths at Astroworld Festival," the site explained:
Based on the Houston Police Department chief saying that a security officer lost consciousness after feeling "a prick in his neck," some have claimed that unknown assailants were injecting people with drugs. (Addiction experts say this is highly unlikely.) Telegram channel Nothing But Truth wondered if people were actually being injected with the COVID-19 vaccine.

TMZ also claimed someone injected people with drugs at the event.

Others online are theorizing that supernatural forces caused the tragedy.

People are claiming that the festival was a demonic ritual, energy harvesting event, or something similarly evil and magical. Some believe that the tragedy was caused by the "Kardashian curse." Scott is in a relationship with Kylie Jenner, who attended the festival alongside her sister Kendall.

On Telegram, a rumor is circulating that the Astroworld Festival was actually "a public voodoo sacrifice ritual advertised as a music festival."
Google Trends data indicated concentrated interest in Astroworld "occult sacrifice" rumors on and after November 5 2021. But rumors about Astroworld's "occult elements" inherently existed in a liminal space, spreading virally across platforms while largely remaining absent from the concurrent news cycle.
'Crowd Crushes' in General
"Crushes" and "stampedes" are often reported as the same issue, but they are actually two different situations. Stampedes (when people are running from something) are often far less deadly than crowd crushes (when people are pressing toward something):
Whether it's a stampede or a crush, here are some tips for increasing your chances of survival:

Paul [crowd safety expert Paul Wertheimer] advises you should take a moment to make a mental note of all the exits in a venue as soon as you arrive. The natural urge is to use the same entry when you exit, not because it's safer, but it's familiar. He also adds there may be an alternative exit being used by fewer people that will get you out more quickly, very handy if you already know where it is.

"When you start to feel uncomfortable in a crowd, this is the time to start looking at leaving. This is very difficult because, if you've traveled a long distance, or you've waited for a long time, for example in front of a stage, you don't want to leave."

Many people leave that decision until it's too late, and find they are trapped in a large, swaying and shuffling crowd. Paul says, in his experience, crowds tend NOT to panic, they tend to be heroic and compassionate.

Here are Paul's survival tips:

Stay on your feet
Conserve energy – don't push against the crowd and don't yell or scream
Use sign language to communicate with those around you (point, wave, even use your eyes)
Keep your hands up by your chest, like a boxer – it gives you movement and protects your chest
If you're in danger, ask people to crowd surf you out
If someone extends their hand for help, grab hold to keep them up.
Separately, a relevant 2011 New Yorker article, "Crush Point," circulated on social media after the Astroworld crowd crush — albeit far less virally than any of the "occult sacrifice" posts.
That longform reporting examined the history of crowd crushes, primarily a Black Friday incident at a Long Island Walmart in 2008. The piece observed how common crowds are, and how the easily dangers of a crowd can be underestimated:
Crowds are a condition of urban life. On subways and sidewalks, in elevators and stores, we pass in and out of them in the course of a day, without pausing to consider by what mechanisms our brains guide us through so easily, rarely touching so much as a stranger's shoulder. Crowds are often viewed as a necessary inconvenience of city living, but there are occasions when we gladly join them, pressing together at raves and rock concerts, at sporting events, victory parades, and big sales. Elias Canetti, in his 1960 book "Crowds and Power," sees these times of physical communion with strangers as essential to transcending the fear of being touched. "The more fiercely people press together," he writes, "the more certain they feel that they do not fear each other." In fact, a crowd is most dangerous when density is greatest. The transition from fraternal smooshing to suffocating pressure—a "crowd crush"—often occurs almost imperceptibly; one doesn't realize what's happening until it's too late to escape. Something interrupts the flow of pedestrians—a blocked exit, say, while an escalator continues to feed people into a closed-off space. Or a storm that causes everyone to start running for shelter at the same time. (In Belarus, in 1999, fifty-two people died when a crowd tried to enter an underground railway station to keep dry.) At a certain point, you feel pressure on all sides of your body, and realize that you can't raise your arms. You are pulled off your feet, and welded into a block of people. The crowd force squeezes the air out of your lungs, and you struggle to take another breath.
The piece then addressed findings of nascent research into preventing crowd crushes, explained how and where they tend to occur, and alluded to a gap in understanding between the way such events unfold and how they are later reported in the news:
John Fruin, a retired research engineer with the Port Authority of New York and New Jersey, is one of the founders of crowd studies in the U.S. In a 1993 paper, "The Causes and Prevention of Crowd Disasters," he wrote, "At occupancies of about 7 persons per square meter the crowd becomes almost a fluid mass. Shock waves can be propagated through the mass sufficient to lift people off of their feet and propel them distances of 3 m (10 ft) or more. People may be literally lifted out of their shoes, and have clothing torn off. Intense crowd pressures, exacerbated by anxiety, make it difficult to breathe." Some people die standing up; others die in the pileup that follows a "crowd collapse," when someone goes down, and more people fall over him. "Compressional asphyxia" is usually given as the cause of death in these circumstances.

Crowd disasters occur all over the world, and for a variety of reasons. According to a recent paper published in the journal Disaster Medicine and Public Health Preparedness, reports of human stampedes have more than doubled in each of the past two decades. In the developing world, they often occur at religious festivals. In November [2010], hundreds of people died in Cambodia, in a crush that occurred on a bridge in Phnom Penh during the annual water festival; there were reports that the police had fired water cannons at people on the crowded bridge. Thousands have died making pilgrimages to Mecca in the past twenty years, mainly in the ritual called the Stoning of the Devil, which occurs near the Jamarat Bridge; in 2006, three hundred and sixty pilgrims were killed there. In India last month, more than a hundred Hindu worshippers died in a crush in the state of Kerala.

In the developed world, soccer games and rock concerts are the most likely events to generate deadly crowds. In 1989, in Sheffield, England, ninety-five people died after they were caught in a crowd crush at Hillsborough stadium when fans were trying to get into a soccer match between Nottingham Forest and Liverpool. (A ninety-sixth victim was taken off life-support four years later.) At a rock festival in Roskilde, Denmark, in 2000, nine people died after a crowd collapse that occurred near the stage while Pearl Jam was performing in front of an audience of fifty thousand. Last July, twenty-one people were killed at the Love Parade, a free electronic-music festival in Duisburg, Germany, when a crush developed in a disused rail tunnel that led to the festival grounds. With the world's population increasing, and with more people moving to cities, crowds will become ever larger, and disasters more frequent, unless scientists and safety engineers can figure out how to prevent them from happening.

In the literature on crowd disasters, there is a striking incongruity between the way these events are depicted in the press and how they actually occur. In popular accounts, they are almost invariably described as "panics" …
Much of the available reporting focused on a man, Paul Wertheimer, and his decades-long focus on averting crowd crushes and analyzing tragedies after the fact. Wertheimer became involved with the phenomenon after a December 3 1979 fatal crowd crush at a Who concert, and he continued tracking and analyzing similar crushes:
At the time [of the Who crowd crush], Paul Wertheimer was a twenty-nine-year-old public-information officer for the city of Cincinnati. He became chief of staff of the task force that Mayor Kenneth Blackwell appointed to investigate the incident. Wertheimer and some of his staff members spent months travelling around the country, talking to venue operators and promoters and public-safety officials. Among the task force's recommendations were a ban on festival seating for large indoor events, and a requirement that organizers file a "crowd management" plan, similar to a fire-safety plan, but focussing on ingress as well as egress. The report pointed out that doors and turnstiles in buildings of public assembly were tested only for normal conditions, and failed to take crowded conditions into account. It also called for national standards to better protect crowds. But national standards weren't created and festival seating wasn't universally banned. Injuries and fatalities at concerts continued.

As Wertheimer worked at various jobs in event management and public relations, "the Who tragedy kept following me around," he recalled. "Every now and then, another incident would happen at a concert, someone would get killed, and the reaction was always the same. The industry would say, 'How could we have predicted this? This has never happened before!' And of course I would say, 'That's not true—it did happen, and here's a report about it!' But the industry chose to ignore that. And I thought, Somebody has to step up and do something, because there are ways to prevent these people from dying. And I guess that guy is going to be me. I am going to be the ghost of that Who concert. Those eleven people died so that these lessons could be learned, and I'm going to see they aren't forgotten."

Wertheimer began carefully documenting crowd-related incidents in the U.S. and around the world, making the information available to the public. He ventured into potentially dangerous crowds, wherever he could find them, and noted what he saw. In the early nineties, with the popularity of grunge music, mosh pits became common at rock concerts—fans in the front would hurl themselves at one another, and the force would carry them into other fans. Mosh pits are good places to study crowd dynamics, because they reproduce in miniature the shock waves of large-scale crowd disasters. Wertheimer, in his early forties, became a familiar figure at grunge and heavy-metal shows: "the old man in the pit," in the words of one young fan … He established a Web site, Crowd Safe, where he published his reports on crowds, which eventually numbered in the thousands.
The article also referenced the findings of Dirk Helbing, who studied crowd behavior in the early 1990s, and referenced studies of large-scale evacuations amid chaotic events. It later relayed Wertheimer's advice about crowd crushes, and noted how sudden such events could be:
But Helbing also observed that at certain critical densities, such as occur in a crowd crush, all forms of collective behavior vanish. Shock waves are the result not of collective behavior but of the failure of it. Individuals at the back of a crowd, unable to tell what is happening up ahead, push forward, not realizing that they are injuring the people in the front. Unlike ants and fish and birds, humans haven't evolved the capability to transmit information about the physical dynamics of the crowd across the entire swarm. Ants, for example, are able to communicate within a swarm using pheromones … Studies of disaster evacuations, including the 2001 World Trade Center bombing, have shown that people who follow well-informed leaders might stand a better chance of escape than people who delay or seek their own way out, but in a crowd crush that isn't going to help much. The leaders will be hemmed in, too.

[…]

…Paul Wertheimer has written a booklet, "You and the Festival Crowd," which has been widely distributed. (Among his recommendations: Keep your elbows akimbo, to protect your chest and give yourself enough breathing room. Don't fight against the flow of the crowd if you're trying to get out of it; rather, go with it, and during lulls try to work your way diagonally through the crowd to the perimeter. If you feel faint, grab on to someone, and, if you do fall, try to protect your head.)

And yet, almost anywhere, you can be trapped in a crowd: on a subway platform, at the lighting of the Christmas tree in Rockefeller Center, on the ramps leading down from the upper tiers at Yankee Stadium, in the Halloween Parade in Greenwich Village. One reason last summer's Love Parade disaster in Germany was so shocking is that it occurred in a country known for efficient crowd management, and yet the early evidence suggests that the organizers and the police made a series of elementary mistakes, including underestimating the number of attendees, using the railway tunnel as both the main entrance to and the main exit from the event, and blocking the flow of concertgoers at pinch points, which allowed the crowd force to build. A full-scale investigation is under way.
Illuminati Rumors Plague Black Artists
A common refrain in the ongoing discussion about "Illuminati" rumors and Black artists goes something like this:
the whole "beyoncé and jay z are illuminati" has very racist undertones. white billionaires are praised and called "self-made" "ground breaking" and "hard working", but when it comes to black billionaires, they always associate their success with being given, rather than earned. https://t.co/ta6jl2VAdN

— marv ✿ festive szn (@PHOTOGRAPHSYRE) September 4, 2021
A 2017 graduate thesis [PDF], "Hanging From the Poplar Tree: Kanye West and Racism in Internet Folklore," examined those undertones at length. Its abstract explained:
Americans have long used rumor, conspiracy theories, and humor to socially divide Americans based on ethnicity. Despite the positive outcomes of the Civil Rights era and the efforts of socially conscious Americans to develop a more inclusive society, racist folk ideas dating are still found in pockets of modern culture. This thesis will explore the way that racism persists in memes and YouTube videos featuring Kanye West, an African-American rapper. It also discusses the use of racist stereotypes through history and the accusations against African-American celebrities as members of conspiratorial groups. This paper illustrates how Americans continue to unknowingly perpetuate racist ideas in digital culture.
Author Magen Olsen analyzed Illuminati rumors plaguing Kanye West, pinpointing the death of his mother Donda West as a subset of the claims. Olsen then explained the crux of the Illuminati rumors as they relate to artists like West and Scott, and provided examples of how such content is presented and marketed:
This attack [on Kanye West] suggests two ideas. First, it reinforces the false idea that African-American celebrities are unable to be successful on their own talents or merits. Rather it asserts that they are only successful because they have had the outside help of a powerful and secret organization. Second, it claims that African-American celebrities are ambitious (and dangerous) enough to offer family members as blood sacrifices. Mark Dice, PressResetEarth, and The Vigilant Christian all focus most of their content on discussing blood sacrifice. They argue that West's fame is a direct result of his mother's death, whom West presumably sacrificed to become a member of the Illuminati. It is true that West's mother died around the beginning of his career and that dying from complications from cosmetic surgery is rare. In interviews, West also said himself that if he had not moved to LA, his mother would not have died. Conspiracy theorists use these facts to build their argument that West's success is due to Illuminati involvement. Instead of seeing West as a grieving son, they portray him as a Predatory Black Man— heartless, greedy, and dangerous.

Mark Dice, PressResetEarth, and The Vigilant Christian also use words or phrases that connote an affiliation with Christian doctrines and beliefs to support their arguments.

They imply that as a member of the Illuminati, West also is satanic, or a devil worshipper. Words like "Satan," "devil," "blood sacrifice," or "hell" are typically included. Other words that are used make the videos sound like tabloids. "Exposed," "revealed," and "tell-all" are usually included with all caps, emphasizing scandal and intrigue. An overuse of exclamation points and Caps Lock signal tone and are typically indicative in the digital world of shouting. The Vigilant Christian is especially fond of these title types. "BREAKING !!! MORE PROOF KANYE WEST SACRIFICED HIS MOM 4 FAME & FORTUNE!" and "Kanye West & Kirk Franklin SNL Satanic Illuminati Antichrist Fake Christians EXPOSED" are just a few such titles (The Vigilant Christian 2015, 2016).
Additionally, the "Illuminati" and "blood libel" conspiracy theories generally revolve around a small group of "elites" who secretly control the media and the banking system, which lands them squarely in the same antisemitic fever swamps from weaponized disinformation campaigns such as QAnon also emerged, making it appear as if opportunistic entities might be using the tragedy as a way to spread destabilizing, corrosive rumors.
Summary
After the tragic deaths of eight people at Travis Scott's Astroworld in Houston, Texas on November 5 2021, predictably viral rumors about an "occult sacrifice" spread virally across many platforms — Twitter, Facebook, TikTok, and Reddit among them. Those rumors were predictable in part because related "Illuminati" and "Illuminati blood sacrifice" rumors have long plagued Black artists; discourse and analysis identified those claims as having racist and antisemitic undertones in their implications.
Less popular but far more credible information about the inherent danger of specific crowd densities was both well-documented and routinely ignored; crowd crushes were not uncommon in history and in modern times. Misreporting of the causes of such tragedies (typically lapses in organizing or corner-cutting by corporate management) exacerbated public ignorance about the documented causes and known ways to prevent or mitigate the possibility of crowd surges and crushes.