Did the Trump Campaign Use His COVID-19 Diagnosis in a Fundraising Message?
Claim
U.S. President Donald Trump's re-election campaign asked donors to help him raise $421 million to recover from COVID-19.
Like this fact check?

Reporting
As speculation circulated online following United States President Donald Trump's announcement late on October 1 2020 (or early on October 2 2020, depending on your time zone) that both he and First Lady Melania Trump had tested positive for COVID-19, so did a photograph that falsely depicted an email sent by his campaign using the news as a reason to ask donors for money.
The "message" read:
Friend,

By now you have heard the news.

President Trump and the First Lady has [sic] tested positive for the China Virus. The next few weeks will be difficult for Americans from all across the nation and we ask for your thoughts and prayers.

He appreciates your unwavering support during this time and wants you to know it has not gone unnoticed.

President Trump would like to ask a favor. Will you please DONATE to help him recover from this disease? It is only fair since he has sacrificed millions of dollars to serve as your President.

Help us reach our goal of 421 million [dollars] to ensure our President will recover to serve another 4 years!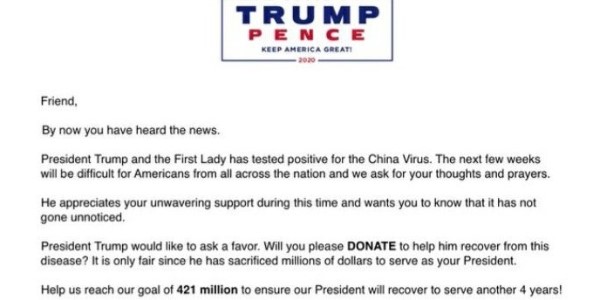 Reporters who already get fundraising emails from the Trump campaign have debunked the claim that this message is authentic, as has "@TrumpEMail," an anonymous ex-journalist who has catalogued the various type of fundraising emails sent by the president's campaign both on Twitter and for The Daily Beast.
"I have received two emails from them this morning (one to sign up for text alerts and another for a contest to meet Trump in TX) but not the one that's making the rounds purportedly fundraising off the COVID news," they wrote.
Others also noted that the "$421 million" target figure mentioned in the fake email matches a figure reported in a New York Times investigation into Trump's income tax history:
Tax records show that Mr. Trump has once again done what he says he regrets, looking back on his early 1990s meltdown: personally guaranteed hundreds of millions of dollars in loans, a decision that led his lenders to threaten to force him into personal bankruptcy.

This time around, he is personally responsible for loans and other debts totaling $421 million, with most of it coming due within four years. Should he win re-election, his lenders could be placed in the unprecedented position of weighing whether to foreclose on a sitting president.
The announcement that the Trumps had tested positive for the coronavirus also came after months of Trump and the Republican Party downplaying the coronavirus's spread and fatality, even as the U.S. death toll from the disease reached 200,000 people by October 2020.
Trump announced that he and the First Lady had tested positive for the virus shortly after reports appeared that White House aide Hope Hicks had also contracted the virus. The Associated Press reported that despite being aware of Hicks' positive test and traveling with her, Trump attended a fundraiser in New Jersey prior to announcing his own positive test result.
Republican Sen. Mike Lee of Utah also revealed that he tested positive for COVID-19 following the president's announcement (as did Republican National Committee chair Ronna McDaniel.) Lee met with Supreme Court nominee Amy Coney Barrett three days before he revealed his test results.