A far right Fox News presenter's appearance in Hungary — and photographed meeting with its authoritarian head of state — has brought new attention to that country's descent into what one observer described as "soft fascism," passed off as a pro-Christian government.
Both Tucker Carlson and Prime Minister Viktor Orbán have posted photographs promoting the host's visit preceding an upcoming speech hosted by the Mathias Corvinus Collegium, a college that reportedly received more than $1.7 billion in government funding from Orbán to promote "patriotic" thought.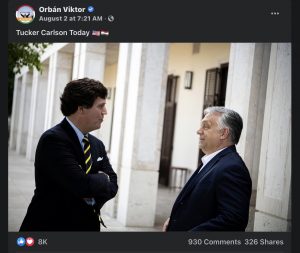 Carlson, who also broadcast his show from Hungary prior to his speech, has praised Orbán in the past for campaigning on rhetoric involving the perceived threat of "a Muslim majority" in Hungary — language that echoes the Fox host's on-air embrace of the "great replacement theory," a staple of white nationalist beliefs that prompted the Anti-Defamation League to call for Carlson's firing in April 2021.
Orbán himself has described his platform as a vision for Hungary as an "illiberal democracy":
Christian democracy is, by definition, not liberal: it is, if you like, illiberal. And we can specifically say this in connection with a few important issues — say, three great issues. Liberal democracy is in favor of multiculturalism, while Christian democracy gives priority to Christian culture; this is an illiberal concept. Liberal democracy is pro-immigration, while Christian democracy is anti-immigration; this is again a genuinely illiberal concept. And liberal democracy sides with adaptable family models, while Christian democracy rests on the foundations of the Christian family model; once more, this is an illiberal concept.
A report by the Center For Media, Data, and Society identified the sowing of disinformation by "a domestic network of trolls, fake profiles, and Facebook sites" against political opponents as one major factor helping Orbán and his administration manipulate public sentiment:
Two years ago, one of the most popular, controversial pro-government publicists, Zsolt Bayer posted a video on his own blog that showed three men beating a fourth man until he collapsed. Bayer claimed the people on the video were migrants in Europe. It turned out later that the video was shot in Latin-America in 2015. More recently, the troll network of the government spread a video of an immigrant man urinating into the subway of Paris. However, the upper right corner of the video had a map of the New York City subway. It turned out the video was shot for a campaign for a cleaner subway for the city administration of New York. Another outrageous example is Origo running a CCTV footage from the US, showing some young men beating an elderly woman. Origo added the sound of bombs exploding and people shouting "Allahu akbar" to the video. The goal was to convince viewers that this happened in Europe.
That type of disinformation is compounded by privatization and reputed press intimidation; nearly 500 media outlets have reportedly been consolidated under a foundation run by Orbán allies, and in July 2021 more than 300 phone numbers belonging to journalists as well as activists were found on a list of numbers marked for surveillance by the Israeli private "security" company, NSO Group. The company has confirmed that the Hungarian government is one of its clients but said it would investigate "all credible claims of misuse."
And as Vox reported in 2018, Orbán's "soft fascism" also relies on election disinformation to preserve the illusions of freedom and choice, or at least plausible deniability:
Elections there are free, in the sense that the vote counts aren't nakedly rigged. But they are unfair: The government controls the airwaves and media companies to such a degree that the opposition can't get a fair hearing. Orbán's party, Fidesz, stands up bogus opposition parties during parliamentary elections as a means of dividing the anti-Fidesz vote. In April 2018, Fidesz won the national elections, cementing Orbán's hold on power; international monitors concluded that the opposition never really had a fair chance.
However, late in 2020 there were early signs that for the first time in Orbán's tenure, his political party Fidesz was facing more serious challenges going into his bid for one more term as prime minister in the country's 2022 elections; as Reuters reported:
Following months of talks, six major Hungarian opposition parties agreed on Sunday to hold primary elections for the first time in a national vote and challenge Fidesz one-on-one in all voters districts, behind a single leader and a single programme.

Their cumulative support has grown to 35 percent of all voters in the December 8-15 poll from 32 percent in November, Republikon found, while Fidesz slipped to 30 percent from 32 percent.

Other pollsters have measure similar trends. Fidesz support fell by 6 percentage points in a single month to 34 percent in December, Median said last week, while the opposition added 2 percentage points and took over Fidesz at 36 percent.
"We have a real chance now against Orbán, the biggest chance we have had in 10 years," Budapest Mayor Gergely Karacsony — a member of one of those opposition parties who upset an Orbán ally to win office in 2019 — told Time magazine in November 2020. "But 2022 might be the last chance … If Orban stays in power, the hollowing out of democratic institutions will be complete."
Orbán was not only re-elected, he cited Carlson by name in a May 2022 speech for a "special meeting" of the right-wing Conservative Political Action Conference (CPAC) held in the Hungarian capital, Budapest, saying that his show should be broadcast around the clock.
As The Guardian reported, Orbán told attendees that they should have "their own media" to fight what he described (falsely) as a default "leftist" viewpoint from American news outlets:
He portrayed the US media as being dominated by Democrats, who he claimed were being "served" by CNN, the New York Times and others.

"Of course, the GOP has its media allies but they can't compete with the mainstream liberal media. My friend, Tucker Carlson is the only one who puts himself out there," he said. "His show is the most popular. What does it mean? It means programs like his should be broadcasted day and night. Or as you say 24/7."
Vice reported that several journalists from several U.S. outlets were denied entry to the event:
Besides VICE News, journalists from Rolling Stone, Vox Media, and the New Yorker were turned away from the conference on Thursday, despite repeated assurances from the American Conservative Union (ACU) that access would be provided. Journalists from other non-Hungarian media outlets, including the Guardian and Associated Press, tweeted that they had also been denied accreditation, despite months of requests.
An official with the ACU, which hosts the CPAC events, said that media requests were handled by the "Center for Fundamental Rights," a group funded by Orbán's administration.
Both Carlson and Donald Trump sent videos to be played during the event, which also featured an appearance by Hungarian media personality Zsolt Bayer, who has drawn attention to himself for smearing Roma, Black, and Jewish communities.
The connection between CPAC and Orbán was further strengthened in August 2022 — in spite of the Hungarian leader drawing even more criticism for a speech a month earlier claiming he and his countrymen "are not a mixed race … and we do not want to become a mixed race." As NBC News reported:
The U.S. embassy in Budapest issued a statement in which it did not mention Orban, but said it condemned "all ideologies, policies, and rhetoric that give oxygen to the doctrines of hate and division."

Earlier this week, European Commission vice president Frans Timmermans said on Twitter "poisonous" racism had no place in Europe that drew its strength from diversity.

At home, Jewish groups raised alarm on Monday, calling for a meeting with Orban, on Tuesday one of his aides Zsuzsa Hegedus resigned, calling his speech "a pure Nazi text," and on Thursday more than 60 members of the Hungarian Academy of Sciences issued a petition criticizing his "race mixing" remarks.
In spite of that, Orbán is scheduled headlining CPAC's August 2022 event in Dallas. A conference spokesperson defended the decision to the New York Times by claiming that the group supported "the open exchange of ideas."
Carlson and Fox News "parted ways" on April 24 2023, leaving it unclear whether Orbán's connection to the presenter and the network will go next. The news site Semafor reported that Justin Wells, who worked as "executive producer" for Carlson's nightly program, also departed the channel.
According to the Washington Post, Carlson's departure was prompted by the revelation that he privately criticized his channel's management, in messages uncovered in the course of a defamation lawsuit filed against Fox by Dominion Voting Systems.
"Those f—–s are destroying our credibility." Carlson said in one message. "A combination of incompetent liberals and top leadership with too much pride to back down is what's happening."
Dominion and Fox reached a $787.5 million settlement on April 18, three days before what would be Carlson's final broadcast for the channel.
Update 5/23/2022, 12:47 p.m. PST: Updated with notes on Orbán's appearance at a right-wing conference held in Budapest in May 2022. — ag
Update 8/4/2022, 10:42 a.m. PST: Updated to reflect Orbán's appearance at CPAC's conference in Dallas in August 2022. — ag
Update 4/24/2023, 10:36 a.m. PST: Updated to reflect the departure of Tucker Carlson from Fox. — ag