Did Someone Throw a 'Gas Bomb' Into a Horse Trailer During a Black Lives Matter Protest?
Claim
Jacob Valentine was videotaped throwing a gas bomb into a horse trailer during a Black Lives Matter protest in Tulsa, Oklahoma.
Like this fact check?

Reporting
A Michigan woman's effort to spread disinformation on Facebook about a Black Lives Matter protest several states away has been shared more than 90,000 times on the platform — despite several news sources refuting her claim.
Kaitlyn White's post, published on May 31 2020, pushes the false claim that Jacob Valentine attacked horses during the demonstration in Tulsa that day. She wrote:
JACOB VALENTINE CLAIMED HE IS THE ONE WHO THREW THE GAS THAT WENT INTO THE TRAILER!!

That is a GROWN MAN throwing gasoline and smoke bombs in to sic a horse trailer. Horses that ended up BURNT just trying to get home after a barrel race!!

Those horses were trapped in that trailer and BURNT by a "peaceful protest"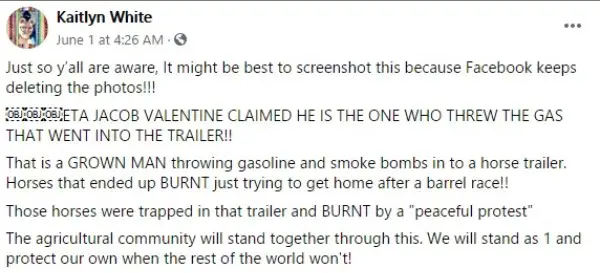 White's post failed to mention that the trailer was at the protest because it was was driven by someone who steered into demonstrators. According to one of the organizers of the demonstration, Rev. Eric Gill from Metropolitan Baptist Church, the pickup driver "took the liberty to continue going as bystanders stood in front of him" after the crowd allowed a car in front of him through.
"He stopped, and then as he inched in front of people and kept bumping people, the people got upset and hit his car," Gill told the Tulsa World newspaper. "But then he put his gun on the dashboard of his car and told everyone, 'You get out of my way.' And then he proceeded to drive through people and hit people."
Footage shows the truck moving forward with people still in front of it, then stopping, at which point demonstrators begin hitting the vehicle. Two people were hospitalized after the incident, which is still under investigation.
White's claim, though, hinged on what she claimed was a photograph of Valentine throwing the "bombs" into the trailer: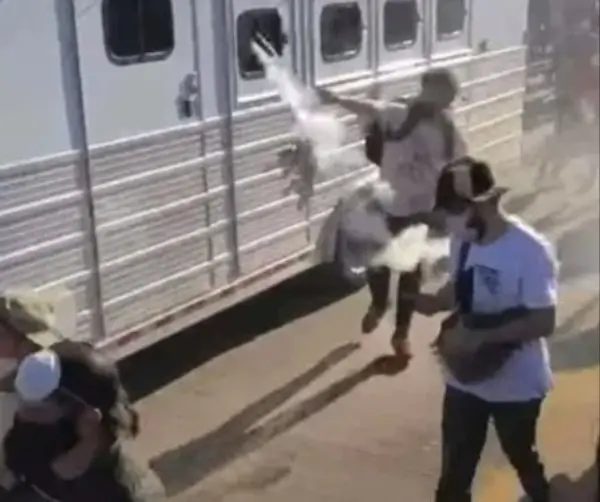 But as the Sapulpa Times reported, actual footage from the incident shows Valentine throwing it away from the trailer: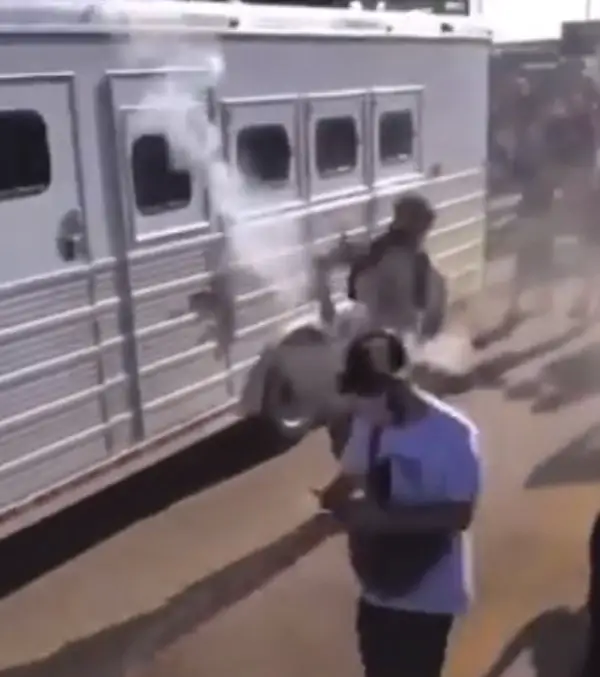 She also included a photo of Valentine's comment, which states, "I threw the gas over the trailer out of a crowd of people."

Further debunking White's claim, The Horse Network — a site billing itself as "a digital publishing platform for horse people" — reported:
In a Facebook post, Valentine admitted to throwing the canister, but said that it was thrown over the trailer, not into it.

A family friend of the driver who asked not to be identified has since confirmed that report to Horse Network (no canister entered the trailer) and verified that no horses were in the trailer at the time of the incident. The driver was accompanied by his wife and two daughters in the truck.
Valentine deleted his Facebook profile after the spread of the false claim against him. He was also targeted by a Change.org petition blaming him, which was created a woman in Missouri named Michelle Braithwood, which claimed — again, falsely — that "1 horse is confirmed to have been put down and the status of the other is unknown" after the encounter and demanding that he be charged with "domestic terrorism." It also included a screenshot of the fake photograph.
Reached for comment on the petition, a Change.org spokesperson told us that it had been updated to remove both that screenshot and copy mentioning Valentine. But the bogus claims, including the remark about a horse being "put down," are still visible.
White's Facebook profile also includes a graphic suggesting violence against "rioters" who might enter rural areas. Critics of the Black Lives Matter movement have sought to discredit it by smearing protesters against extrajudicial killings by police as "rioters."
"I mean try us, get shot," she wrote. "Simple."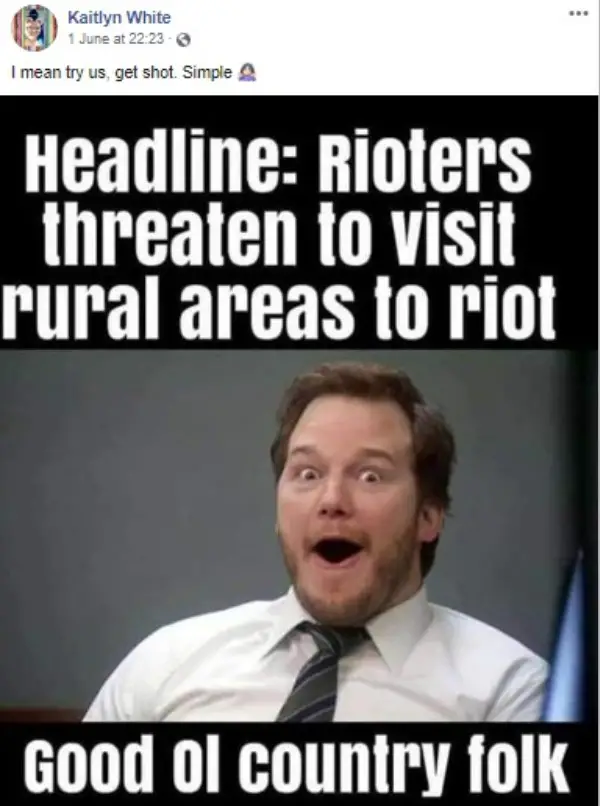 We contacted Facebook to ask if White's spread of false information and post threatening violence run against its terms of use. We also followed up with Change.org to ask what their policy is regarding the spread of disinformation that has already been debunked. We have yet to hear back.